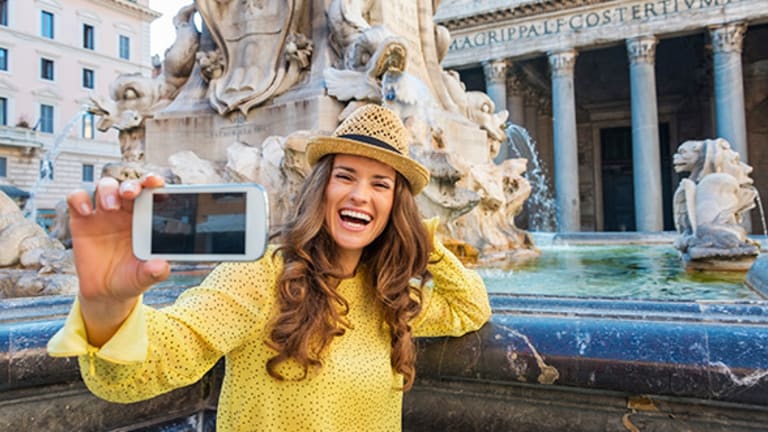 What Is the Best Cell Phone Carrier for International Travelers?
T-Mobile and Google's Project Fi slug it out for the title of best for travelers.
Every summer brings the same horror stories. An unwary traveler goes to France, or maybe Egypt, perhaps Thailand, and when he returns home, there is a stunning cell phone bill that may cross well above $1,000.
Worst still, a lot of these travelers incurred charges without being aware they were doing so. Check your phone. A lot of apps automatically update their data feeds. That's email, Twitter, Facebook and  plenty more. At home, probably, those costs are nil, just part of monthly service fees. Out of the country, however, you may pay big time for data "roaming" charges.
The key to dodging those fees: pick the cellular plan you need before you go. Plans you already have, or at least have heard of, probably will do fine.
No, you don't have to do anything fancy such as buy foreign SIMs and pop them into your unlocked phone. Most phones are not unlocked - they are paired to a particular carrier - and they won't accept a foreign SIM. If you are overseas for an extended period - months not days - it is worth the hassle to navigate this maze. But for a quick business trip or vacation, it's a lot simpler to stick with a U.S. based carrier.
Understand this: voice calls overseas are expensive, sometimes upward of $1 per minute. But we don't incur those charges unbeknownst to us. And the way to avoid these charges is just don't answer the phone for incoming calls, and make all outgoing calls using WiFi and Skype or Google Voice, at rates ranging from free to a couple pennies a minute for most calls. Problem solved.
The data problem is a knottier conundrum. There are those many apps that self update. Travelers also take a lot of photos and post to Instagram, Facebook, etc. They use mapping to learn travel routes. They check restaurant reviews as they walk down the sidewalk. Many of us just may use more data when on the road than when home and many of us also are on the go, removed from WiFi, when traveling.
WiFi by the way is the free or low cost answer for data on the road. Use it - in hotels, restaurants, even museums - for handling large files (images for instance). Don't use it for sensitive communications, banking, anything involving stuff you don't want hackers to know. Because a good rule of thumb is to assume all public WiFi networks are hacked because many are.
Cellular networks are generally much more secure and of course, when in motion, that's what you will use. The good news: in most of the places abroad where Americans travel (such as Europe), cellular networks are as good as or better than ours.
Better news: international travelers have two good choices of carrier. Neither is an industry leader (that is, Verizon and AT&T, both of which have comparatively pricey international plans). But you know who these players are: Google and T-Mobile.
Damon Gonzalez, a certified financial planner with Domestique Capital in Plano, Texas, exuberantly endorsed Google's Project Fi cellular service. "It is nice to be able to use data in a foreign country and not care at all about what it costs," said Gonzalez. Give Google props for clear pricing. Voice calls abroad are 20 cents a minute in much of the world, data is $10 per gigabyte. Coverage is broad. Google claims it services 135 countries.
Nick Rigali, president of Lynchpin IT Consulting in Southern California, cast a different ballot. He said, go with T-Mobile. Rigali elaborated: "Any T-Mobile plan, even their cheapest plan at around $35 per month includes unlimited data and text messaging in most countries throughout the world."
Voice calls made abroad are 20 cents per minute with T-Mo. The carrier claims service in 140+ countries.
Note: this summer, T-Mo said its data is high speed and unlimited in Europe and Brazil. Historically, T-Mo promised unlimited high speed data only for the first 2GB; after that it came in at much slower rates. It is unclear if T-Mo will extend the unlimited high speed promise but it might not matter. Said Rigali: "[I find it ] is fine for most people's basic needs. You can send and receive emails, use Google maps to get around and do some basic web surfing."
Andy Abramson, CEO of Communicano in Del Mar, Calif. added: "What is good about T-Mobile: It just works. They promised [low speed] 2.5G (EDGE) but depending on the country and roaming agreement friends and I have reported to one another 4G/LTE or 3G so speeds on data are great."
In the U.S., incidentally, Project Fi uses a network that is a mashup of Sprint and T-Mobile. Abroad, much of what Fi travels on, said experts, is the T-Mobile network. So maybe the choice between the two isn't that great.
This article is commentary by an independent contributor. At the time of publication, the author held TK positions in the stocks mentioned.