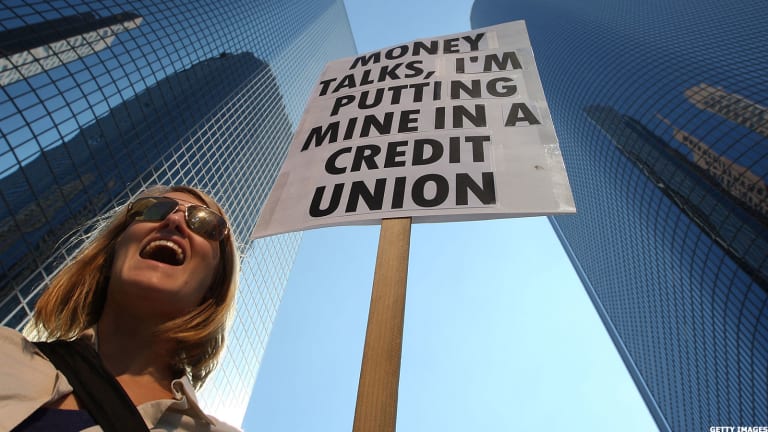 What Is the Advantage Of a Credit Union?
Are you banking in the wrong place? 101 million Americans can't be wrong.
NEW YORK (MainStreet) -- Your money question for the day: should you be banking, not at a bank, but at a credit union?
Question two: if you are a credit union member -- 101 million of Americans are, according to trade group Credit Union National Association (CUNA) -- should you be doing more of your banking at the credit union? That's important because many members - nobody has a solid number but many guess it's a lot - park a few bucks at a credit union, to feel good. But then they do all their real banking at, well, banks.
It may be time to stop.
Here are some numbers. At giant Chase, an incoming foreign wire will set you back $15, according to MyBankTracker. At Affinity Federal Credit Union in Basking Ridge N.J., it costs zero, zip, not a penny.
At Chase, the NSF fee is $34. At State Employees Credit Union of North Carolina (SECU), the fee is zip if cleared up in two days. It rises to $12 afterwards.
At Chase, the monthly checking account fee is $12, unless you have $1,500 or more in the account or have direct deposits or have $5,000 in other, linked accounts. At Digital Credit Union in Massachusetts, the cost of free checking is what the name says. There is no minimum balance.

Bank of America, WellsFargo and the other big banks, all charge about what Chase does. These for instances are not exceptional. Credit unions are owned by their members, not by for profit shareholders, and down the line, most credit unions look for ways to give members a break on fees.
But you cannot join one? That's a common belief, and sometimes it's true. To join the nation's biggest credit union, Navy Federal, you need a real tie to the nation's military or Department of Defense.
Then there is the nation's third biggest credit union, Pentagon Federal, where you also need a strong military tie -- or you can make a onetime $14 charitable donation to Voices for America's Troops and you are in.
Over at Affinity in New Jersey -- the onetime AT&T credit union -- membership mainly is for employees at a long list of businesses. Except a $25 membership in the New Jersey Coalition for Financial Education also gets you in, and any resident of New Jersey, New York, or Pennsylvania is welcome.
Get the point: some credit unions still insist upon well-defined fields of membership, but many others throw their doors open wide or at least let some of of us in through a convenient backdoor.
Join and there are the advantages and they go beyond low fees. Said K. Alexander Ashe, CEO of financial apps company Spendology, credit unions generally lend money at better rates -- and they also generally pay more interest on savings accounts and CDs.

What's not to like about credit unions? Thomas Nitzsche of ClearPoint Credit Counseling Solutions noted that at many credit unions, consumer-facing technology is an afterthought. If having the latest and greatest mobile banking is a must, a credit union may not be for you - but know that of the 400 or so financial institutions enrolled in Apple Pay, more than half are credit unions. Some credit unions are in fact very tech- centric, although probably the majority are Stone Age.
Another credit union drawback pointed out by Nitzsche: sometimes it can be very difficult to find an ATM that dispenses cash with no fee. Some credit unions - by no means all - participate in networks that deliver free ATM use, so if that is important to you, check it out before going all in.
A last - obvious - credit union disadvantage: none has the branch network provided by a Chase or a Bank of America. Affinity, the biggest credit union in New Jersey, has 15 branches -- that's all. If having a banker to hold your hand matters, you may want to think about this too.

But before making a final decision, listen to Eva Baker, a financial blogger who started TeensGotCents in 2013 when she was 16: "Credit Unions beat banks on almost all fronts particularly for teens. Banks can charge huge fees particularly if you have a small balance in your accounts. Most credit unions don't charge fees at all! Credit unions also tend to be much more customer oriented and are willing to take the time to truly help their members."
Even if you aren't a teen, Baker's argument is powerful. Maybe they aren't for everybody but for many credit unions may be just the frugal ticket.

This article is commentary by an independent contributor. At the time of publication, the author held TK positions in the stocks mentioned.