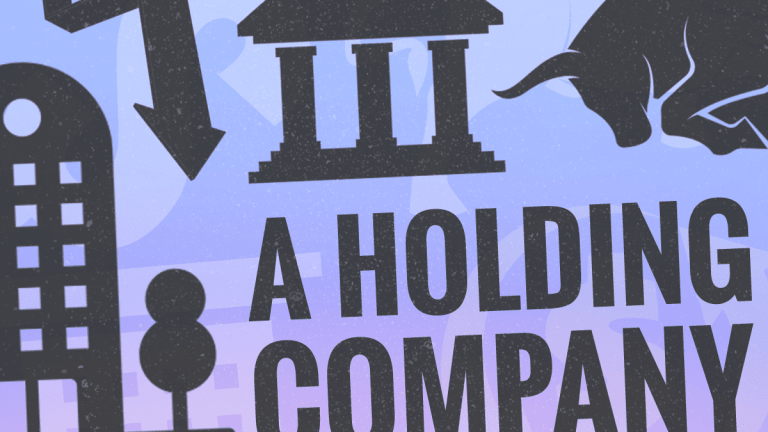 What Is a Holding Company and What Does It Do?
A holding company invests in other companies, at times as the parent to their subsidiary.
If you're familiar with Warren Buffett, one of the richest men in the world, you're likely also familiar with Berkshire Hathaway (BRK.B) - Get Berkshire Hathaway Inc. Report , the company he is CEO of. Buffett is a well-known investor, but what does the company he runs actually... do?
Well, they invest. That's it. Buffett began investing in Berkshire Hathaway in the 60s when it was still a textile company. As he bought more shares and took it over, he moved the company away from textiles and began using it to invest in many companies that still thrive today (See's Candy, GEICO, Coca-Cola (KO) - Get Coca-Cola Company (The) Report , etc.) Investments paid off, and those profits went toward other investments, creating a massive conglomerate.
That makes Berkshire Hathaway what is known as a "holding company." An increasingly common sort of company, holding companies are in all kinds of industries, and may be of use to individuals and their personal assets too.
What Is a Holding Company?
A holding company is a company with investments and/or stocks in other, smaller companies, at times giving them majority stakes in those companies.
Holding companies exist in nearly any industry you can imagine, and you could be surprised to know that a major name brand you know is actually a subsidiary of a holding company as opposed to a standalone brand. You may not have heard of Restaurant Brands International (QSR) - Get Restaurant Brands International Inc. Report , but you probably know the two companies that joined forces to found it as a holding company - American chain Burger King and Canadian chain Tim Horton's - as well as the fast food chain they purchased in 2017, Popeyes Louisiana Kitchen.
The concept of a "holding company" can be fairly wide. A company like Berkshire Hathaway, which deals entirely in investing into companies and industries, is a holding company. Parent companies like Macy's, Inc. (M) - Get Macy's, Inc. Report , which boasts Macy's and Bloomingdale's among its subsidiary companies, would also be considered a holding company as its one purpose is owning major companies in the department store industry.
That's the peculiar thing about holding companies. For the most part, their existence is to own other companies or their shares. Particularly successful and profitable ones will end up with a majority share in most of these smaller companies, allowing them to have a big hand in business decisions and hiring CEOs and managers for their subsidiaries (though holding companies generally do very little with regards to actual operations for them).
Holding companies don't operate any business of their own. There can be additional work to be done if the assets you own are a majority or 100% stake in a company. But holding companies can not only hold a minority of shares in a company, but also patents, real estate, patents, hedge funds and much more. Whatever the investment, it is the holding company's job to oversee it while the assets operate on their own.
Holding companies still have a CEO, though, as well as a board of directors, to help make decisions on managing current investments/companies and whether or not to invest in new ones. 
What Is a Personal Holding Company?
A personal holding company is one made to own other companies' stocks; unlike a holding company with enough shares to have an impact on business decisions for the company, there is no service offered with a PHC. Holding companies are generally structured either as a C corporation or a limited liability company (LLC). A personal holding company is structured as a C.
Many forms of criteria need to be met in order to successfully qualify as a personal holding company. Let's start with income criteria. To qualify as a PHC, at least 60% of its adjusted gross income (AGI) comes from its investments. This can include dividends, interest and, depending on the type of investments you have, rent or royalties.
The ownership structure also determines whether the corporation can be considered a personal holding company. During the last half of a tax year, more than 50% of the company's stock has to be owned by five or fewer people.
PHCs get taxed differently than other companies. A specific tax is levied on undistributed personal holding company income, which gets taxed 20%.
Starting a Holding Company
Have you considered your business needs, whether for your businesses or investments, and decided that starting a holding company may be your best option? If you're serious about starting one after doing your research, the first thing you'll need to do is determine whether or not you wish to create a corporation or an LLC. Another option is creating two LLCs - one for holding and one for operating. This is done to protect your assets; should everything go to plan, the holding company won't be legally responsible for the operating company and its debts. Consult extensively with a business attorney while doing all this.
You should make sure you have a fairly concrete business plan and have given full consideration to a number of options before starting a holding company. Do you plan on your investments being exclusively from one industry, and what industry if so? Do you have the capital required to both start a holding company and make the investments that can help it succeed? There's a lot to consider.
Holding Company Advantages and Disadvantages
The biggest advantage of a holding company is likely how it offers a potential saving from bankruptcy or excessive losses in the event of a subsidiary company going bankrupt. Should this occur, holding companies are not seen as liable, and creditors are unable to go after the holding company in an attempt to get assets.
In addition, there are instances when holding companies are still allowed to sell products and services if that still appeals to you as a businessperson. Provided 60% of your AGI comes from the investments (the same amount that can allow a corporation to be considered a PHC), you are still a holding company and can still sell products should you so choose.
There are disadvantages to creating a holding company. It can easily be used to exploit its subsidiary companies if it has substantial enough influence to affect business decisions. And many holding companies aren't completely transparent to their shareholders, meaning you could be left in the dark about a lot of the decisions being made.