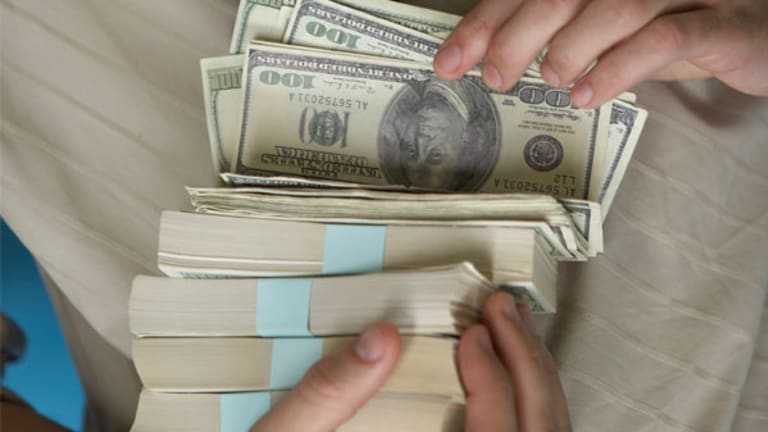 What Global Banks Can Learn From Best Buy
Global banks could stand to learn a thing or two from the real selling pros, big-name retailers, Accenture says.
NEW YORK (MainStreet) -- Stung by consumer criticism and struggling to deal with an avalanche of new government regulations, banks in the U.S. and Europe are looking at retail models to make money. And when they look at retailers such as Best Buy, they're not above stealing a few ideas.
That may not be the surprise it appears at first glance. Fact is, global banks are going through a period of low
growth
and looking for any way to boost revenues. In the U.S., financial institutions are grappling with the
Dodd-Frank
financial reform bill, which curbed fees for banks with more than $10 billion in assets. Globally, large banks such as
UBS
(UBS) - Get Report
and
Deutsche Bank
(DB) - Get Report
reported disappointing second-quarter
this week.
Best Buy's customer segmentation, which places a huge emphasis on current and future profitability, appeals to banks looking to retail models for future profitability.
So what's a worldwide baking powerhouse to do to restore its once vaunted financial standing? (And no, federal government bailouts are not in the picture this time.)
Some banks, especially European ones, are taking a page out of successful U.S. retailers' handbooks to boost profits and set the stage for higher cross-selling opportunities.
That's the takeaway from a
survey
out of the U.K. by
Accenture
(ACN) - Get Report
and Unicredit, which found banks are increasingly putting into place strategies long used by major retailers, as 41% of banks participating in the survey said they "had implemented" or "will implement" at least one program similar to a big retail outfit.
The survey points to strategies from different
retailers
and ranks the most popular examples from which many banks will adopt their revenue enhancement programs. The top three:
Best Buy
(BBY) - Get Report
(56% of banks want to mirror one or more of its sales strategies), Giorgio Armani (47%) and Prenatal (38%).
A majority of banks indicated Best Buy's customer segmentation, which places a huge emphasis on current and future profitability, as one of its strongest suits, as well as its marketing. Banks also favor Giorgio Armani's ongoing social networking marketing campaign, which appears to be widely popular with younger consumers. And Italian maternity wear retailer Prenatal is proving to be a good role model for banks in providing free in-store and online education initiatives, which leads them to buy Prenatal products.
Some other "role models" include
Amazon's
(AMZN) - Get Report
bundling program, which recommends products based on customers' historical buying tendencies. Banks are also looking at
Apple's
(AAPL) - Get Report
iTunes, which does the same thing with great success, and at BMW's "Build Your own BMW" program, Accenture points out.
"We expect a shakeout in the banking industry, driven by advanced marketing and analytics capabilities," says Piercarlo Gera, managing director of Accenture. "New service models, with increased focus on digital channels, including social media, are already under development or being implemented to engage with today's less loyal customers. Those banks that learn quickly and selectively from the successes of top retailers - particularly in areas such as customer analytics and behavioral segmentation, self-service and customer-centricity - have a clear opportunity to outperform their competitors."
It won't be easy. Survey respondents were increasingly concerned about problems getting some of these programs off the ground, but most are optimistic the job can be done. A full 78% say following successful retail programs is "vital" to the success of their banks.
But at least global banks have an open mind about what works and what doesn't. It's the latter issue that's been troubling banks, and a little humble pie - and some lessons from the Best Buys of the world - may well be in order.
>To submit a news tip, email:
.
Follow TheStreet.com on
and become a fan on