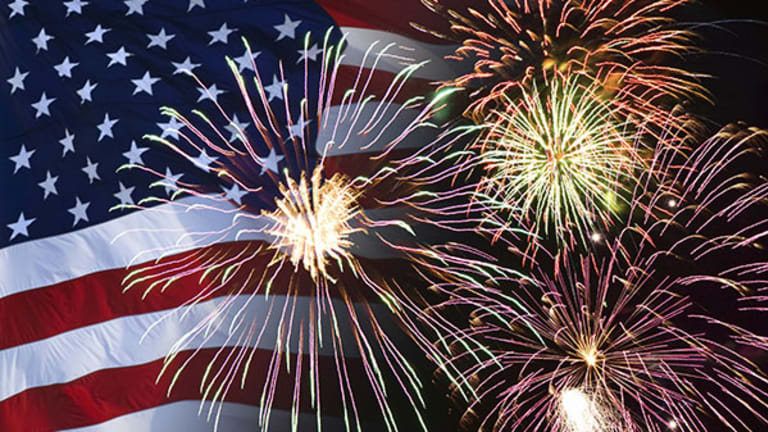 What Fourth Of July Weekend Will Cost You
Gas prices, hotel rates, travel and holiday spending is all up as Independence Day tacks extra time onto most workers' weekends. Even keeping it local is no bargain.
Gas prices, hotel rates, travel and holiday spending is all up as Independence Day tacks extra time onto most workers' weekends. Even keeping it local is no bargain.
PORTLAND, Ore. (TheStreet) -- Fourth of July isn't a vacation: It's Peak Everything.
ExxonMobil and Valero get to laugh in your general direction as both the Energy Department and AAA put the price of a gallon of gasoline around $3.70, or nearly 13 cents more than it was around this time last year. That's the highest gas prices have been on Fourth of July in six years. Meanwhile, Delta and United look forward to your long weekend as Priceline puts the average Fourth of July airfare for domestic flights at $365, with that number jumping to $734 internationally. AAA puts the round-trip, discounted fare for the Top 40 domestic routes at $218, down 5% from last year, but notes that about 1% more people will be taking to the air.
Hilton and Marriott are similarly pleased, as hotel costs are up 9%, to $178 a night, at AAA's Three-Diamond Hotels and up 15%, to $137 a night, at its discount Two Diamond spots. Weekend daily car rental rates at Avis and Hertz are holding steady from last year at an average $58 a day, but bookings are up by double-digit percentage points from last year. Oh, and if you decide to stay home and just take in a movie, Regal Entertainment and Carmike would love you for it. Movie tickets are an average of $7.96, down slightly from $8.13 last year, but still at 2012 levels after rising from $5.81 just a decade before.
Also see: Here's How Much More Movies Cost This Summer
Also see: Here's How Much More Movies Cost This Summer>>
But what did you expect? When the Fourth of July falls on a Friday or Monday, a whole lot of U.S. workers just see a long weekend and a chance to do everything that everybody else with the same time off is doing. After a harsh winter, 89% of survey respondents told TripAdvisor they're up for some summer travel this year. That's up 6% from last year.
AAA predicts 41 million Americans will travel 50 miles or more from home during the Independence Day holiday weekend, up 1.9% from last year and up 14% just from Memorial Day weekend. Independence Day travel has increased in four of the past five years, with this year's crush expected to be 6% greater than the average of the past decade. Roughly 80% will drive to their destination, the highest percentage since 2007. Meanwhile, travel site CheapOAir notes that Fourth of July airline bookings are up 30% from last year thanks to the long weekend.
This is all going to make an already costly holiday even more financially painful. WalletHub estimates that travelers will spend an average of $330 on Fourth of July travel this year, up 10% from last year and 72% from 2012. If you're looking for a way around it now, you're way too late. Today, July 3, has already been highlighted by Orbitz as this week's peak Fourth of July departure date, so all the geniuses who decided to take that half-day or develop a decent-sounding cough are only going to find themselves getting nice and familiar with the taillights of everyone they were trying to avoid.
Also see: 10 Best Convertibles for Summer 2014
Also see: 10 Best Convertibles for Summer 2014>>
If you're considering staying home, just keep in mind you'll probably have quite a bit of company there, too. Long weekends are typically huge boons for retailers, with even the National Retail Federation noting that U.S. consumers spend nearly $6 billion on the typically non-retail Fourth of July holiday just to stock their backyard barbecues. Skipping the grocery store to go to the movies? Not a great call. The $1.39 billion spent at the movies in July 2013 made it the second-biggest month at the U.S. box office in history, trailing only July 2011.
This year's Fourth of July slate of releases includes the Melissa McCarthy vehicle Tammy, the supernatural thriller Deliver Us From Evil and the animated kiddie adventure Earth To Echo, along with blockbuster holdovers including the latest X-Men and Transformers installments.
There are no deals. There are no bargains. There are no cheap ways out if you decide to do anything. There's only an unbridled display of commerce celebrating Americans' freedom to be separated from their hard-earned money by any gap in the work calendar. Enjoy the fireworks, since your retail or tax dollars are likely paying for those, too.
-- Written by Jason Notte in Portland, Ore.
>To contact the writer of this article, click here: Jason Notte.
>To follow the writer on Twitter, go to http://twitter.com/notteham.
>To submit a news tip, send an email to: tips@thestreet.com.
RELATED STORIES:
>>5 Summer Movie Blockbusters Sponsors Love
>>How Godzilla Made Foreign Film A Box Office Monster
>>On Facebook We Are All Mean Girls
Jason Notte is a reporter for TheStreet. His writing has appeared in The New York Times, The Huffington Post, Esquire.com, Time Out New York, the Boston Herald, the Boston Phoenix, the Metro newspaper and the Colorado Springs Independent. He previously served as the political and global affairs editor for Metro U.S., layout editor for Boston Now, assistant news editor for the Herald News of West Paterson, N.J., editor of Go Out! Magazine in Hoboken, N.J., and copy editor and lifestyle editor at the Jersey Journal in Jersey City, N.J.