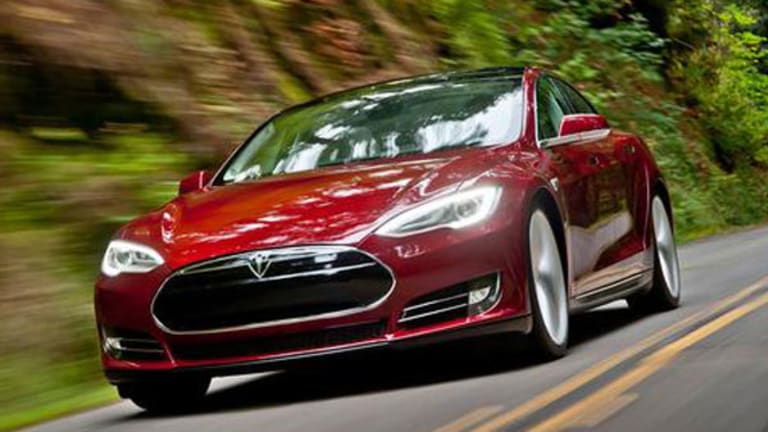 What Cars Do Rich People Buy?
America's richest ZIP codes like Jeep, Mercedes and Tesla more than Rolls-Royce or Lamborghini.
BOSTON (
) -- Call it Drivestyles of the Rich and Famous.
Car-shopping site
recently analyzed buying patterns in the nation's costliest ZIP codes and found America's richest consumers like Jeeps, Mercedes-Benzes and Teslas more than Rolls-Royces or Lamborghinis.
"They're not buying exotic cars, they're not buying Ferraris, they're not buying the most-expensive cars available," Edmunds Senior Analyst Jessica Caldwell says. "They're buying cars that fit their needs rather than just showing off their wealth."
Caldwell, who compiled Edmunds' list by looking at all new-car registrations filed between Jan. 1 and Aug. 31, said America's ultra-rich seem to favor cars that match the areas they live in.
For instance, Californians who live in Silicon Valley's poshest enclaves like the cutting-edge
Tesla
Model S electric car. But buyers in Manhattan's ritziest neighborhoods prefer Jeep and Mercedes sport utility vehicles that Caldwell theorizes can handle New York City potholes with ease.
"Rich drivers seem to like cars that are cool but practical for the region that they live in," she says. "They don't always seem to go for the top brand, or even for the most-expensive model within a brand like Mercedes."
Click below to check out which cars drivers in America's five costliest ZIP codes have been buying the most this year.
Edmunds generated the list by looking at Polk car-registration data covering communities at the top of
Forbes
magazine's latest annual
America's Most Expensive ZIP Codes
rankings. Car prices refer to manufacturer's suggested retail prices for each vehicle's base 2014 version.
Also see: 5 Biggest Auto Flops of the Past Decade>>
Fifth-costliest U.S. ZIP code:
Sagaponack, N.Y. (11962)
Favorite car:
Jeep Wrangler
A big brawny
Jeep
seems better suited to the Himalayas than the Hamptons, but residents in this exclusive beachfront community near Long island's tip bought more Wranglers during 2013's first eight months than any other model.
Caldwell says the $22,395 Wrangler isn't the most expensive vehicle out there, but is perfectly suited for driving on the sand near Sagaponack, whose current or former residents have ranged from comedian Jimmy Fallon to late author Truman Capote.
"I think the Wrangler really symbolizes off-road capabilities, and the fact that you can take the top off of the car makes it even more fun to drive in the summertime," she says.
Fourth-costliest U.S. ZIP code:
Belvedere, Calif. (94920)
Favorite car:
Mercedes-Benz E-Class
Caldwell believes the E-Class from
Mercedes-Benz
takes top honors in this super-rich San Francisco community because the midsized vehicle is better suited to the Bay Area's tough traffic and parking than the larger flagship Mercedes S-Class.
"You're still comfortable and you still have a Mercedes when you're driving an E-Class, but you don't have to deal with driving or parking
the bigger S-Class," she says.
The E-Class also starts at $51,400 vs. $92,900 for the S-Class, but that should hardly matter to anyone who lives in Belvedere.
An island-like peninsula in San Francisco Bay, Belvedere is so exclusive that it doesn't allow shops or restaurants. You have to go to adjacent Tiburon to find them.
Also see: 5 Favorite Porsche 911s of All Time>>
Third-costliest U.S. ZIP code:
Manhattan/Upper East Side (94920)
Favorite car:
Jeep Grand Cherokee/Mercedes GL-Class (tie)
These two big vehicles take top honors in the Big Apple's most-expensive ZIP code: the Lenox Hill/Upper East Side area from East 60th St. to East 69th St.
Caldwell says the $28,995 Grand Cherokee and $58,590 Mercedes GL-Class are both well-regarded SUVs that offer rich buyers plenty of room for cargo and passengers.
She says the GL combines a full-sized SUV's dimensions with a Mercedes-Benz's luxury performance. "It can handle potholes well and is very quiet, providing a smooth ride around the city," Caldwell says.
As for the midsized Jeep Grand Cherokee, the analyst calls that a good choice for well-heeled drivers who "want something that's very iconic but doesn't necessarily show off their wealth."
Second-costliest U.S. ZIP code:
Los Altos Hills, Calif. (94022)
Costliest U.S. ZIP code:
Atherton, Calif. (94027)
Favorite car:
Tesla Model S
The Tesla Model S is a $69,900 luxury electric car that combines all of an upscale sedan's luxury with the equivalent of 94 miles per gallon fuel efficiency in the city and 97 mpg/highway.
It's made by Tesla Motors, the high-tech auto company headed by
PayPal
co-founder Elon Musk and based in Silicon Valley.
Caldwell says that's a large part of why the Model S sells so well in Los Altos Hills and Atherton, two super-expensive communities just a short drive from Tesla's home in Palo Alto.
"People in Atherton and Los Altos Hills like to be on the cutting edge of technology, and a car that's 'green' is seen as such," she says.
And even though a well-equipped Model S can top $100,000 (not including the effects of a $7,500 federal tax credit for electric cars), residents can certainly afford the model. Both towns have some of America's highest median household incomes, and current or former residents range from baseball legend Willie Mays to Eric Schmidt, CEO of
Google
(GOOG) - Get Alphabet Inc. Class C Report
.