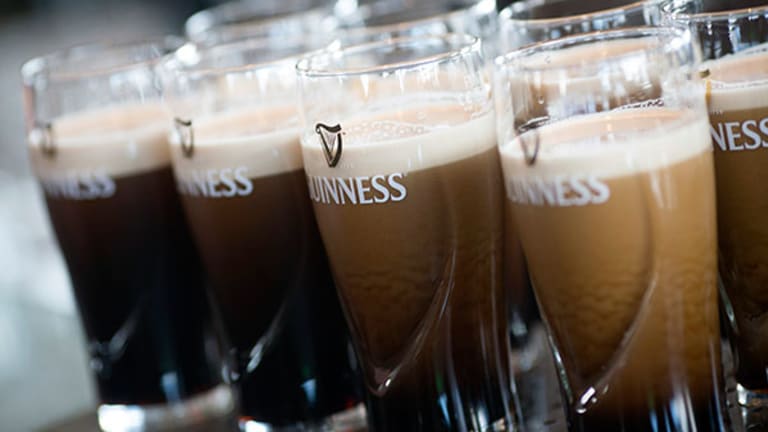 What a Diageo Sale Would Mean for U.S. Beer
Rumors that Guinness and Red Stripe owner Diageo will be sold to SABMiller are fueling speculation, but would fill out MillerCoors' import portfolio if true.
PORTLAND, Ore. (TheStreet) -- Ever since the Financial Times dropped the suggestion beer-and-spirits company Diageo might merge with SABMiller, much of the drinks industry has had a great time playing the speculation game.
Almost none of the scenarios mentioned anything about the U.S. beer market.
Yes, it would be a massive combination of Diageo's $80.4 billion market cap and SABMiller's $52.6 billion. Yes, those combined businesses could create nearly $8.6 billion in free cash flow. Yes, it would only tighten SABMiller's grip on the African market by bringing big African brands including Tusker, Senator Keg, Windhoek, Bell, Serengeti, Meta, Harp, Foundry cider and Guinness Foreign Extra Stout into the fold.
Also see: 5 Most American Beer Brewers
Also see: 5 Most American Beer Brewers>>
But what about the U.S. beer market? Surely its taste for Guinness stout, Red Stripe lager, Smithwick's Ale and Harp lager have to make a difference, right?
Yes, but it's less than those big brands would have you imagine.
According to trade publication Beer Marketer's Insights, Diageo's beer brands brought 2.6 million barrels worth of beer into the U.S. in 2012. A year later, that total dropped by 1% as drinkers failed to take to Guinness Black Lager and supply problems hampered Red Stripe's performance.
By comparison, SABMiller's and MolsonCoors' North American joint venture MillerCoors produced 58.9 million barrels for U.S. consumption in 2012 and held a 27.6% share of the market compared with Diageo's 1.2%. MillerCoors' total far outpaces that of its second-largest U.S. competitor -- Constellation Brands, with its nearly 6% of the overall U.S. beer marketplace -- while Diageo's share lags behind both regional brewer D.G. Yuengling & Sons (1.3%) and Samuel Adams producer Boston Beer (1.3%).
That doesn't mean Diageo's 2.5 million barrels or so wouldn't be welcome in MillerCoors' U.S. portfolio, mind you. MillerCoors has watched production slip from 59.6 million barrels in 2011 to about 57.7 million last year as sales of core brands including Miller Lite and Miller High Life continued their post-recession slump. With MillerCoors developing higher-end, craft-style brands including Blue Moon and Leinenkugel's, adding Guinness, Red Stripe, Smithwicks and other brands to its Tenth & Blake craft and import division would broaden its portfolio and shore up its overall numbers a bit.

MillerCoors has taken a beating after the recession and has watched its beer sales stumble for about half a decade as overall beer sales in the U.S. dropped. Diageo's U.S. beer sales have fluctuated in the past five years, peaking at 2.66 million barrels in 2010 after plunging to a decade-low 2.56 million barrels at the height of the recession in 2009.
Neither has shown much stability even as craft beer and importers including Heineken USA and Constellation brands see their stateside fortunes improve. Meanwhile, Anheuser-Busch InBev continues applying pressure by buying U.S. craft breweries Goose Island and Blue Point and taking control of Grupo Modelo's international operations in a big 2013 buyout.
As it stands, A-B InBev controls 20.6% of the global beer market, according to Euromonitor International. Combined, SABMiller and MolsonCoors account for a 12.9% stake. Diageo's place in global beer is a less than 1% market share that's unceremoniously lumped into the 35.1% blob that Euromonitor describes only as "others." By that standard, its brewing operations are more akin to regional and craft breweries than to big players such as A-B InBev, SABMiller or Heineken. In the U.S. a buyout of Diageo by SABMiller or A-B InBev would be akin to a buyout of Yuengling, Boston Beer, Mike's Hard Lemonade or Sierra Nevada. It's not big, but it's still consolidation.
Also see: 10 Best-Selling Beer Brands in The World
Also see: 10 Best-Selling Beer Brands in The World>>
It's that kind of consolidation that's given A-B InBev and MillerCoors an 18% share of the U.S. craft beer market, according to Moody's. It's also given those breweries a combined 12% share of the "import" market, thanks to their ownership of foreign brands and their distribution rights. Had the U.S. government not intervened, A-B InBev's share of the import market would have grown to 54% with the inclusion of Modelo brands now distributed by Constellation.
If Diageo beers were suddenly included in the MillerCoors lineup, the MillerCoors stake of the U.S. import market would be only 9%. That's bigger than A-B's 8%, but still significantly smaller than Heineken's 31% share and Constellation Brands' 46% stake.
Right now, any Diageo takeover talk is just that. If SABMiller does end up taking control, however, the effect on the U.S. beer market will only be about as great as the name behind the Guinness tap. When two companies with dwindling market share combine forces in a nation with 2,700 breweries and climbing, it's a thin bandage over a far more distressing wound.
-- Written by Jason Notte in Portland, Ore.
>To contact the writer of this article, click here: Jason Notte.
>To follow the writer on Twitter, go to http://twitter.com/notteham.
>To submit a news tip, send an email to: tips@thestreet.com.
RELATED STORIES:
>>What You're Really Paying For That Beer
>>Glass Half Empty? The Great Craft Beer Selloff
>>Is It Still A Craft Beer After The Brewery Sells?
Jason Notte is a reporter for TheStreet. His writing has appeared in The New York Times, The Huffington Post, Esquire.com, Time Out New York, the Boston Herald, the Boston Phoenix, the Metro newspaper and the Colorado Springs Independent. He previously served as the political and global affairs editor for Metro U.S., layout editor for Boston Now, assistant news editor for the Herald News of West Paterson, N.J., editor of Go Out! Magazine in Hoboken, N.J., and copy editor and lifestyle editor at the Jersey Journal in Jersey City, N.J.