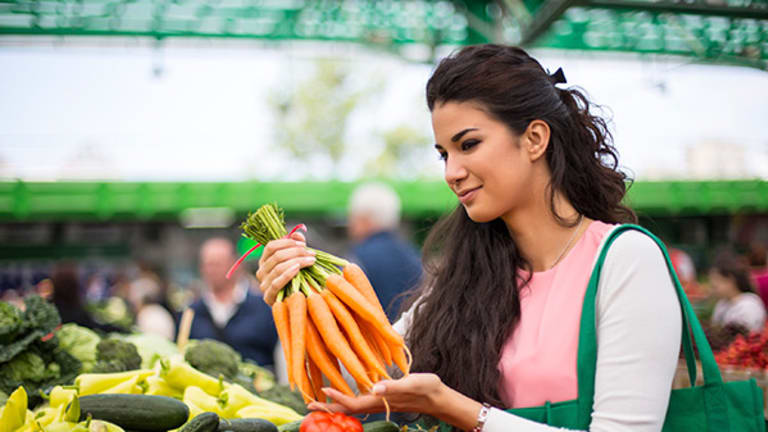 What 2016 Food Prices Can Tell Us About the Economy
Though food prices will stabilize in 2016. household staples like dairy, meat and vegetables will increase modestly by about 2%. What does that mean? Time to read the entrails.
Though food prices will stabilize in 2016. household staples like dairy, meat and vegetables will increase modestly by about 2%. What does that mean? Time to read the entrails.
As the avian influenza outbreak appears to be contained and the remnants of the drought in California have dissipated, food prices will stabilize in 2016, with household staples like dairy, meat and vegetables increasing modestly by about 2%.
After the drought in California and the avian flu, consumers were faced with higher food prices in 2015, which rose by as much as 4% for meat and dairy products. The lack of any weather-related or major agricultural issues recently means prices have been moderated, and the increase will remain lower than the historical average of 2.6%, said Warren Graeff, the agriculture market manager for PNC, the Pittsburgh, Pennsylvania-based bank.
Eggs were besieged in May by an avian flu, the first U.S outbreak and although prices rose dramatically for several months, the lack of additional outbreaks dampened the market value and prices are predicted to remain flat in 2016.
"The egg industry was declared free from the avian flu in mid November and the migratory fowl season has wound down," he said. "We are hoping there is a not a problem this year."
The avian flu resulted in as much as 10% of the U.S. population of laying birds being lost, said Jonathan Phillips, CEO of TEN Ag Tech, a San Juan Capistrano, Calif.-based consumer-to-farm traceability company that provides chemical-free trace codes for eggs. As the supply of the number of flocks grows, prices will stabilize.
"Eggs from caged sources will remain the lowest priced eggs, and cage free production will likely remain significantly more expensive than eggs from caged sources, as data supports that production costs are higher," he said. "Eggs from free range and pasture raised sources where flocks enjoy optimal housing will remain the most expensive eggs through 2016."
Prices for eggs that derive from caged hens fluctuate based on not only supply and demand, but also the underlying price of grain for feeding the hens, Phillips said. Before the nearly catastrophic outbreak, the cost of a dozen eggs in California during August 2014 was as low as $1.45 per dozen and averaged $2.41 per dozen. After the avian flu struck, eggs were $3.61 for the same cartons, according to the U.S. Department of Agriculture.
"The estimates for the outlook will return to more normal pricing, but the stabilization of supply is likely to occur as we enter the fall of 2016," Phillips said.
Beef producers still face the lingering effects of the drought in the western Great Plains in 2012 and 2013, but as ranchers have focused on increasing their herds, the boom in supply has helped moderate prices. Prices will increase by only 2% to 3%, Graeff said. Consumers had felt the pinch in 2014 when the price of beef rose by 10% to 12%, compared to its usual increase of 2% to 3% each year.

Both pork and chicken prices will increase at a normal rate. The smallest increase of 1.5% to 2% will occur with pork products while chicken prices will increase by 2.5% to 3.5%. The cost of feed such as corn and soybeans has declined over the past two years, pushing down prices since it is now "less expensive to feed all meats," he said.
"As the economy continues to show improvement, people return to more animal protein sources and dishes with beef and pork," Graeff said.
After declining by 0.5% in 2015, fish and seafood prices will surge by 2.5% to 3.5% as demand has boosted prices.
Vegetables will remain in line with the general price inflation of rising by 2.5% to 3.5% as well.
An abundance of the supply in wheat means that prices for bread will stay in line with inflation and only rise by 2% to 3%. Organic, vegan and gluten-free bread and its products make up less than 5% of all demand and do not have a "significant impact" on prices, Graeff said.
Coffee prices are expected to increase more than normal in 2016 due to dry weather caused by El Niño and global warming. The current consumer price increases are forecast to increase 5% to 6% into the first half of 2016. The last price peak of wholesale coffee occurred in 2014 and raised it to $2.00 per pound. A massive decline of 30% 40% occurred and prices leveled off to $1.20 per pound.
"These price declines were not necessarily passed along to consumers," said Graeff.

Wholesale prices are expected to increase to $1.30 per pound but will remain well below the peak prices in 2014.
Sugar and sweet products have maintained their current demand from consumers and prices will rise accordingly from 1.5% to 2.5%. As the economy improves and consumers experience a more stable income, demand for these products typically decline, said Graeff.
"This aligns with what we hear about the economy in general, gradually and slowly improving and people feel more confidence about eating a healthy diet, consumption patterns tend to reflect general mood about the economy," he said.