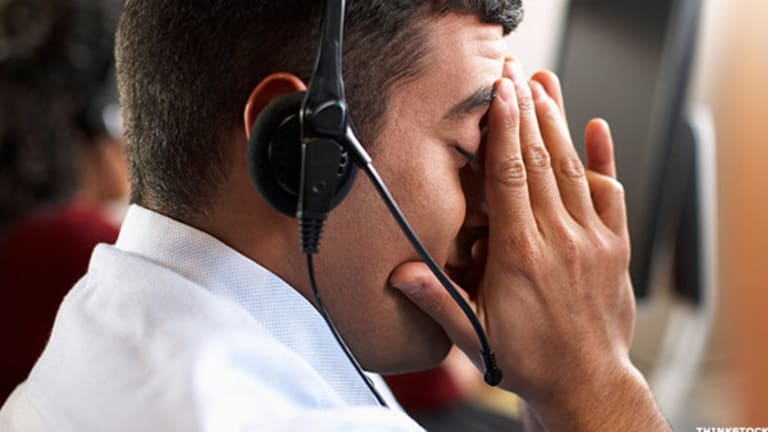 We're On the Phone 6.5 Hours With Bad Customer Service
If time really is money, consumers are getting short-changed badly when they need to complain to a company.
NEW YORK (
) -- If time really is money, consumers are getting short-changed waiting for their
customer service
complaints to be rectified.
U.S. adults spend, on average, 384 minutes every year waiting to fix a complaint, or about 6.5 hours -- almost a full work day
Those figures come from
Populus Research
and Sunnyvale, Calif.-based
Kana Software
. Analysts at Kana calls the "complaint wait" the "hidden price of doing business" in the U.S., and says the problem is only going to get worse unless consumers smarten up and complain with their wallets and pocketbooks instead of their telephones and email messages.
Here are some other takeaways from
their study
:
71% of U.S. consumers have lodged a customer service complaint in the past three years. The time wasted on each complaint? One hour and four minutes, according to Kana.
"Full resolution" of a customer service issue takes three attempts, and 69% of customers said they had to repeat their complaint to multiple staff members at the business being targeted for the complaint
17% say they have fallen into a customer service "death spiral" where they had to repeat their problem constantly for more than an hour.
Americans aren't using social media yet, although it can be a powerful consumer tool. Only 7% of Americans turn to Facebook (FB) , Twitter or Yelp, among other sites, to issue a complaint.
Most people (39%) use the phone to lodge a complaint, while 33% use email.
Who are the most consistent gripers? On average, that would be young Americans aged 25-34, and mostly women in that group.
Also see: Online Bank Customers Are Surprisingly Short-Tempered>>
Also see: Consumer Frustration Threatens Billions in Revenue at 10 Banks This Year>>
It's not exactly a shocker that Kana blames inefficiency and bungling on the part of businesses for leaving so many unhappy customers in their wake.
"A customer complaint presents an opportunity to provide excellent customer service and win that customer over by resolving their issue quickly and to their satisfaction," says James Norwood, chief marketing officer for Kana. "But all too often, customer service suffers from a lack of integration and misunderstanding across service channels. This leads to overwhelmed agents, lost productivity and frustrating and laborious experiences for customers, adding perceived insult to injury."
Norwood's advice to businesses is to use technology that aggregates data about the customer, product and complaint in question.
Achieving that would give customer service representatives "full context" over the problem and achieve better results for weary customers.
Consumers, meanwhile, should threaten to take their business elsewhere and use social media sites to "go public" with lousy customer service experiences to hold businesses accountable for their behavior.