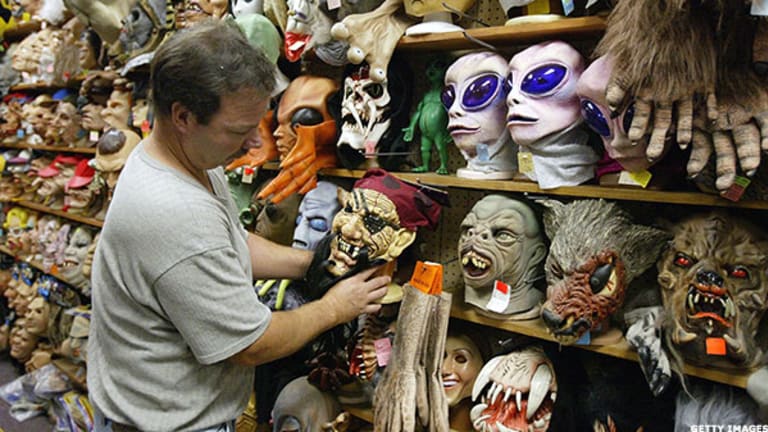 We'll Spend $11.3B on Halloween, a Good Sign for Holidays, Economy
The average family will spend $125 apiece on Halloween fun, led by families but with a growing number of adults taking part.
NEW YORK (MainStreet) — The International Council of Shopping Centers is out with its 2014 Halloween Consumer Spending Survey, and it shows that consumers really love their annual night of fright and frivolity (oh, and candy).
The council reports that 74% of households are planning to spend a boatload of cash on Halloween-related goods, to the tune of $11.3 billion this year. The average family will spend $125 apiece on Halloween fun, and another 20% say they'll spend more this year than last year. Another 60% say they'll spend the same amount.
"Halloween has continued to grow in importance over the past several years and consumer demand has driven retailers to place greater emphasis on the holiday," says Jesse Tron, an ICSC spokeswoman. "The fact that consumers are willing to spend more on discretionary purchases is a positive sign for the upcoming holiday shopping season."
Fair enough. After all, Americans love a lot of holidays. 
But $11.3 billion on Halloween? Why all the spending on spooks and the like, and what does it mean for the overall economy?
We reached out to Tron for a more detailed look at the Halloween spending season, and what's driving its growth.
Why is Halloween such a big consumer spending holiday? What's the appeal?
Tron: It's a holiday that we have seen grow in importance from a consumer standpoint over the past several years and has generated a much wider appeal in terms of age range as well. In terms of appeal, it is a nice opportunity for parents to do something fun with their kids. We know that people in general are busier than ever before, with their attention being pulled in multiple directions, so I think that many relish the chance to be able to spend some quality time with their families participating in a fun activity. Oh, and of course ... candy!
Is it spending on kids? Adults going to parties? Or both?
Tron: It's both, but I am sure it comes as no surprise that households with children are far more likely to spend money on Halloween-related items. The percent of households with no children that will spend something on Halloween-related items is 65%; for households that have any amount of children that number jumps up to 91%. 
I would say that it continues to be a family-dominated holiday, skewing towards those with younger children. However the popularity amongst adults, especially on the younger side, is growing from a social standpoint. In essence, the Halloween party is certainly popular and helps drive demand for costumes, decorations, candy, as well as other types of food and beverage. Additionally, the popularity of experiences also continues to rise. Things like haunted houses or hayrides, movies and parades — have all contributed to the increase in popularity of the holiday. 
Is a big uptick on Halloween spending a good indicator for holiday spending later in the year?
Tron: While it's not a perfect leading indicator, I would say that a strong showing for Halloween sales certainly bodes well for the upcoming holiday shopping season in November and December. 
The reason being that Halloween shopping would not be considered essential spending for consumers — back-to-school would be an essential spend - and therefore gives a good indication of the overall consumer psyche. If they are willing to spend more on Halloween, there is a good chance that provided no drastic changes occur in the economic climate, they will be willing to spend more on holiday-related purchases as well. 
Consequently, the Halloween results certainly provide another nice indication that we could see some nice growth this holiday season.  
— By Brian O'Connell for MainStreet
Save Cash on Payments! Compare Low-Interest Credit Cards Now