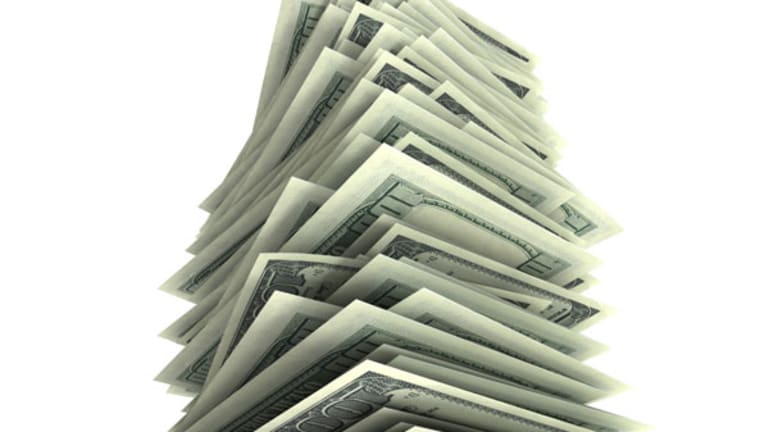 Wedding Etiquette Rules for Your Wallet
Be the best guest ever with our modern-day tips on giving gifts, declining the invite and more.
For most of us, weddings are an etiquette minefield. There's the all-consuming issue of what to wear, and deciding whether or not to go and how much to spend can be rife with frustration. You can avert a social disaster, however, by following modern-day manners, says Peggy Post, an etiquette expert and author of
Emily Post's Wedding Etiquette, 5th Ed.
Especially if you stick to your moral code.
"Etiquette is so important because it's a code of behavior based on being respectful and considerate," Post says. "It's not a bunch of rigid rules," she says. Contrary to popular belief, "it's really about people feeling comfortable with one another."
And nothing spells comfort quite like knowing how to handle prickly conundrums with tact and finesse. So if you're attending a wedding this summer -- or would rather skip the production altogether -- here's a wedding guest's guide to navigating the trickiest of etiquette quandaries, from saying "I don't" to the invite to purchasing nice (but not lavish) gifts for the happy couple.
Declining the Invite
If the wedding's out of town, decide if you really want to go. And think long and hard about whether a plane trip fits into your budget, says Sharon Naylor, author of
The Essential Guide to Wedding Etiquette.
"These days it's far more acceptable to decide not go," she says, adding that the recession has forced plenty of guests to second-guess their wedding expenses. "Most people webcast their destination weddings ... and there's far less shame and family diplomacy fallout.
On the flipside, if a family decides to go, what's happening is they're budgeting for that to be their annual family vacation. But if it's really close family, you should look at your budget and reshuffle," she says. If you can, put something on hold -- like home improvements or car repairs -- when duty calls.
If you still decline, don't just send in the R.S.V.P., says Naylor. It's tacky (and, for the record, so is declining by email). Call to let the bride and groom know in an honest, drama-free way you simply can't make it.
"The sob story doesn't really register," she says, "especially if they hear in two months that you're talking about your European vacation. Really, the simpler, the better."
Booking the Trip
In the past, it was the bride's family's responsibility to pay for travel and lodging, says Naylor, the Wedding Etiquette author. But not anymore: Expecting a free ride has become rude and passé, and, "if the family was planning on picking up expenses, it would be stated in writing," she says. So if the info's not there, make plans. And if it is, don't feel obligated to book a room where the family is staying. Trust us, no one's going to shun you at the reception for scoring a bargain at Howard Johnson.
"Sometimes you can very often find a better deal on travel sites," says Naylor.
"Just remember to see the big picture," adds Amy Eisinger, editor for
, so you don't shell out upwards of $200 for cabs or a rental car when the bride's family already had transportation options arranged. "Oftentimes the
bride's family's
hotel will offer a discounted rate, so check out what it's going to cost, then weigh your options," Eisinger advises.
No matter what happens, don't you dare make a peep about how much you spent.
"It's the bride and groom's day," reminds Eisinger. "Your job is to be there and be happy for them. Don't show up and complain about how much it cost you to be there ... That would be considered inappropriate."
Gift-Giving Dos and Don'ts
You're under no obligation to give a gift to the bride and groom -- making the guest list alone proves you're special. But, keep in mind most people do give gifts, whether it's out of generosity or the fear of leaving a bad impression, and most registries today cover every price point. Whether you decide to attend or not, give gifts at your discretion.
"Again, it's personal code," says Naylor. "You don't have to buy a gift, but many people choose to give something from the registry in a more moderate price zone, or they give the $50 gift card. A lot of people would not dream of not giving something ... especially if they consider the bride and groom to be more than an acquaintance."
Base what you'll spend on two factors, Post says: how well you know the couple and your budget. "Is this your long-lost roommate? Your cousin that you get don't along with?" she asks. "How close are you to the person getting married or the people inviting you? Are you in an entry-level job? Are you a starving artist? Be realistic. Don't go out and buy a $300 wedding gift if you feel like you have to."
And if you're traveling for the nuptials, skip the gift and keep mum on its whereabouts. "The bride and groom have requested your presence, and being there is gift enough," says Eisinger. "You never owe an explanation."
If you meant to give a gift but forgot it entirely, Eisinger says to mail a check, rather than snatching what's left on the registry (likely cheap trinkets).
Writing a Check
In lieu of buying a gift, go the cash-money route and cut the couple a check. Just be tactful about it: No whipping out the blue book during the father-daughter dance, or playing 20 Questions with the chef to sleuth out the cost of dinner plates per person. Equally tacky, if not simply clueless, is putting $50 or $100 bills in the mail. Send a gift card or check in a congratulatory card well ahead of time (between six weeks and six months from when you received the save the date card, says Eisinger) instead. That way the bride and groom aren't searching for it during their booze-soaked party.
Another option is making a charitable donation in the wedding couple's name, says Post. "Some registries apply profits toward charities, so that's more bang for your buck." But remember, if you are giving money to a charity, "make sure it's a charity that won't offend them. If they're anti-abortion, don't send money in to Planned Parenthood."
Sharing a Gift
Wedding guests on a spending diet can thank the recession for bringing group gifts in vogue. It's cost- and time-effective, and for some guests, much less stressful than having to shop solo.
"Group gifting shouldn't be considered a faux-pas," says Eisinger, the WeddingChannel site editor. "If you can find a couple gifts and five or six people to buy a single wedding present -- as long as that gift isn't $50 -- that's fine."
Post offers tips for splitting group gifts with colleagues, siblings and/or close friends: Don't embarrass whoever spent the least; have everyone write a Thank You for the couple; and don't dictate something outrageous to purchase if you're the one doing the planning.
"Brides and grooms don't do the math and get petty about how much you spent on a little toaster oven," says Naylor. "It's $25 to give them something nice from the registry, and doing something nice is worth so much more."
Besides, who can argue with doing more for less?
Skipping Brunch, Bridal Showers & More
"Weddings have grown to be such a multi-billion-dollar industry, there's so much hype out there," laments Post. But just because the bride's hosting three showers, a bachelorette party and an engagement brunch in Maui doesn't mean you have to show up -- or show up with gifts.
"If you've been invited to every association with the wedding, pick and choose the events that you're going to go to and come up with a total amount that you're going to be spending," Eisinger advises. "Spend the most on the wedding. Attending that should be the first priority. Skip the bridal shower. You shouldn't spend $100 on the shower and $20 on the wedding gift."
If guilt sets in, do a budget like the one Eisinger offers here: Set aside $40 for the engagement gift, $50 for the shower gift and $110 (at most) on the wedding gift. "The bachelorette party doesn't have to be a 'gift' gift," she adds, "you can split dinner and buy drinks with the bridesmaids. The same goes for the bachelor party."
A Dress for All Seasons
For women, "it used to be everyone would go out and get a new dress for a wedding," Naylor recalls. Now women are spending less and investing in a go-to dress that will work just as well in casual and dressed-up settings.
"The idea is to get one dress and accessorize it in different ways so it works for the five or six weddings you have to go to," she said. Eisinger agrees, calling the wedding guest 'dress for all seasons' " a staple wardrobe piece, like a sweater, or anything else."
If you're in the market for wedding attire, consider snapping up navy, brown or "muted neutrals," like dark tan, which Naylor assures us "will work just beautifully all through the season, and with most people's coloring as well."
Readers Also Like:
>>
The Cost of Being a Bridesmaid
>>