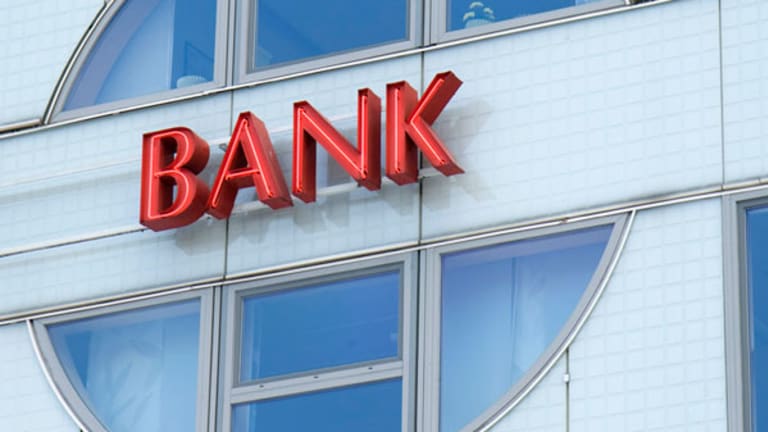 We Have Fewest Banks Since 1934, But That's Not Necessarily Bad
Consumers may be getting fewer options on fees, interest rates and mortgages, but fewer banks also mean more government oversight.
NEW YORK (TheStreet) -- The Federal Deposit Insurance Corp.says banks are growing healthier, reporting higher net income and lower debt as the year draws to a close. But the banking sector, at least in terms of individual banks, is shrinking, and fast.

The number of banks is plummeting in an environment where:
Savings rates are lower than ever. According to the BankingMyWay.com Weekly Savings Account Rate tracker, the average interest rate on a bank savings account is a paltry 0.067%.
Mortgages are more expensive. This makes home purchases more expensive. The tracker reports that 30-year fixed mortgage rates rose to 4.42% from 4.31% last week amid a stronger economy.
Also see: Big Banks Might Charge for Deposits to 'Compensate' for Fed Policies>>
Bank customers are paying more in fees and charges. The average bank charges customers 30 fees, with some banks slapping customers with up to 50 different account fees. Meanwhile, a single overdraft fee of $30 or so can wipe out an entire year's worth of interest earned on the average bank savings account.
So where, exactly, do fewer banks fit into the consumer picture?
First, the figures, as reported by The Wall Street Journal: The number of U.S. banks has fallen to 6,891 in the third quarter of this year, the lowest since the federal government started monitoring the number of banks back in 1934.
The peak number of banks -- 18,000 -- was in the early 1980s, but there was a sharp decline after that, especially among smaller banks with assets of $100 million or less.
The Journal, using numbers from the FDIC, reports that 10,000 banks have shuttered between 1984 and 2011, with most gobbled up in merger and acquisition deals but 17% collapsing under their own weight.
Also see: 4 Changes to Bank Branches Brought on By Your Smartphone>>
Here is the so-called good news: 6,900 banks are easier to track than 18,000 banks, making the government's job of monitoring financial institutions that much easier. That means Uncle Sam can focus on fewer problem banks and provide better oversight for consumers.
Also, more bricks-and-mortar banks are closing as consumers turn to online and mobile banking, mostly with larger institutions. That renders 18,000 banks as overkill -- there simply isn't demand for so many individual banks, since customers can easily log on to their online accounts to manage their finances.
On the flip side, consumers may find it more difficult to dig up a great loan deal if larger banks' "one size fits all" approach dominates the lending scene.
There's really no way of knowing whether the trend of fewer banks will continue. But if the industry slides from 7,000 to less than 3,500 banks, consumers may legitimately wonder if they're getting all the options they need from the banking sector.