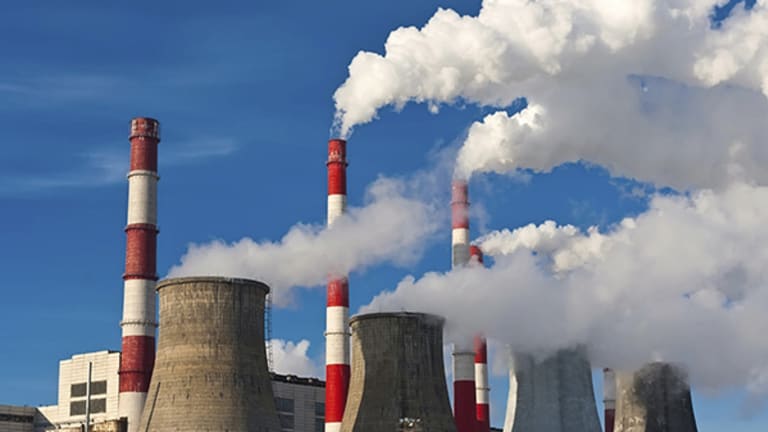 We Can Cut Carbon Emissions With No Net Cost to Economy
Corporations push back against emissions standards, but there's a lot of good to be found in simple EPA energy efficiency policies.
Corporations push back against emissions standards, but there's a lot of good to be found in simple EPA energy efficiency policies.
BOSTON (TheStreet) -- The Obama administration released its Third U.S. National Climate Assessment May 6, the result of a three-year analysis by more than 300 climate scientists confirming that climate change is already affecting Americans in every region, as well as vital sectors of the economy. As part of the solution, the administration intends to impose limits on carbon dioxide emissions from power plants starting this summer.
The forthcoming Environmental Protection Agency standards, which are under review by the White House Office of Management and Budget and set to be released in early June, would set CO2 emissions thresholds for existing power plants.
Many have expressed concern that any Clean Air Act limits on plant emissions would hurt the economy, but a report last month by the American Council for an Energy-Efficiency Economy argues that the power sector could reduce carbon emissions by 26% through simple energy efficiency upgrades at no net cost to the economy.
The council report highlights four common energy efficiency policies the EPA could use: setting a state energy savings target of 1.5% per year, implementing updated national model building codes, building economically attractive combined heat and power facilities and adopting standards for certain appliances.
"The good news is that the energy efficiency technologies included in the plan have already been tested and are ready to be deployed," the council says in a press release. "The vast majority of states already take advantage of some end-use energy efficiency programs and policies, and all states have vast untapped reserves of this resource."
The report also asserts that these relatively minor adjustments in energy efficiency would save 600 million tons of greenhouse gas emissions -- or more than 925 million MWh of electricity -- by 2030. It would accomplish this by cutting national electricity demand by a quarter and avoiding the need to build 494 more power plants. This in turn would increase the national gross domestic product by $17.2 billion and create 611,000 jobs inside the U.S.
"If [the EPA] is looking for a low-cost way to reduce greenhouse gas emissions quickly, it would be a real mistake to leave energy efficiency out of the equation," says Sarah Hayes, senior manager for National Policy at the council. "What the EPA is interested in is reducing emissions, and this is the cheapest way to do it."
>>Read More: Why New Studies May Mean 'Game Over for the Climate Deniers'
Hayes stresses that the options the council outlines in its report are very modest and the U.S. already has the technology and infrastructure in place to apply them on a wide scale with relative ease -- which means there is potential to cut even more emissions should the EPA decide to take advantage of energy efficiency's full potential.
The report expands on its earlier research, which found that economy-wide improvements in energy efficiency could have halved reduction in current U.S. energy use if the pro-efficiency policy trends of the 1960s and early 1970s had continued. In fact, estimates show that improvements in energy efficiency and the structural changes in the economy have helped supply more energy over the past several decades than reserves in fossil fuel-based energy sources including coal, oil and natural gas.
The council is not the first organization to propose energy efficiency as low-hanging fruit with great rewards.
In 2009, the consulting firm McKinsey reported that the U.S. could reduce non-transportation energy consumption by nearly a quarter (23%) by 2020 and save $1.2 trillion just by maximizing energy efficiency. The firm's landmark report declared that shifting national focus on energy efficiency could achieve significant cuts emissions in a very short time.
Yet there is still a lot of pushback to emissions standards by the corporate sector. For instance, the American Coal Council says new standards would remove coal as an option for planned energy plants.
"Implementation of the rule will reduce American energy diversity and security, stop the development of cleaner coal technologies and increase the risk of higher electricity prices to consumers and businesses," the group says in comments to the EPA about the proposed rule.
>>Read More: Peak Coal Argument Gets on a Short Timeline

Other groups that have expressed concern over impending EPA regulations are the American Council for Clean Coal Electricity and the U.S. Chamber of Commerce.
"EPA should recognize that, beginning with this rulemaking, its greenhouse gas regulatory agenda will reverberate throughout the economy," the Chamber wrote to EPA. "EPA should work cooperatively to ensure all of its [greenhouse gas] regulations are cost-effective, attainable and avoid harm to American jobs and the economy."
Meanwhile, many green groups have applauded the Obama administration's move to rein in emissions, particularly by the power sector.
"Coal plants are the source of an enormous proportion of the climate pollution facing our nation, and as we continue the transition to clean energy solutions, it's vital that our communities are protected from that pollution," the Sierra Club says in an online petition signed by more than 100,000 people. "The proposed standards for coal plants are an important and necessary step."
This is where Hayes believes energy efficiency can come in and offer a solution all sides can agree with, by seriously slashing emissions while offering the economy a much-needed boost.
"Energy efficiency is the ultimate resource: clean, reliable, and cheap," Hayes said. "The EPA has the opportunity to improve our air quality and our economy in one fell swoop."