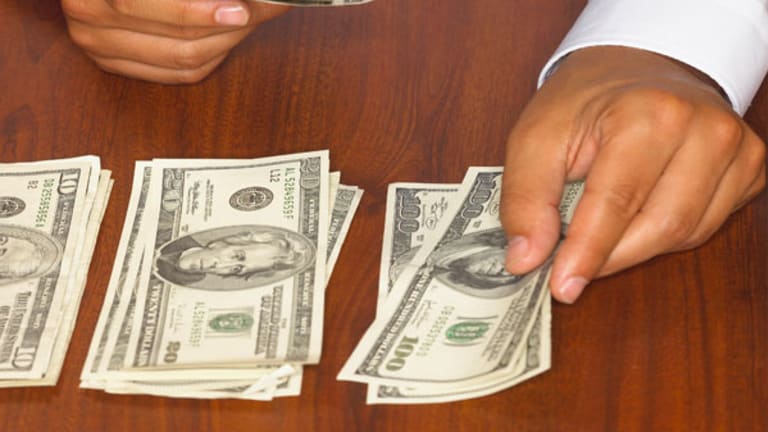 Ways to Win Emerge from Massive Snowfall
Recent snow and blizzards cost airlines and retailers a bundle, but the consumer's getting snowed too.
NEW YORK (TheStreet) -- For consumers and retailers, snowstorms are like snow itself: They get to be a problem if enough of them pile up.
American commerce dug a 4.2% increase in same-store sales out of a January that much of the Northeast spent shoveling, according to Thompson Reuters. It's better than the 2.7% experts predicted and included a 2.6% surge for
Macy's
, a 9% nudge for
Costco
(COST) - Get Costco Wholesale Corporation Report
and a 24% spike for Victoria's Secret owner
Limited Brands
(LTD)
. Sadly, though, it doesn't include last week's storms that stopped Chicago cold, froze Super Bowl traffic in and out of Dallas and left the Northeast wondering where to pack and pile it up next.
Relentless winter storms around the country are costing business big, with seemingly the only way to win to literally bet that it is going to snow.
The more than 20 inches of snow that fell in Chicago alone are estimated to have cost city retailers $55 million to $60 million in business, according to the
Chicago Sun-Times
and Chicago consulting firm Melaniphy & Associates, with the Chicagoland area taking a $300 million hit. Airlines, meanwhile, canceled 20,000 flights last week, according to FlightAware.com. That brought carriers to nearly 90,000 cancellations this year -- the worst spate in nearly a quarter-century, according to the Bureau of Transportation Statistics.
That's made it a busy season for Planalytics, which provides weather data and weather-based business advice to firms including
Johnson & Johnson
(JNJ) - Get Johnson & Johnson Report
,
Kohl's
(KSS) - Get Kohl's Corporation Report
,
Campbell's Soup
(CPB) - Get Campbell Soup Company Report
,
Starbucks
(SBUX) - Get Starbucks Corporation Report
and
PepsiCo
(PEP) - Get PepsiCo, Inc. Report
. Planalytics tries to advise its clients how much inventory they should stockpile based on consumer behavior during snowstorms and other weather-related events, but acknowledges that human nature is unkind to retailers who don't stockpile the bread, milk and eggs for snow-day French toast or stacks of rock salt bags for last-minute shoppers.
"Overall, January is a light month for retail sales, and February's even lighter," says Evan Gold, senior vice president of client services for Planalytics. "That said, there's going to be some impact among mall-based retailers that count on foot traffic, restaurants and people who carry more discretionary items rather than need-based items."
If you're a home center such as
Home Depot
(HD) - Get Home Depot, Inc. Report
or
Lowe's
(LOW) - Get Lowe's Companies, Inc. Report
that stocks snow-melt and snow blowers or a grocery store such as
SuperValu
(SVU)
or
Kroger
supplying the snacks that get people through the storm, Gold says you're pretty much set. If you're a mass retailer such as
Target
(TGT) - Get Target Corporation Report
, which was one of the few that saw numbers slump in January, it won't matter how much salt you stock in the garden center if you're not displaying a few bags of it with some snow boots and shovels up front.
"It's not a huge month in terms of total overall retail sales, but if you're selling need-based items you can get a big lift -- provided you have enough inventory in the right place when the consumer is looking for it," Gold says. "Those are products that if you don't have it when they need it, they're going to go somewhere else to get it, and those sales don't come back."
Airlines wish they had such options during the snow season. SmarterTravel editor Anne Banas says canceled flights can cost carriers an estimated $7,000 apiece, bringing the burden of this year's storms to nearly $630 million. That's just piling onto fuel prices that rose 19% in the first 11 months of last year, according to the Bureau of Transportation Statistics, to their highest level since November 2008.
"This winter's unusually severe weather has cost the airlines and the traveling public untold millions in lost wages, cancellation penalties, forgone revenue and other factors," says George Hobica, president of AirfareWatchdog.com. "We'll probably never really know the full impact, but it has been enormous in both tangible and intangible ways."
Naturally, those costs all flurry down to consumers who are already paying 10.7% more in airfare than they did a year ago and 14.6% more than they did in 2004 while being squeezed into fewer seats as available seat miles (the number of seats of a flight and distance flown) dropped to its lowest level in a decade in 2009.
"It's an interesting situation, because the airlines have cut capacity back -- and these are full flights and very profitable flights, but they're having to cancel them," Banas says. "For the consumer, when this happens, there aren't a lot of available seats to put people on, and it takes days to find seats and gets people rebooked."
That's just the least of a traveler's problems once a flight is canceled. Though these are the risks inherent in traveling during the off-season and the reason why fares during this period are so low, ancillary costs including cancellation fees, impromptu hotel stays and food for the duration stack up quickly once the snow falls and planes stop flying.
"When there's a weather delay, it's an event out of the airline's control and they're not obligated to give you anything but a full refund," Banas says. "They don't have to give you a hotel, they don't have to give you food vouchers, if you miss your cruise they don't do anything to make up for that lost money and if you miss a hotel stay they don't cover that cancellation -- they don't do anything to make you whole."
Even the refund can be of little consequence if the double-digit fare hikes continue and make rebooking a flight in the future far more costly. To alleviate such a risk, Banas suggests booking connecting flights in places that aren't usually weather-prone -- for example, Atlanta and Houston -- while acknowledging that Atlanta's recent difficulties with winter weather make that strategy less of a lock. Travel insurance through a company such as TravelGuard, which can charge $60 to $90 per flight and considerably more for flight-and-cruise packages, is one option, but consumers need to check the fine print for weather coverage.
Retailers, meanwhile, may want to heed Planalytics' suggestion to take advantage of online resources when the weather turns bleak. Gold says online shopping only increases during the snowy season, while pinpointed online marketing can make your customers aware that you're not just marching out the Mother's Day dresses once Valentine's Day ends and can blow in some added sales if consumers know you're stocking boots and snow blowers.
"With the proliferation of online retailing and databases of names, they can now target specific customers and advertise the right product when you need it," Gold says. "Nobody wants to get an ad telling you to come in and buy shorts and sandals at this time of year, but that's what the retail calendar says people should be buying."
There's another way for retailers for shield themselves from the snow, if they're just willing to spend a little up front. Former Merrill Lynch trader Jeff Hodgson created the only snow futures market in the world when he opened the Chicago Weather Brokerage in December 2009. Companies who want to hedge against potential snow damage to their sales and revenue can take out a contract that pays a fixed amount for every inch over or under their host city's average snowfall.
A road salt company that feels pain every time it snows less than 20 inches can set up a hedge that covers the company with $1 million for every inch below that mark, while an airport -- Boston's Logan, for instance, which just blew away its 10-year-average of 45.5 inches with nearly 71 inches already this season -- would buy in for every inch above its pain threshold. The problem is that while the historical snow data and seasonal revenue figures are there, most companies just haven't done the math.
"I was in a room once with about 10 successful snow companies from all over the United States, and I said, 'How many of you, if I asked you how much revenue you get per inch of snow, could answer that question right now?'" Hodgson said. "Nobody raised their hands."
Hodgson helped the CME Group create a snow derivatives market based on his snowfall models -- with contracts based on snow measurements at airport in Boston, Chicago, Detroit, Minneapolis/St. Paul and New York -- and has seen business grow: from one or two hedge participants and 60 options in one market at the outset to six active hedge partners and 500 options in three markets. Contract holders range from businesses as large as airlines and as local as property managers, and the more than 20 inches that fell in Chicago last week has produced one of the brokerage's first winners in that city.
"We have one client who stands to make about $120,000 to date. And I'd love to tell you that's not a big deal, but at this stage in the game this is a brand-new market. We're excited about that," Hodgson says. "Nothing will grow this market faster than a hedger winning on a trade -- it's like someone going to Vegas with 15 guys to play blackjack and the one guy who wins tells everyone and nobody else says a word."
-- Written by Jason Notte in Boston.
>To contact the writer of this article, click here:
Jason Notte
.
>To follow the writer on Twitter, go to
.
>To submit a news tip, send an email to:
.
RELATED STORIES:
>>10 Most Terrible Financial Choices In Music History
>>Valentine's Day Proposals Come At A Premium
>>7 Steps To An Online Valentine's Day Date
Jason Notte is a reporter for TheStreet.com. His writing has appeared in The New York Times, The Huffington Post, Esquire.com, Time Out New York, the Boston Herald, The Boston Phoenix, Metro newspaper and the Colorado Springs Independent.