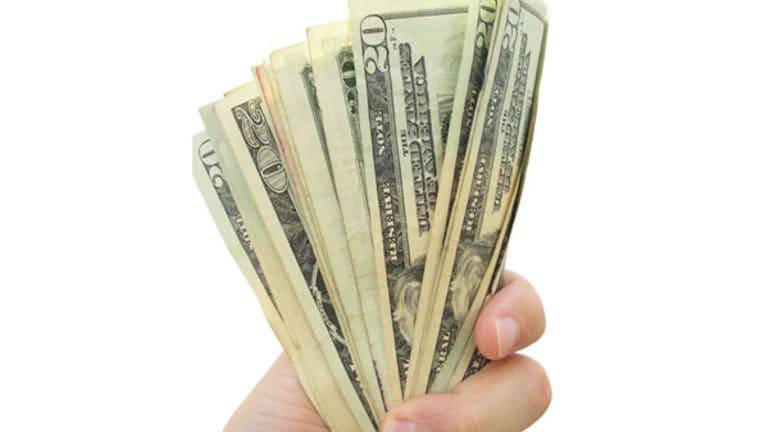 Water Infrastructure Woes Don't End Cash Flow
Low cost keeps bill payers paying, and that keeps American Water Works' dividends coming.
NEW YORK (TheStreet) -- With 50,000 miles of pipes, 7,000 employees and 1 billion gallons of water delivered each day, American Water Works (AWK) - Get American Water Works Company, Inc. Report is the largest water company in the United States. Compared with the cost of other utilities, it's also a bargain for customers, says Walter Lynch, president of regulated operations.
Lynch recently chatted with
TheStreet
about America's water infrastructure as well as the company's growth plans.
Does the United States need an upgrade of its water infrastructure? And is American Water getting money from the government to do that?
Lynch:
The Association of Civil Engineers gave our country a D minus rating in infrastructure for both water and wastewater. And the U.S. EPA says we also need about $1 trillion dollars over the next 20 years to replace and upgrade existing water and wastewater in the United States. We have gotten some money from the federal government for states such as Arizona, West Virginia and Indiana to really address some of these long-term needs from our customers.
How is the quality of water right now in the United States?
Lynch:
The quality of water is good. Our industry spends a lot of time ensuring that we meet the federal and state standards. Both on the municipal side and the utility sector side we spend a lot of time and effort to make sure we meet the upgraded standards. So the water is very good.
We keep hearing about water wars between the states, especially out west in states such as California and Arizona. Is this going to continue, and how does this affect your business?
Lynch:
It is going to continue, because there are water supply deficits throughout the United States, particularly in the West and Southwest. What we are doing is looking for innovative ways to address this water supply challenge. We have a number of desalination facilities across the United States that are in the permitting process. That, coupled with water reuse projects, primarily in the Southwest, will help with this water supply challenge. So we are addressing it.
American Water is a regulated utility. How much more can you grow?
Lynch:
Because there is an infrastructure challenge, we are going to continue to invest to really upgrade our facilities to meet the demands of growth in our service territories. We see there is potential to grow our business. The municipalities are faced with many challenges, including raising capital to address their water and wastewater needs. We want to be a partner with them. For example, if we can acquire their systems or perform contract operations where they maintain ownership and we operate the systems on a long-term basis, then that's a way we can partner with them to address these challenges.
A lot of Americans right now are struggling to pay their bills. Where does the water bill rank as compared with the mortgage or the electric bill?
Lynch:
We are the least-expensive utility when you compare it to electric or gas. We are more apt to get paid before the other utilities, and we are not seeing a big increase in our uncollectables. People are paying their water bills on schedule and, if they can't, we work out some good payment plans for our customers.
Right now American Water pays a 3.8% dividend. Any plans to increase that?
Lynch:
,We went public in 2008 and since then we have increased our dividend by 5% a year. We want to continue to do that. What we want to do is continue to improve and provide the best customer service for our customers. Also, we want to continue to invest in infrastructure, and that's going to provide the growth mechanism for the future.
--
Reported by Gregg Greenberg in New York
.
>To submit a news tip, email:
.
Readers Also Like:
>>4 Safest Stock Picks in 10 Industries
Follow TheStreet.com on
and become a fan on
Disclosure: TheStreet's editorial policy prohibits staff editors and reporters from holding positions in any individual stocks.