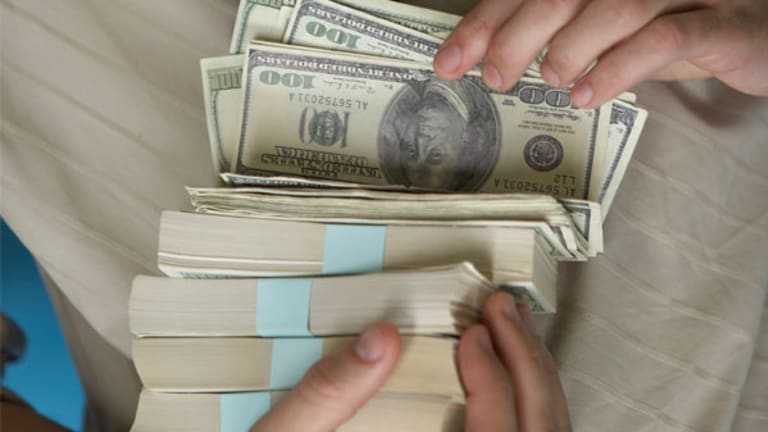 BERKELEY HEIGHTS, N.J. (TheStreet) -- Family loans can be appealing, given the current miserably low interest rates on savings accounts coupled with tight credit conditions for borrowers, but there are serious tax and relationship implications to consider first.
For example, let's look at a wealthy parent with a child in their late 20s or early 30s. The parent has excess cash earning close to zero in a money market account. Their adult child would like to buy their first home, since they're more affordable than during the crazy days of the housing bubble. But they are having difficulty getting a mortgage due to stricter lending rules.
Family loans typically come with low interest but serious tax and relationship implications.
A private mortgage might benefit both parties in this circumstance: The parent can earn a higher rate of return, while the child will be able to get mortgage funding at a lower rate than a traditional lender.
The key to making this work is to structure and document the loan properly. Failure to do so may give rise to unintended consequences, such as taxable imputed income taxes and gift taxes. If a borrower makes a zero-percent interest loan to a family member, the IRS deems the lender to have earned interest at the Applicable Federal Interest Rate and forgiven the loan interest. As a result, the imputed interest income is taxed on the lender's income tax return and the "forgiven interest" is considered a gift and eats into the lender's $13,000 (as of this year) annual gift tax exclusion. If the forgiven interest is greater than $13,000 a year, it would also eat into the current lender's Lifetime Gift exclusion of $5 million.
So how does one go about properly structuring and documenting a family loan? A family loan for a mortgage done right should include:
A promissory or mortgage note that bears a minimum interest rate equal or greater than AFR (the long-term rate is now 2.67%) and spells out its term and payment dates, meaning it must be decided whether payments are to be monthly, quarterly or annually.
A mortgage or deed of trust properly recorded with correct governmental authority, which makes the mortgage secured and gives the lender the legal right to foreclose.
The income tax implications for a properly documented and recorded mortgage:
The lender records mortgage interest as income on Schedule B of their return.
The borrower can deduct mortgage interest expense as an itemized deduction.
Before making a family loan, several other issues must be considered, including whether the borrower is a spendthrift unlikely to pay you back. What is the overall family dynamic? Will you help out other family members in a similar fashion, and if you do not will that create bad blood? You need to tread carefully and consider all of these things before actually making a family loan.
People interested in making a family loan should engage financial and tax professionals to help on the front end. This is not an area to dabble in with forms from the Internet.
>To submit a news tip, email:
.
RELATED STORIES:
>>Starting a Business? Review Tax Implications
>>High Spenders Need a Reality Check
>>Tax Code Should Reward Good Behavior
Follow
TheStreet
on
and become a fan on
Michael Maye is the founder and president of MJM Financial Advisors (www.mjmfinadv.com), a registered investment advisory firm in Berkeley Heights, N.J. He is a member of the National Association of Personal Financial Advisors (NAPFA) and has been a speaker covering tax topics at NAPFA's national and regional conferences. Maye has also been a frequent contributor to the Star Ledger of New Jersey's "Biz Brain" and "Get With the Plan" articles. In addition to NAPFA, he is a member of Financial Planning Association, American Institute of Certified Public Accountants, New Jersey State Society of CPAs and the Estate Planning Council of Northern New Jersey.