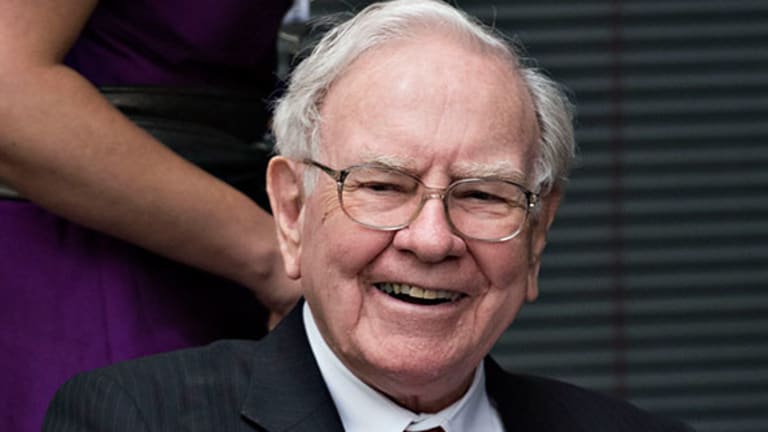 Publish date:
Warren Buffett's Defense Anchors This Must-See, All-Star Stock Portfolio
A well-positioned portfolio requires both offensive and defensive holdings. Famed investors Warren Buffet, Benjamin Graham, John Neff and others can guide a strategy that includes both types of stocks.
A well-positioned portfolio requires both offensive and defensive holdings. Famed investors Warren Buffet, Benjamin Graham, John Neff and others can guide a strategy that includes both types of stocks.
The National Football League will kick off its 2016 season on Sept. 8. As in many sports, a winning football team has to show strength on both offense and defense.
The same argument can be made in terms of a winning investment portfolio. Building a resilient, well-performing team requires both offensive and defensive holdings to ensure the best probability of success.
Offensive picks include stocks to take advantage of market upside, including value stocks, as well as growth stocks. Value stocks sell cheaply relative to the underlying values of their businesses. Growth stocks have strong earnings potential. 
On the other hand, defensive stocks might include non-cyclical, household name businesses that have size and a strong competitive advantage. These companies generally provide widely used products and/or repetitive consumer services that don't require hefty capital expenditures. Such names, which might also pass muster under value strategies, provide insulation against market disruptions.
An investor can assemble a rugged offense using the tenets of value investing legends such as Benjamin Graham, David Dreman and John Neff. While the methods of these gurus may differ, they share the philosophy that buying solid companies at discounted prices makes sense, while chasing the newest, hottest stocks might not. By adding growth criteria to the mix, an investor can round out his or her offense with companies that exhibit Growth at a Reasonable Price (GARP).
For example, Peter Lynch uses his price-earnings-growth ratio (P/E/G) to ascertain whether a company's P/E is supported by increased profitability. Martin Zweig looked for companies with a strong sales base to sustain growth as well as low leverage (since high interest costs can threaten margins).
For the defensive side, we'll tap strategies from the likes of Warren Buffett, which is a high quality and value model that tends to select companies with consistent track records of earnings and profitability, and the Cornerstone Value approach, a model inspired by quant guru James O'Shaughnessy that identifies the market's largest stocks with strong cash flow and other favorable characteristics. These stocks are then sorted by dividends to select the names with the highest yields.
The names tagged by these types of models tend to be solid, reliable businesses that produce straightforward, non-cyclical products and/or services, have a conservative debt structure and generate income through dividends. When the offensive team is not on the field or putting up points, you hope your defensive line-up is grinding it out, showing solid productivity and generating income.
Using Validea's guru-based stock screening models, below you'll find picks to cover both the offensive and defensive sides:
Offense:
Neustar  (NSR) is a real time provider of cloud-based information services. The company earns a perfect score under our Joel Greenblatt-based investment strategy due to the combined ranking of its earnings yield and return-on-total capital. The stock, which carries a P/E of 9.3, ranks in the number three spot out of all stocks ranked by the Greenblatt approach.
Tech Data Crop  (TECD) - Get Reportis a wholesale distributor of technology products. The Peter Lynch-based stock screening methodology likes the company's moderate earnings growth of 14.56%, which the model considers as sustainable, and positive earnings-per-share of $6.16. Debt-to-equity is considered moderate (17.17%). Our Benjamin Graham-based model likes Tech Data Crop's price-earnings ratio based on the 3-year average of 13.20, which falls under the maximum of 15, and its price-book ratio of 1.23.
Drew Industries (DW) , through its subsidiaries, supplies an array of components for recreational vehicles and manufactured homes both in the U.S. and abroad. Our Lynch-inspired model considers the company's sales of $1.54 billion sufficient to support the price-earnings ratio of 23.78 (max under this model is 40). Growth in earnings-per-share of 21.3% (three-, four- and five-year average) is also favorable under this methodology. Our Martin Zweig-based screen favors the company's persistent EPS growth over the past five years as well as the recent quarter-over-quarter growth (77.65%) compared to the historical level (21.31%).
Amtrust Financial Services  (AFSI) - Get Report provides (through its subsidiaries) specialty property and casualty insurance. Our Buffett-based investment strategy gives high marks for the company's 10-year average return-on-equity of 18.3% (versus the 15% minimum), which this model considers a sign of durable competitive advantage. Our Lynch-based screen finds Amtrust Financial's price-earnings-growth ratio (an indicator of price fairness) of 0.34 as favorable and likes the growth in earnings-per-share (three-, four- and five-year average) of 27.4%, which falls well within the model's ideal range of between 20% and 50%. Our Martin Zweig-inspired stock screen favors American Financial's most recent quarterly EPS growth rate of 85.71% (compared to the historical rate of 27.39%).
Defense:
Brown-Forman  (BF.B)  is a large-cap ($19.38 billion) spirit and wine company. Its earnings stability gets high marks under our Buffett-based investment strategy, and the company's profitability would allow it to pay off debt in less than two years. Return-on-total capital, which includes debt of 16.4% (three-year average) stacks up well against the minimum requirement of 12%. The total retained earnings over the previous 10 years ($7.32 per share) compared to EPS growth over the same period ($1.75) shows a return of 23.9%, which this model finds favorable.
Dow Chemical  (DOW) - Get Report is a manufacturer and supplier of a wide range of products, including coating applications, adhesives, performance materials, chemicals and plastics. The company earns a perfect score under our James O'Shaughnessy-inspired Cornerstone Value stock screen due to its size (market cap of $60.62 billion) and robust top line (trailing 12-month sales of $46.15 billion).
Dow Chemical is a holding in Jim Cramer's Action Alerts PLUS Charitable Trust Portfolio. See how Cramer rates the stock here. Want to be alerted before Cramer buys or sells DOW? Learn more now.
Cash flow-per-share of $9.56 well exceeds the market mean of $1.38 and the stock's yield of 3.4% puts it in the top 50 stocks according to this model.
At the time of publication, Reese was long
Neustar, Tech Data, Drew, Amtrust, and Dow
, although holdings can change at any time. John P. Reese is founder and CEO of
, an investment research firm, and
, an asset management firm serving affluent investors and companies. He is also co-author of two investing books, including
The Guru Investor: How to Beat the Market Using History's Best Investment Strategies
(Wiley). Under no circumstances does the information in this column represent a recommendation to buy or sell stocks. Reese appreciates your feedback.
to send him an email. TheStreet.com has a revenue-sharing relationship with Amazon.com under which it receives a portion of the revenue from Amazon purchases by customers directed there from TheStreet.com.