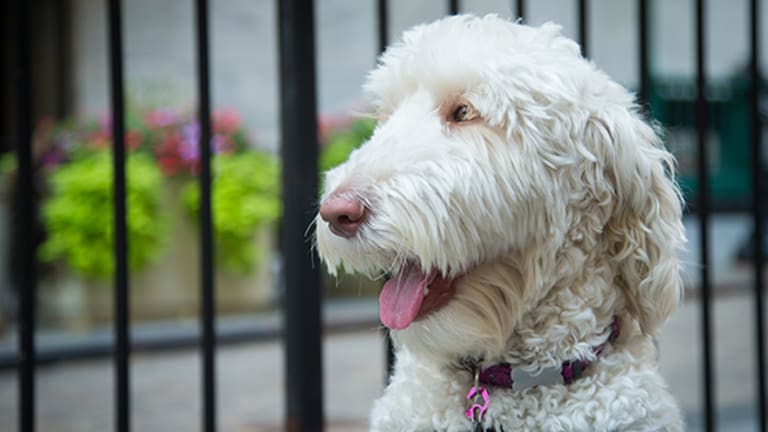 Wall Street Likes It Doggie-Style: Life Is Ruff in FiDi
From designer treats to expensive spas, these dogs are anything but average.
Wall Street has gone to the dogs. In recent years, "the money capital of America" has become increasingly residential. Now high powered fund managers, bankers and traders share the cobble-stone streets of Manhattan's financial district with four-legged furry friends. Luxuries once reserved for well-heeled business types are now bestowed upon their pups. From high-rise living to pricey day care, "a dog's life" takes on new meaning on Wall Street.


Bruce, 8 years old, English Bulldog
At 8 years old, Bruce is one of the elders on Wall Street. One of his favorite places to lounge is at the corner of Broad and Exchange. We met Bruce while he was relaxing on the benches. His dad works from home so lucky Bruce gets to go for walks during the day. His mom says he's spoiled with attention. Some of Bruce's likes include people watching...but he hates skateboards and zoom lenses -- as our photojournalist quickly found out.
Favorite place to pee and poop: "Piss Alley" aka Exchange Place between Broad Street and William Street.

Fulton, 1 year old, Pitbull-Greyhound Mix
We met Fulton while he was sunning himself in front of the New York Stock Exchange, not at all fazed by the crowds of tourists. Though you might expect that Fulton lives on Fulton Street, he actually resides on Exchange Place. When he's not out looking for prime sunbathing spots, he can be found hanging out with his friends at the Fetch Club on the weekends.
Favorite place to pee and poop: In front of the Post Office. (His mom insists this is not a commentary on the postal service.)

Jake, 10 years old; Henry 11 years old, Yorkshire Terriers
These two siblings are decidedly not spoiled. "They're just dogs... They get their two squares a day and get to hang out in a luxury apartment," says their owner -- that's right, owner. Not dad. "Henry was the first child, but then the real kids came along... They're way down on the totem pole." Still, life lower on the totem pole is not bad. The boys reside at 25 Broad Street, and with their owner working from home, they get a chance to strut and stride up and down Broad and Wall whenever they please. "Lots of people like to pet them, so that's probably their biggest indulgence," the owner says. "Henry is blind so he can sometimes get nervous with crowds but loves the attention if you give him the puppy voice."
Favorite place to pee and poop: The end of "Piss Alley" on Exchange & Broad.

Augusta, 3 years old (left); Valiant 5 years old (far right), American Labradors
These working pups are the guardians of Wall Street. Augusta and Valiant have the important job of sniffing for bombs as trucks make their way through with their deliveries. These two are capable of sniffing out as many as 19 different types of explosives. They are dedicated to helping keep Wall Street safe, putting in 12-hour shifts (six hours each) every day. Once their workday is over, however, it's playtime. Their handlers say it's their reward after a long day of work.
Favorite place to pee and poop: This dynamic duo takes their job seriously and never leaves their post. When nature calls, they simply relieve themselves off to the side and then get right back on the job.

Penny, 3 years old, Goldendoodle
Penny's parents say she is spoiled only in terms of "her lifestyle and the amount of care we dedicate to her." Her dad adds that "she eats grain-free food, has baths with Kiehl's shampoo, and gets homemade dog treats that my wife makes from a Thomas Keller cookbook." Penny also enjoys membership at the Fetch Club -- the hottest doggy daycare spot in town. In addition to that, she gets twice-daily strolls around the neighborhood with her walker from Fur Coats and Pants.
Favorite place to pee and poop: In front of the New York Stock Exchange.

Sonic, 6 months, French Bulldog
We met Sonic while he was window-shopping at Hermes. As the newbie to the street, Sonic is still learning how to navigate the busy Wall Street area. Even though Sonic is new to the Street, his impeccable looks and taste are what's causing all the buzz. When Sonic's would-be owner went to pick him up from the pound, Sonic licked his face and sealed his fate with his soon-to-be dad. The rest, as they say, is history. As we walked away, Sonic was nosing a new pair of Hermes slippers and slacks.
Favorite place to pee and poop: Still scoping out the area but prefers grass over concrete. Only the best for this pint-sized trendsetter.

Louise, 1.5 years old, Cavapoo
A hit with the tourists, Louise is always happy to take pictures with her many fans at lunchtime by the Washington statue. Louise's luxurious lashes and lavish coat stop people in their tracks. When Louise isn't strolling down Wall Street, she resides at the Cocoa Exchange, a triangular shaped condominium complex on Wall Street with all the perks of city living and none of the hassles of having to walk far. When asked how much they spend on pampering Louise, her dad answers "way too much." He attributes some of that to the cost of replacing furniture and décor, as "she ate through the Restoration Hardware bedding."
Favorite place to pee and poop: The busy intersection of William and Wall, particularly on the manhole covers.

Ziggy, 2.5 years old, Rescue mutt
Posing for the camera is old hat for Ziggy, as he's been featured in Glamour Magazine as a young pup. Ziggy is a resident of The Exchange -- a luxury high rise on Broad Street. He's also a member at the prestigious Fetch Club on South Street. On the weekends, Ziggy loves to go hiking in the Adirondacks. His mom has a flexible work schedule that allows her to spend lots of time with him.
Favorite place to pee and poop: The grates of Wall Street.

Tulsi, 6 years old, Manchester Terrier
Tulsi does not like to be alone. And though her mom works from home, Tulsi gets to go to doggie daycare and also has a sitter. Tulsi gets lots of attention from tourists, but when the hustle and bustle of Wall Street get to be too much, her mom carries her through the crowds. Tulsi's biggest pet peeve: Tourists asking where the Wall Street Bull is.
Favorite place to pee and poop: Tulsi likes to hold it until she gets to the Esplanade on the Westside, where it's more dignified.

Gromit, 9 months, Boston Terrier
A resident of 63 Wall Street, this pup lives the life. His dad works from home, which means they get to hang out all day -- and that includes a guaranteed hour of fetch each day. They also enjoy daily walks and going for a run together...though trying to eat his dad's shoelaces while running has made it a challenging event. All that daddy time has made Gromit quite the social butterfly. He loves meeting people, and he'll even suffer the indignity of taking pictures with tourists over staying home alone. When the weather turns cold, Gromit likes to winter at Fetch Club and go swimming at Water4Dogs -- a facility that not only offers indoor pools but also massages and acupuncture.
Favorite place to pee and poop: Behind Cipriani.

Loullie, 1.5 years old, Rhodesian Ridgeback
Loullie is a top contender for most doted upon princess, as her mom readily admits: "She's absolutely spoiled, she has 100 toys, she gets as many treats as she wants, she's loved by everyone...she doesn't have a hard life." Loullie and her mom reside at 15 Broad and are able to spend lots of time together thanks to mom's job as a graphic designer working from home. On their walks, Loullie enjoys meeting new people. The only thing she doesn't like are the trucks and the loud noises they make. Mostly, Loullie is happy to be near her mom. "It's interesting that she stays by my side even when she's off leash," he mom says. "She was never taught that; she just knows."
Favorite place to pee and poop: At the pier in front of the water.