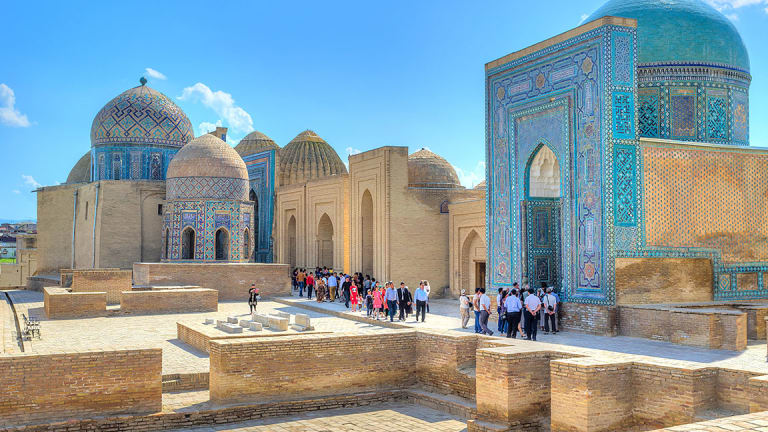 Visit Some of the Most Ancient Cities in the World
Here are some of the oldest, continuously inhabited cities that you can still visit today.
Cities come and go. Babylon was the heart of the ancient Mesopotamian civilization as long as 20,000 years ago, yet today it is a ruin 50 miles south of Baghdad.
But some cities, thanks to strategic location, determination or just plain convenience, remain inhabited for hundreds or thousands of years. Some of these cities have had people living in them for more than 5,000 years.
Here are a few of the oldest, continuously inhabited cities that you can still visit today. 
Argos, Greece
Archeologists date this city back to 5000 or 6000 BC, though recorded history begins about 3,000 years ago. The most powerful city of Ancient Greece, Argos has significant archaeological monuments, including an ancient theater, above, an archaeological museum and a new Byzantine Museum that opened in 2017.
Photo: Shutterstock
Athens, Greece
Athens, the heart of Ancient Greece, a powerful civilization and empire, dates back 6,000-7,000 years, though recorded history begins in 1400 BC. The ancient Acropolis sits on a rocky outcrop above the bustling Greek capital. It contains the remains of several ancient buildings of architectural and historic significance, including the Parthenon, above, a temple dedicated to the goddess Athena. The Acropolis Museum and the National Archaeological Museum preserve sculptures, vases, jewelry and more.
Photo: Shutterstock
Gaziantep, Turkey
Sometimes called Antep, Gaziantep, in Turkey's Anatolia region, was inhabited in the Paleolithic age. The city was dominated at various times by the Persian, Roman, and Byzantine empires, and has a number of mosques and baths from the Ottoman empire. Above, a Byzantine mosaic in the mosaic museum, one of the city's top tourist sites.
Photo: muratart / Shutterstock
Luxor, Egypt
Luxor, the famous Valley of the Kings, sits on the Nile River on the site of ancient Thebes, the pharaohs' capital at the peak of their power during the 16th-11th centuries B.C. -- that's 18,000 years ago. There are many ancient ruins to see here, including the Temple of Karnak, the tomb of Queen Nefertari, and the Mortuary Temple of Hatshepsut.
Photo: Wikipedia
Damascus, Syria
Damascus, the capital of war-torn Syria, is reportedly easier to move about in lately, but the U.S. state department continues a "do not travel" warning in place for Syria, due to terrorism, civil unrest, and armed conflict. It's also one of the Middle Eastern countries most affected by Covid-19. 
The old city in Damascus, founded in the third millennium BC, is one of the oldest in the Middle East, and a UNESCO World Heritage Site. The Umayyad Mosque, above, is located in the old city and is one of the largest and oldest mosques in the world and one of the holiest places in Islam.
Much of Syria's rich cultural heritage has been destroyed in the war, according to the BBC. All six of the country's Unesco World Heritage sites have been damaged, with militants deliberately blowing up parts of the ancient city of Palmyra.
Photo: Shutterstock
Byblos, Lebanon
Byblos is believed to have been first occupied as far back as 8800 BC, and has been continuously inhabited since 5000 BC. It is a UNESCO World Heritage Site. There is a "reconsider travel" alert for Americans for Lebanon due to crime, terrorism, and armed conflict.
Photo: Shutterstock
Beirut
Prehistoric archaeological sites have been discovered in Beirut, Lebanon's capital and largest city. They date as far back as the Paleolithic, Neolithic and Bronze Ages. The first historical mention of Beirut is found in ancient Egyptian letters dating from the 15th century BC. History buffs can visit Roman baths and ancient underground streets, as well as ruins dating to the Canaanites and Ottoman empire. Be aware that there is a "reconsider travel" alert for Lebanon due to crime, terrorism, civil unrest and armed conflict.
Photo: Shutterstock
Jerusalem
Early humans settled here after leaving Africa, and the city has been continuously inhabited since before written history. Jerusalem's Old City, or City of David, is an archaeological site with a museum, pictured here.
Photo: Shutterstock
Plovdiv, Bulgaria
This ancient city in southern Bulgaria may have been continuously inhabited for over 3,000 years. An archaeological museum chronicles the city's history, with mosaics, clay lamps and early coins. A Roman-era theatre is still used today. Above, the ancient gate to the old town.
Photo: stoyanh / Shutterstock
Varanasi, India
Considered the spiritual capital of India, Varanasi, in northern India, dates to the 11th century B.C. Hindu pilgrims come here to bathe in the sacred water of the Ganges. The city has some 2,000 temples, including one dedicated to the Hindu god Shiva. Above, a Sadhu (holy person) meditates by the Ganges in Varanasi.
Photo: Roop_Dey / Shutterstock
Allahabad, India
Iron artifacts have been found at archaeological sites near Allahabad dating back to 1800-1200 BC. Allahabad, home to over 1.1 million people, sits at the confluence of the Ganges and two other rivers. There are a number of historic and religious sites to see here. Above, Hindu devotees come to confluence of the rivers for a holy dip during the Kumbh Mela festival.
Photo: Vladimir Melnik / Shutterstock
Chania, Crete, Greece
The picturesque town of Chania is known for its Venetian harbor, pictured, its old port, narrow shopping streets and waterfront restaurants. Chania has an archaeological museum with artifacts dating back 5,000 years, a Byzantine museum, a maritime museum and a historical archives museum. The town was built on the site of ancient Kydonia, mentioned in Homer's "Odyssey."
Photo: Shutterstock
Lisbon, Portugal
Lisbon was settled by the Celts even before the Phoenicians arrived around 1200 BC. Because of its strategic location, it has a history of invasion, from Greeks and Romans to Germanic tribes and Moors. It was retaken by Christians in 1147. It has a number of museums with ancient treasures and masterpieces. Above, the Belem Tower, a fortified tower in Lisbon and a UNESCO World Heritage Site built in 1515.
Photo: Shutterstock
Cadiz, Spain
Founded by Phoenicians around 110 BC, Cadiz is often considered one of the most ancient cities still standing in Western Europe. Archeological remains date back 3,000 years.
Photo: Shutterstock
Zadar, Croatia
Zadar, on Croatia's Dalmatian coast, is known for its Roman and Venetian ruins, and goes back to about 1000 BC. There are several Venetian gates in the city walls. Visit the Roman-era Forum, and the 11th-century St. Mary's Convent, which has religious art dating to the 8th century.
Photo: Shutterstock
Mtskheta, Georgia
Remains of towns here have been dated to 1000 BC. Mtskheta was the capital of the kingdom of Iberia during the 3rd century BC to the 5th century AD. The many historical monuments of Mtskheta are a UNESCO World Heritage Site.
Photo: Shutterstock
Flores, Guatemala
Once the capital of the Itza kingdom, Flores has been occupied continuously since pre-Hispanic times and dates back 3,000 years. Located on an island on Lake Peten Itza, Flores is near Tikal National Park, pictured, one of the major sites of Mayan civilization, inhabited from the 6th century B.C. to the 10th century A.D.
Photo: Rob Crandall / Shutterstock
Seville, Spain
You can still wander the streets and amphitheater of the ancient Roman ruins of the city Italica in Seville. The Barrio Santa Cruz, formerly the Jewish quarter, is a historic neighborhood popular with tourists. Above, the Plaza de Espana mixes Spanish, Moorish, and Renaissance architecture.
Photo: Shutterstock
Palermo, Sicily
Thanks to cave drawings in the area, archeologists believe people settled here as long ago as 8000 BC, but 734 BC is considered the founding year for Palermo, when it was founded by Phoenician traders.
Photo: Shutterstock
Rome
The legend goes that Rome was founded in 753 BC by twins Romulus and Remus who were raised by a she-wolf. Regardless of how they were raised, today the city is a mecca of history, with more historical sites, ruins, and museums than most visitors can get to in one visit. Besides the enormous Vatican Museum, the Roman Forum (pictured) and the Colosseum, there are numerous other museums and ruins scattered about the city and the region.
Photo: Shutterstock
Tripoli, Libya
The capital city of Libya has a population of about 2.5 million people. It was founded in the 7th century B.C. by the Phoenicians. Above, the Leptis Magna Roman archaeological site, a Unesco World Heritage Site. The U.S. State Department has a 'do not travel' warning in place for Libya due to crime, terrorism, civil unrest, and armed conflict.
Photo: Shutterstock
Samarqand, Uzbekistan
The city of Samarqand has been at the crossroads of world cultures for over two and a half millennia, according to UNESCO, and is one of the most important sites on the Silk Road, an ancient trade route crossing central Asia. Settlements in the area can be traced back to 1,500 BC. There is a number of historic mosques and other sites to visit here. Above, Shahi Zinda, a whole street of mosques and mausoleums in Samarqand.
Photo: eFesenko / Shutterstock
Istanbul
Because of its location directly between Asia and Europe, Istanbul has influences from a range of cultures. Neolithic artifacts unearthed in Istanbul date back 8,000 years. Better known history of the city begins around 685 BC when Greek established it as Byzantium. Above, Suleymaniye mosque in Istanbul. 
Photo: Shutterstock
Tangier, Morocco
Tangier was founded in the early 5th century BC by Carthaginians. It has been a strategic gateway between Africa and Europe since Phoenician times. Above, a vendor in the souk, the market in the Medina area of the old town of Tangier famous for its craft shops, bazaars, spices and bright colors.
Photo: Naeblys / Shutterstock
Chengdu, China
Chengdu was the capital of the Shu Kingdom around 400 BC. The Jinsha Site Museum features the artifacts from that dynasty. Chengdu is also home to the famous Chengdu Research Base of Giant Panda Breeding. The U.S. State Department says reconsider travel to China due to arbitrary enforcement of local laws and Covid-19-related restrictions.
Photo: Shutterstock
Anuradhapura, Sri Lanka
Anuradhapura is a complex of ruins, ancient temples, and archeological sites that reveal evidence of iron technology, pottery, horses, domesticated cattle and paddy cultivation. It was the first established kingdom of ancient Sri Lanka and the Sinhalese people and was founded in 377 BC.
Photo: Shutterstock
Cholula, Mexico
Cholula, in central Mexico, is best known for Tlachihualtepetl, its Great Pyramid, a temple complex likely dedicated to the god Quetzalcoatl, that dates back to about 300 BC.
Photo: Shutterstock
Zanzibar, Tanzania
There's evidence of trade with Zanzibar going back over 4,000 years ago, and likely people lived here 20,000 years ago. Traders from Arabia came to Zanzibar as early as the 1st century AD. Today, many visit the island for its five-star resorts. Stone Town is the historical capital, and a UNESCO World Heritage Site, and there are several historical sites to visit.
Photo: Shutterstock
Seoul, South Korea
Prehistoric remains have been found in Seoul that date back as much as 7,000 years. It was established and built as the capital city of of the kingdome Baekjae in 18 BC. Amsa Dong is a Neolithic village site in Seoul that was discovered in 1925. Above, Bukchon Hanok Village, a traditional village that is preserved to show a 600-year-old urban environment.
Photo: Shutterstock
Osaka, Japan
Osaka was inhabited as early at the 2,600 years ago. It served as the capital of Japan from 645 to 655. The Osaka Castle, above, dates back to 1597.
Photo: Shutterstock