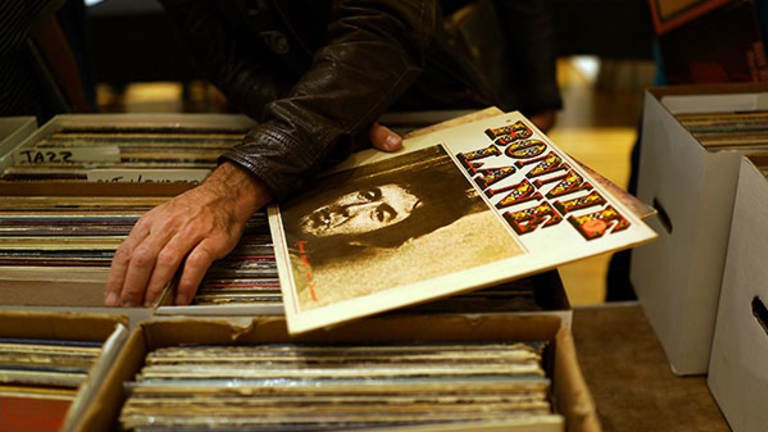 Vinyl Is the Only Way to Buy Music
As album sales continue to slide and music fans embrace streaming, music ownership is becoming an increasingly small niche of vinyl-loving collectors.
PORTLAND, Ore. (TheStreet) — There are still music fans in the U.S. who want to own albums and are excited about playing them in a physical format. There just aren't a whole lot of those fans to go around.
Lost in Nielsen Soundscan's midyear revelation that streaming is the only relevant means of selling music was the admission that the album isn't quite dead yet. Though total albums sales are down nearly 15% from the same period last year and compact disc, digital album and digital track sales are all down by double-digit percentage points, vinyl record sales have jumped a whopping 40.4% since the first six months of last year.
At a time music fans are telling record labels en masse that they're done buying full albums and done owning digital music in any form, vinyl sales rose from 2.9 million records in the first six months of 2013 to 4 million in the first half of this year.
That's still a fairly small number when you consider that, even without Nielsen Soundscan's "Track Equivalent Album" and "Streaming Equivalent" album measures that turn individual tracks into album sales, there were 121 million albums sold in the U.S. in the first half of 2014. Even the "dead" CD still managed 63 million sales during that time. But in the current climate, musicians and their labels are happy to sell 4 million copies of anything.
Consider that in the first half of this year, no album came close to selling 4 million copies. Only the soundtrack of Disney's Frozen broke 1 million (eventually reaching 2.7 million sales without track and streaming equivalents). In fact, only Beyonce, Lorde, Coldplay and Eric Church have had albums go gold and break 500,000 sales this year.
That's more than 10 times the 49,000 copies that Jack White's Lazaretto sold to lead all vinyl sales in the first half, but that's still impressive for an artist who didn't even crack the Top 10 for album sales in any other category. Meanwhile, Lorde (345,000 vinyl copies of Pure Heroine sold), Coldplay (334,000 vinyl versions of Ghost Stories) and Eric Church (269,000 LPs of Outsiders) all used vinyl to pad their overall sales.
If you go back to 1993, vinyl sales are up 250% in the past 20 years as overall music sales slid 50%. As music fans have continued to embrace streaming music — with on-demand streams through audio and video services such as YouTube, Vimeo, Spotify and recent Apple acquisition Beats Music are up 42% from the period last year and the music industry absolutely petrified about the consequences of counting streams on passive services such as Pandora — vinyl has become streaming's aesthetic counterweight. It's a $20 to $30 luxury purchase made not only for its enhanced quality, but for its historic value. It's a purchase reserved for standout releases and made by only the most dedicated listeners willing to invest in the music and the equipment to play it.

With CDs and even digital albums and tracks, everyone was a collector, everyone was an archivist and every piece of music released was a document — a physical record, if you will. With the dawn of streaming and the rejection of music ownership in favor of on-demand listening, fans have become patrons, appreciators. They're visiting galleries of music, but fewer and fewer are bringing any of the work home with them. If the music industry was the Louvre, fans would be lingering in the halls until closing time and then striding right past the gift shop.
The only exceptions are the few who stick around to buy lithographs or hand-painted duplicates. That's basically the vinyl audience, which elevates acts such as Jack White, Arctic Monkeys, Beck, The Black Keys and Lana Del Rey to the height of modern music while casting only passing glances at contemporary favorites including Katy Perry, Beyonce and Imagine Dragons.
They occupy an alternate reality where The Black Keys' Turn Blue is stacked 20 deep in the bins and placed on the wall behind the register while Katy Perry's Prism is buried deeply enough in the pop stacks that you'll have to thumb past a used copy of one of former Journey frontman Steve Perry's solo albums just to get to it.
Where on-demand streaming's share of the overall music market has grown to nearly 47 million of the 227 million albums of any kind sold in the first six months of 2014 — thanks to a formula that equates 1,500 individual streams to one album — those 4 million albums are a sign of where music ownership is heading. Where buying albums was once the default means of buying and enjoying music, it's quickly becoming the realm of a small and well-financed niche of collectors.
And vinyl is the only format they increasingly hold dear.
— Written by Jason Notte in Portland, Ore.
>To contact the writer of this article, click here: Jason Notte.
>To follow the writer on Twitter, go to http://twitter.com/notteham.
>To submit a news tip, send an email to: tips@thestreet.com.
RELATED STORIES:
>>Streaming Is The Only Relevant Music Option
>>Amazon Prime Music Just Set Streaming Music's Price
>>Weird Al Yankovic Just Made A Joke Of The Music Industry
This article is commentary by an independent contributor, separate from TheStreet's regular news coverage.