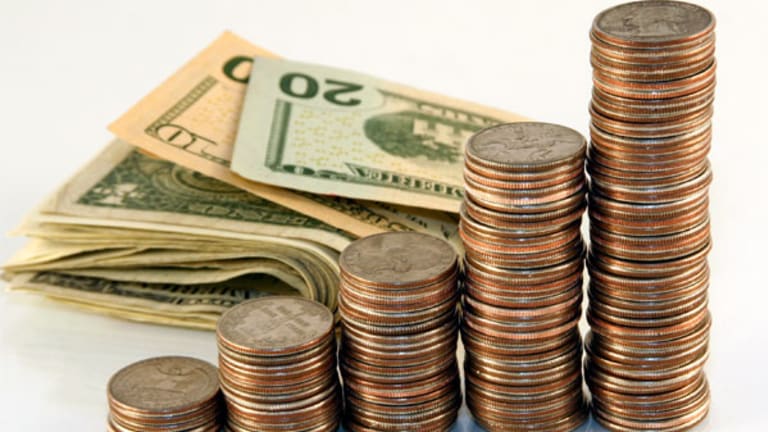 Valentine's Day Proposals Come At a Premium
Whether it's $15 for flowers or $150 for dinner, Cupid wants a cut of your Valentine's Day engagement.
NEW YORK (TheStreet) -- Aside from your friends calling you unoriginal and millions of other couples sharing your engagement date, there's a price to be paid for a Valentine's Day proposal.
If you're considering popping the question Valentine's Day, the fact that you're far from the only one doing so only increases the premium you'll pay for your romanticism. According to the Conde Nast American Wedding Study, February accounts for 8% of all engagements. Rebecca Dolgin, executive editor of engagement and wedding site
TheKnot
(KNOT)
, notes that while August vacations make that month the most popular for proposals, February comes in a close second during the Thanksgiving-through-Valentine's Day period her site considers engagement season.
"Any time you have that type of holiday, you have that built-in memory," Dolgin says. "I think one of the biggest benefits of getting engaged on Valentine's Day is that you always remember the date of your engagement."
The drawback, however, is that Cupid expects a hefty cut in return. The going rate for doing business in his cherubic clip joint Feb. 14 rose 11% this year, according to the National Retail Federation, as couples who spent the holiday ordering Chinese food and getting reacquainted with their movie collections during recent economic uncertainty are copping out in fewer numbers as the economy recovers. Yet while the average person gets away with spending $68.98 on their loved one this year, the average suitors may pay that in markups alone well before a ring appears on their partner's finger.
While Dolgin says it's up to a couple to pick the right time to propose,
TheStreet
finds that there are few dates on the calendar where that proposition is more costly than on Valentine's Day. With help from various industry experts, we've set up a Valentine's Day Proposal Index to show the price you'll pay for popping the question Feb. 14:
A dozen long-stemmed roses
Average cost any other day of the year:
$59.35
Average cost on Valentine's Day:
$73.36
Cupid's cut:
$14.01
The Society of American Florists doesn't mess around when it comes to its key product, so it surveyed more than 600 retail florists nationwide to tell you that you're basically getting taken to the cleaners on Valentine's Day. Sure, you
could
follow the route of the 34% of Americans who just pick up mixed bouquets for their loved ones when the special day comes around, but you've painted yourself into a bit of a corner with the whole Valentine's Day proposal thing.
Cliched as they may seem, roses are the flower 72% of bouquet-buying Americans will be picking up for Valentine's Day. Nearly 200 million of them were grown just for last Valentine's Day alone. You'll be in some tightly packed company when you buy them as well, as the NRF said 34% of Americans bought flowers on Valentine's Day last year, while the American Florists note that Valentine's Day accounts for 25% of all annual flower revenue -- which is even with Mother's Day and just behind the December holidays.
Valentine's Day dinner
Average cost any other day of the year:
Between $70 and $86
Average cost on Valentine's Day:
$100 to $200-plus
Cupid's cut:
$30 to more than $200
According to restaurant guide Zagat, the average price of a dinner out rose 2.2% last year, to $35.37. Customers on restaurant reservation site
OpenTable
(OPEN)
averaged a little more at $43. In both cases, diners who dropped to one knee during those average dinners at any other time during the year got off lightly compared with the chumps who just had to have the special red linens and holiday desserts.
The National Retail Federation suggests Americans will spend $3.4 billion on dinners out this Valentine's Day, or $100 million more than their lucky counterparts did last year. Valentine's diners had a much easier time getting a table, at least, as only 67% of OpenTable customers said they spent the holiday dining out last year, compared with the 89% of those who plan to do so next week. Those newcomers will be upping the ante as well, as 58% plan to spend $100 to $200, 12% plan to spend $200 or more and 19% plan to spend more than they did last year. That's 20% of the average $1,000 American diners spend on restaurants a year, according to the National Restaurant Association, as eateries get their fill of the second-busiest restaurant day of the year behind Mother's Day.
"Dinners are a bit more expensive and your favorite restaurant may not be working off the regular menu," TheKnot's Dolgin says. "They may have some special Valentine's Day menus, so there are a couple of tricky things you have to navigate if you want to get engaged on Valentine's Day."
A savvy suitor can get around those painful prix fixe menus by taking advantage of Valentine's Day's position on the calendar. Though it's on a Monday, many Americans seem just fine with the "Valentine's Day Weekend" approach -- as the 39% of diners who told OpenTable they would celebrate Valentine's Day out Feb. 14 were balanced by the 30% who plan to celebrate it by making reservations for Saturday, Feb. 12, and the 15% who put their names on the list for Sunday, Feb. 13. That torpedoes the whole "memorable date" motive, but it takes a bit of the sting out that fat little cherub's arrow.
The ring
Average cost any other day of the year:
$3,150
Average cost on Valentine's Day:
$3,150
Cupid's cut:
Zilch
Remarkably, this is where fate takes pity on those making Valentine's Day proposals.
Though Jewelers of America reports that February makes up 8% of jewelers' annual sales -- lagging only behind the November and December holiday season's 32.3% and May's Mother's Day and bridal-driven 8.3% -- the Jewelry Industry Research Institute's Ken Gassman says that average engagement ring prices dropped from $3,450 in 2008 and $3,200 in 2009 to $3,150 last year.
Despite this, jewelry sales in the U.S. hit a record $63.4 billion last year, according to the Department of Commerce, as jewelers such as
Tiffany
(TIF) - Get Tiffany & Co. Report
,
Zale
(ZLC)
and Jared and Kay jewelers parent company
Signet
(SIG) - Get Signet Jewelers Limited Report
reduced margins and prices while improving sales. Amanda Gizzi, spokeswoman for Jewelers of America, told
TheStreet
just before last Valentine's Day that some jewelers were trimming the weight of their rings while maintaining original designs to help force unit prices down, with the cost of gold and platinum each rising nearly 33% last year. She added that consumers' embrace of cheaper metals such as palladium was also resizing the price of engagement rings.
"Retail jewelry stores typically do not mark up or mark down engagement rings based on seasonality," Gizzi says. "Whether you buy an engagement ring in February for Valentine's Day or May, the price should not be affected by the prime holiday season."
That $3,000-plus price tag may not seem like much of a break, but considering the 10% premium some poor sap paid for the same ring three years ago, that's the closest you'll get to a Valentine's Day deal before the clearance bins come out Feb. 15.
-- Written by Jason Notte in Boston.
>To contact the writer of this article, click here:
Jason Notte
.
>To follow the writer on Twitter, go to
.
>To submit a news tip, send an email to:
.
RELATED STORIES:
>>Why Your Valentine's Day Plan Already Failed
>>Standard vs. Standout Valentine's Day Hotels
>>7 Steps To An Online Valentine's Day Date
Follow TheStreet.com on
and become a fan on
Jason Notte is a reporter for TheStreet.com. His writing has appeared in The New York Times, The Huffington Post, Esquire.com, Time Out New York, the Boston Herald, The Boston Phoenix, Metro newspaper and the Colorado Springs Independent.