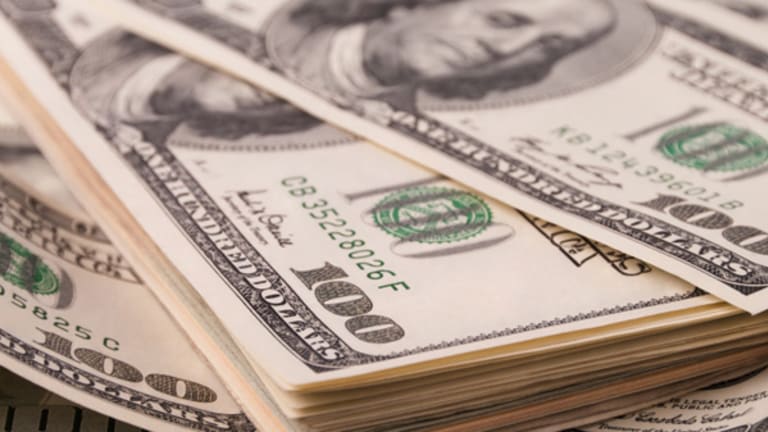 Valentine's Day Is Also Good for 'The Talk' About Money
People starting a relationship should talk about their finances, even on Valentines Day, the experts say.
NEW YORK (
) -- With Valentine's Day right around the corner, a young couple's thoughts turn to love -- and commitment, if not a stroll down the aisle in the months ahead.
Whether the couple is young, middle-aged, or in their sunset years, no relationship is safe without "the talk" about money, finances and who is going to contribute (and how much) to a long-term relationship.
A
survey from Chase Card Services
(JPM) - Get JPMorgan Chase & Co. Report
shows that most U.S. adults believe that when it comes to coming clean on money and love, it's best to get that talk out of the way "sooner rather than later." Chase reports that 65% of Americans say the money talk should take place within 90 days of a blooming romance.
The
Chase Blueprint Valentine's Day Survey
even says that 30% of Americans say finances should "be discussed on day one" in a relationship! Perhaps surprisingly, it's 37% of men who say that money talk should happen right out of the gate, compared with 24% of women.
Will Valentine's Day be the day? Chase's researchers say using Feb. 14 as a jumping off point is a good idea.
"Finances are one of the biggest reasons relationships fail," says Dr. Michelle Callahan, a psychologist who collaborated with Chase on the study. "Being able to speak openly and honestly about finances will only make a relationship stronger, and what better day to take that next step than on Valentine's Day?"
Relax. Even if your bank account is thinning out and you don't want a potential life partner to know it, Chase's research says that's not as big a deal as you might think.
Yes, financial security is a desirable trait in a romantic partner, but it's no "deal breaker," as the Chase survey puts it. The study asked respondents what they would do if they discovered their partner had accumulated more than $10,000 in debt. About 75% of survey participants said they would have would a conversation with their partner about the situation rather than looking for the nearest exit.
In fact, only 6% of respondents said they would break up with a debt-ridden lover, while 21% said they would take steps to help pay down the debt (and meet the definition of "keeper" in the relationship dictionary.)
Another point for the guys -- 18% of men would help pay their partner's debt, compared with 8% of women. But the ladies are more likely to talk than walk -- 78% of women want to sit down and discuss their partner's debt, compared with 70% of men.
If you have the talk Feb. 14, or anytime for that matter, Chase advises being completely transparent. No doubt, honesty really is the best policy.
"Conversations about debt and finances can be difficult, but they aren't impossible when you come to the table prepared with the right tools," says Rachana Bhatt, director at Chase Card Services. "When it's time to talk, bring a list of your accounts, your debts, total income and your financial goals."
"Regardless of when couples decide to discuss their finances, having the money talk with a significant other is a necessary path towards achieving financial compatibility," she says.