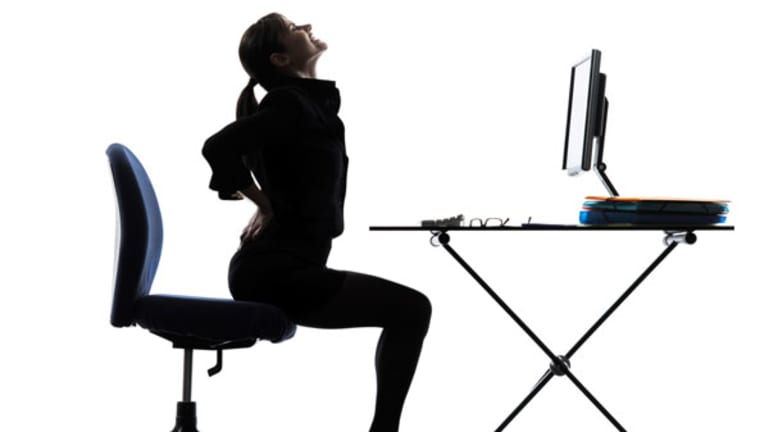 Use a Computer for Work? You Probably Have Silicon Valley Syndrome
It turns out too much sitting is killing us.
NEW YORK (
) -- The medical community has a term for a new health threat on the landscape.
It's called "Silicon Valley Syndrome," and it afflicts people who use technology a great deal and tend to sit all day.
According to a report from
Lumo Body Tech
, a posture and movement health services firm in Palo Alto, Calif., 60% of Americans say they have developed health problems from using desktop, laptop and tablet computers.
Leading health complaints from consumers include back and neck pain, eye strain and headaches.
Obviously, a company such as Lumo wants you to buy its products, which are designed to improve your posture and unhealthy technology habits.
But the company does have the facts on its side.
Also see: How to Handle 'Desk Rage' in Your Office>>
after
shows that sitting in front of a computer, tablet or television is a dangerous health habit.
According to the U.S. Library of Medicine, prolonged sitting and use of technology devices can lead to:
A 112% increase in risk of diabetes.
A 147% increase in cardiovascular events.
A 90% increase in death due to cardiovascular events.
A 49% increase in death due to any cause.
At least 150 minutes of moderate exercise every week is the suggestion of many health practitioners.
So maybe it's time to put the tablet down and listen -- or better yet, get up and go for a walk.
"We think it's critically important for everyone who uses technology gadgets -- at home and at work -- to understand what this data says about technology and our health and to use this data as a call to action to adopt healthier tech usage habits," says Monisha Perkash, Lumo's chief executive.
Also see: 3 Groups Who Are Finally Adopting Digital Wallet Technology>>
Surprisingly, there is a geographical and demographic bent to lousy technology practices.
Women, by 63% compared with 56% for men, say they have health problems associated with using technology devices. Younger tech users (aged 18 to 34) are more likely to adopt healthier exercise programs that get them up and around more often than older age groups.
Also, West Coast residents are more likely to report health issues linked to using technology while sitting down. Northeast residents report the fewest health issues, Lumo says.
Silicon Valley Syndrome is an economic issue as well as a health issue. Lumo says $20 billion is lost each year due to workers compensation issues related to back, neck and eye maladies in the workplace. And another $100 billion is wasted annually on lost productivity due to workplace absences related to repetitive stress injuries.