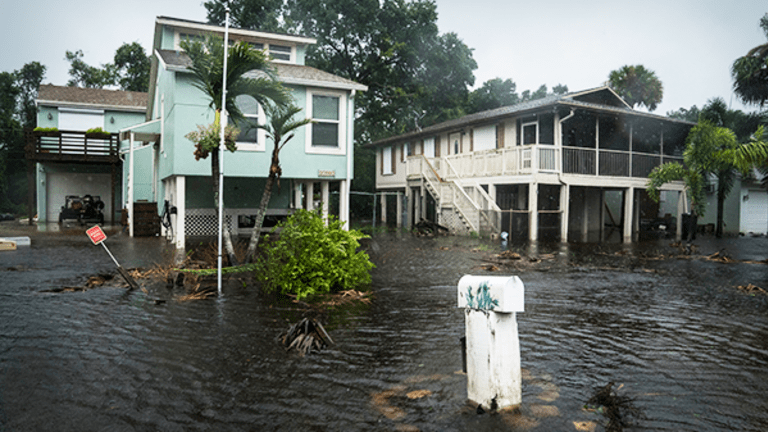 U.S. Flood-Insurance Program Could Run Out of Money By October - EXCLUSIVE
The 49-year-old National Flood Insurance Program, a part of the Federal Emergency Management Agency, already is $25 billion in debt due because of a failure to charge adequately high premiums.
The U.S. government's flood-insurance program could run out of funding by late October based on the staggering volume of claims expected from Hurricanes Harvey and Irma, a Federal Emergency Management Agency official said. 
Such a timeline could add pressure on President Donald Trump and Congress to shore up the program's finances, even as lawmakers rush to debate bills to overhaul the healthcare industry and enact deep corporate tax cuts.   
The National Flood Insurance Program, or NFIP, expects $11 billion of claims from Hurricane Harvey alone, said Roy Wright, who oversees the effort as a deputy associate administrator at FEMA. To pay claims, the 49-year-old program has just $1.08 billion of cash -- down by a third in less than three weeks -- and a $5.8 billion credit limit from the U.S. Treasury Department. 
While Wright said he doesn't yet have a reliable estimate of Irma-related damages, the risk-modeling firm CoreLogic Inc. (CLGX) said Tuesday that the storm could lead to as much as $8 billion of claims from homeowners in Florida, Georgia and other parts of the southeastern U.S. Further losses could come from Hurricane Maria, a Category 5 storm that was approaching the U.S. Virgin Islands late Tuesday and projected to hit Puerto Rico on Wednesday.   
"We are going through money at a pretty rapid pace," Wright said in a telephone interview from Miami, where he was meeting with flood victims. "Our spending authority will likely be used up later in October." 
Few residential insurance policies include flood coverage, so the federal program is the primary provider for most homeowners. Nationwide, the NFIP provides flood insurance for about 5 million homes and businesses, with total coverage of $1.23 trillion.
For the first few decades of its existence, the NFIP was mostly able to cover claims with the premiums it collected from policyholders -- just as most private insurance companies do. Starting with Hurricane Katrina in 2005, so many storms have slammed the U.S. coastlines that the program could no longer cover its costs, prompting critics to argue that the low insurance rates amount to unfair subsidies for homeowners in flood-prone areas.
In the meantime, the NFIP has gone heavily into debt to the U.S. Treasury Department, forcing Congress to increase the program's borrowing capacity several times to the current $30.4 billion. Currently, the program has about $25 billion of debt. 
On Sept. 8, Trump signed a $15.25 billion disaster-relief bill, which also extended the flood-insurance program's authorization to Dec. 8; the program had been scheduled to expire on Sept. 30. But the law contained no new funds for the NFIP. 
Wright said he's working with members of Trump's team and key Congressional leaders to assure the program has sufficient funds, adding that the government intends to satisfy all claims. 
"We will collaborate with Congress on how to pay the bill in full," Wright said. 
Jeb Hensarling, a Republican congressman from Texas who heads the House Financial Services Committee, which oversees the federal program, said in a statement last week that storm victims with active flood-insurance policies "need to be paid and paid now." He said he aims to bring legislation to the House soon to address the program's shortcomings.  
The NFIP "in its current form is unsustainable and perverse" because it "subsidizes people to live in harm's way," the congressman said. "It actually encourages the building and re-bulding, and re-building again, of homes and businesses in flood-prone areas." 
CoreLogic said in a statement Tuesday that total residential flood losses from Hurricane Irma could total $25 billion to $38 billion, with roughly 80% of the damages not covered by any insurance. 
Such damages would be roughly on par with the estimated $25 billion to $37 billion in total flood losses from Hurricane Harvey, mostly in Texas and Louisiana. In the case of Harvey, about 70% of the damages were uninsured.
The loss estimates don't include damages due to wind, which are covered by private insurance companies under most homeowner policies. 
More of What's Trending on TheStreet: