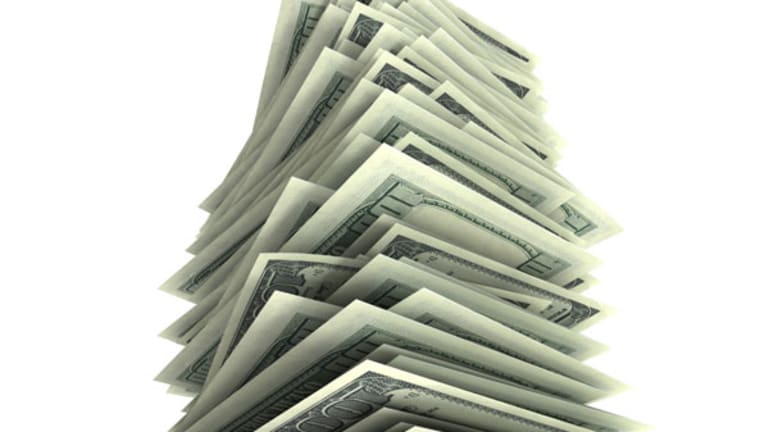 Twitter Is a Resource, Not a Popularity Contest
Leave Facebook for those seeking friends; Twitter can be a great business tool.
HUNT VALLEY, Md. (TheStreet) -- If you live in the mid-Atlantic, how did you confirm it was an earthquake that shook the ground Sept. 23? You probably asked someone in your office, or picked up the phone to ask another barely qualified source. That's what my wife did, and the phones didn't work, only further exacerbating her fear. I looked at my phone and checked Twitter.
Last week, I noted a pot-stirring discussion I started within the financial planning community via the no-longer-newfangled communication medium known as Twitter, and I promised to devote this week's post to this phenomenon-turned-convention that, after a couple years of stumbling and bumbling through, I'm finally learning to use effectively.
Its 140-character limit may make you wary, but Twitter can be a great business tool.
I am not one of the early adopters, embracing every technological innovation. I scoffed at reading a book on anything other than paper and became a
Kindle
(AMZN)
convert only after my well-read mother showed her own willingness to embrace an e-reader (in her case, a
Nook
(BKS)
). I also tried Twitter for the first time about two years ago, prodded by a well-intended arm twister encouraging me, "You've gotta be on Twitter!"
The Twitter canvas was too broad for me to understand and appeared to lack any depth or genuine import. I struggled to know why I should care what anyone is doing multiple times throughout the day. I canceled my first account after only weeks.
But as the medium started to become more ubiquitous, most of those whom I respected as communicators in more traditional veins began to embrace Twitter. I started to explore the concept more and read how others I respected were using it effectively. The second time I approached Twitter, then, I came willingly.
The result? Twitter has become my No. 1 source for quality information intake.
For starters, let's explore what Twitter actually is. It's a communication medium in which messages are sent and read -- but limited to no more than 140 characters. They're not captured, like an email, but instead scroll through cyberspace as they are submitted. Like me, you might wonder what of much value can be said in little more than a short sentence, but among those 140 characters can (and often is) a link to an external URL -- a Web address that takes you to an article or blog post. Now, when each of my favorite reporters at institutions such as
The Wall Street Journal
,
Forbes
,
Money
,
Kiplinger's Personal Finance
or
The New York Times
or online outlets such as
TheStreet
writes an article, they send a Twitter notification to their followers.
The revelation I had about Twitter was that although it can be a very effective tool for sending a message, it's an even better mechanism for scanning and receiving information -- quality information, not just where B-list celebrities are having lunch. Even if you don't care to say anything on Twitter, you're welcome to open an account and just start following the people whose writing and preferences interest you. And if they start sharing too much information for your taste, you simply stop following them.
If I've tempted you to consider Twitter, let me bring you up to speed on the vital Twitter terminology you'll want to understand to make yours a beneficial experience:
Handle:
A handle is the actual string of letters and numbers preceded by an @ sign, with which you're identified on Twitter. You can keep it simple, like me, and use some variant of your name -- @TimMaurer -- or you might use something more creative and clever, like a personal finance blogger I follow called @feedthepig. Twitter sign-up is free and can be done at Twitter.com.
Tweets:
Tweets are the 140-character messages you create and read. (I guess that makes those of us using the medium either a Tweeter or a Twit.)
Retweets:
When you read something you like or support (or disagree with), you can retweet the original message as is or with comments.
Followers:
Whether you're on Facebook or not you're no doubt familiar with their terminology by now. On Facebook, you collect "friends." On Twitter, they're called "followers." When you search a particular person or information outlet, you are given the option to follow them; if you do, you become their follower. If you're broadcasting information, those you attract will be your followers. Unlike Facebook, you generally don't need permission to follow someone, but they're under no compulsion to follow you back unless they choose to do so. Initially, I was taught to follow people just to attract followers -- and indeed you'll see a lot of people out there who have thousands of followers and follow almost exactly the same number. I don't have the time or desire to follow thousands of people, sorting the wheat from the chaff. I view Twitter not as a popularity contest (a conviction more likely to fall on Facebook), but as a resource.
Stream:
Your stream is the running commentary of those you follow, which you view on your computer or mobile device.
Lists:
Lists are the way to make Twitter work for you. Undoubtedly, you have various interests in life -- vocational, financial, recreational, spiritual and beyond -- and the creation of lists will help you hone what it is you want to read. For example, create your own newspaper list, with reporters from all of your favorite traditional and online news outlets. Each morning, wake up and see what they're reporting. (If you follow an entire media outlet, you're going to get
all
the news they're sending, and that may clutter your stream.) Some of the lists I've created are "Best of," "Personal (and other) Finance," "Writing & Publishing," "News," "Music & Art" and "Life & Faith." Your lists can be public or private, and you can subscribe to the lists of those you follow and respect.
Twitter terminology:
There is a lot of Twitter code out there, most of which I probably don't know or understand, but the most common and powerful is no doubt the hashtag, or #. Hashtags can be created by anyone as a way to track particular discussion threads or trends. The best example I can give is from attending a financial planning conference where many of the attendees used a common hashtag tweeting out quotes from various sessions. The hashtag was a way for all of the attendees to track the conference, even if we weren't following each other. This works for everything from #financialplanning to #mozart to #bacon.
Twitter may not be something in which you find value, and I'm not twisting your arm. But I do think Twitter could bring value to your pursuit of topics relating to money and life. Enjoy!
By the way, if you're new to Twitter and have difficulty applying this advice, please use the comments section to ask questions. And some of you are far more adept in the art of Twitter -- if that's you, please feel free to correct or add to anything I've said.
>To submit a news tip, email:
.
RELATED STORIES:
>>Chasing Future, Advisers Sacrifice Your 'Now'
>>Seamless Life Blends Roles Before Retirement
>>In Your 50s? Absorb Lessons of 'Inside Job'
Follow TheStreet.com on
and become a fan on
Tim Maurer, CFP, is vice president of
Financial Consulate
, based in Hunt Valley, Md., and a member of NAPFA, the National Association of Personal Financial Advisors. He can also be found at
.
This commentary comes from an independent investor or market observer as part of TheStreet guest contributor program. The views expressed are those of the author and do not necessarily represent the views of TheStreet or its management.