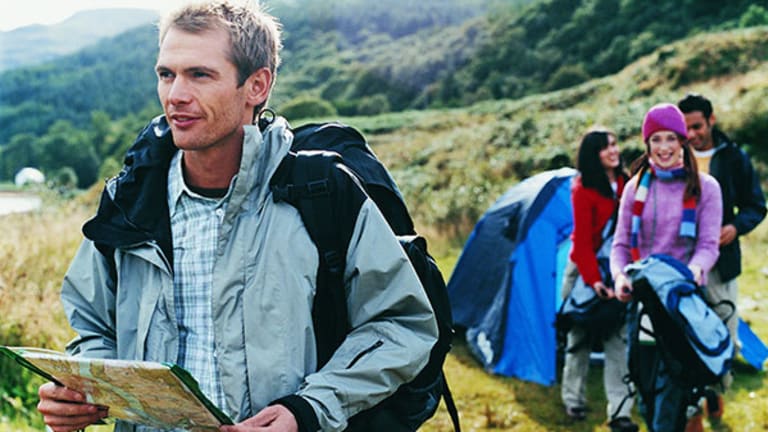 Turning Passions Into Careers: 6 People Who Are Making a Living Doing What They Love
Here are the stories of folks who left their stable jobs behind to follow their dreams.
NEW YORK (MainStreet) — Many workers daydream about leaving their desk jobs behind to pursue their true passions, but actually turning those fantasies into reality can be a scary proposition. After all, walking away from a stable position can mean losing benefits, taking a pay cut and facing the unknown. Despite the risks, six people that MainStreet recently spoke with say that quitting the jobs they were no longer passionate about was the smartest career move they ever made. Today, these folks are making a living out of doing what they love, from editing travel articles to renting out glammed-up RVs. Here are their stories.
Name: Lynette Whiteman
Occupation: Executive Director, Caregiver Volunteers of Central Jersey
Residence: Toms River, N.J.
"I am a physician's assistant who worked in internal medicine then pharmaceutical research. I had a high-paying position as a project manager at Bristol-Myers Squibb, but really was not happy or fulfilled. I wanted to work in a job that made a direct impact on people and I was particularly drawn to the elderly and those struggling with dementia. My father-in-law had Alzheimer's disease and I saw the devastation this brings to a family.
"In 2002, I left Bristol-Myers Squibb, took a huge pay cut and benefits cut and began working at a small nonprofit called Caregiver Volunteers of Central Jersey, which provides volunteers to give the primary family caregivers of Alzheimer's patients a break once a week for a few hours for free. I absolutely loved this job and now am the executive director of the nonprofit.
"I also started a program called Caregiver Canines, which sends therapy dogs into people's homes on a weekly basis. The volunteers and therapy dogs visit people with dementia or the isolated elderly who love dogs but cannot own one anymore.
"Leaving corporate America was the scariest but best decision I ever made in my life."
Name: Zach Everson
Occupation: Senior Editor, MapQuest
Residence: Alexandria, Va.
"Ten years ago I was working as a freelance business editor. I'd just sold my condo for almost twice what I'd paid two years earlier and I decided to take a three-month backpacking trip through Europe. I started in Dublin and ended up in a tree house hostel on Turkey's Mediterranean coast. Upon returning home, I was passionate about travel. I became bored with business editing and over the next nine years, I transitioned from being a freelance business editor to a freelance travel writer.
"Today I'm a full-time senior editor at MapQuest.com, focusing on travel news. I get to immerse myself in travel and even when I'm not getting to experience a new place firsthand, I can at least read about someone else's adventures and share them with MapQuest's readers."
Name: Tom Gesimondo
Occupation: Co-owner, True Pilates New York
Residence: New York City
"For 22 years I worked in Manhattan as the business manager/controller for one of the craziest and most successful radio stations of all time. It was WKTU (Disco 92) when I started, and it was WXRK (K-Rock) and home of 'The Howard Stern Show' when I left. It was a great run, but it had been getting stale at the end. Radio was changing, Howard was leaving and we were all trying to catch the next wave. Not only that, but the newer generations were finding their voice, and to some degree I was losing mine in the corporate world.
"In the meantime, I was a client of this famous funky, underground Pilates studio in Manhattan called Drago's. I spoke to friends about the type of Pilates they taught like I was in a cult—I absolutely loved it. A casual remark was made by the owner's wife about needing someone to buy the studio, and I picked up on it. I went from 'Do I want this?' to 'I'm going to make this happen.'
"After 22 years as one of the quiet guys at the crazy radio station, I announced I was leaving to own a Pilates studio. The reactions were shock at first and then so much envy it was funny. Soon after leaving, Carol, my wife at the time and my business partner today, made the same move.
"The economy took a hit soon after we bought the studio, but it's been the right decision. We renamed the studio True Pilates New York and do great work every day. We train people from 19 to 92, and we have people coming from around the world for our teachers and training program."
Name: Lauren Lerner
Occupation: Owner, Lauren's Fab Finds
Residence: Ambler, Pa.
"In the late 1990s, I was working as an event coordinator at PricewaterhouseCoopers in Philadelphia. I decided on a desk job as a typical path right out of college, but I wasn't passionate about what I was doing and wasn't fulfilled professionally.
"My passion was always the fashion industry, so I started a small side business during my spare time selling designer fashions that I already owned from my personal closet. When my friends and family found out what I was doing, I began to sell their designer clothing, shoes and other items. As word of mouth happens, more people requested my services of selling their designer fashions for top dollar as well. On my third anniversary at PricewaterhouseCoopers, I knew my true calling and resigned from my position. I realized I was so busy doing my side business that I knew I could do it full time.
"I am very fortunate that I have been able to take a personal hobby and transform it into a multimillion-dollar business. I now sell the top designer brands in fashion including Chanel, Louis Vuitton, Prada, Gucci, Tory Burch, Burberry, Lululemon and more on my eBay store as well as my own e-commerce website. It is a life-changing experience to do something that you love and are passionate about 365 days a year."
Name: Heidi Nicholl
Occupation: Co-owner, Silver Ash Campers
Residence: Carmel-by-the-Sea, Calif.
"I have a PhD in medical ethics and worked as a college lecturer in London, but after eight years of teaching, I was getting super jaded. I'd married a Californian in 2011 who never wanted to move back home, but his dad was diagnosed with cancer in 2013. I quit my job lecturing and we relocated to California in seven weeks.
"Once we were here we decided to follow our passion for camping and the outdoors and set up Silver Ash Campers, a campervan rental company. The first year was super hard, but we're now going great guns. We have three campers that have been fully renovated for 'glamping'—which is glamorous camping for people who love fresh air and wide-open skies but who don't want to give up on all of life's luxuries—and we currently have 52 weeks pre-booked for 2015. Also, my father-in-law recovered and is now feeling in tip-top shape.
"I've been able to use my brain strategizing the business, my creativity on the renovations and I'm able to translate my passion for camping and the outdoors into great experiences for other people. We live in the woods near the beach, and I don't regret anything."
Occupation: Founder/CEO, Love With Food
Residence: San Mateo, Calif.
"I was a financial software engineer for more than ten years and worked at big corporations like Accenture and PeopleSoft. Even though my corporate career earned me a very comfortable six-figure salary, I wasn't happy or feeling I was making a difference, so I took a year off and backpacked around the world. Being away from life's responsibilities helped me see that I wasn't living a fulfilling life. When I returned home, I decided to start a business that was the marriage of my two biggest passions: food and technology.
"My business, Love With Food, is a subscription snack service and marketing platform that enables organic and all-natural consumer food brands to tap into valuable customer intelligence data. Each month, Love With Food sends a curated selection of product samples to its community of highly engaged foodies who pay a small monthly fee to discover new products and provide feedback with the convenience of at-home delivery. I also believe in giving back and for every snack box delivered, Love With Food donates one meal to feed a hungry child in America. To date, Love With Food has donated more than 400,000 meals to food banks across the country.
"I'm so happy and grateful to have the opportunity to pursue what I love. It's a lot of sacrifice, tears and sweat but it's all worth it."
—Written by Kristin Colella for MainStreet