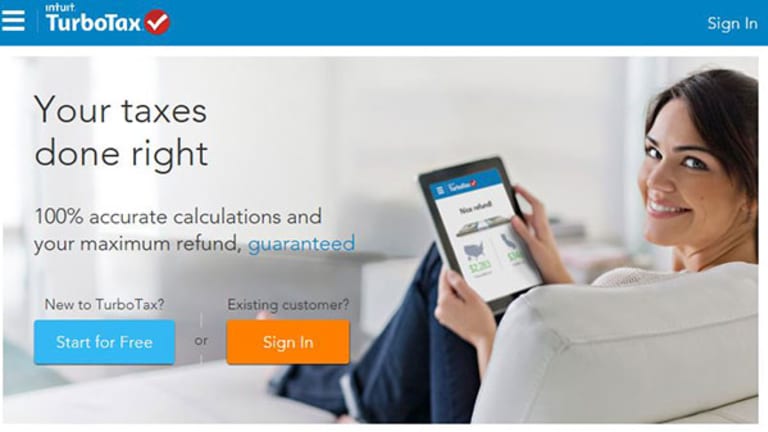 TurboTax Promo Offering Free Federal and State Online Filing for Simple Returns
A new promotion by TurboTax could allow the 60 million Americans who use a simple tax return to file for free this year.
NEW YORK (MainStreet) — Intuit's TurboTax kicks of a new promotion tomorrow called Turbo Tax Absolute Zero offering free state and federal filing for taxpayers using either the 1040A or 1040EZ forms through the company's TurboTax Federal Free Edition.
Starting January 9, those with their tax information in hand can go online and file their return using TurboTax's filing system for no charge. The step-up product for more complicated returns costs $29.99. Intuit said the promotion potentially could be used by as many as 60 million people, as 60% of American tax payers use either the 1040A or 1040EZ form for their returns, which are covered by this deal.
Turbo Tax Absolute Zero does not have all of the features found in Intuit's higher-end tax preparation software and is only intended for people with a simple financial history. The entire return is handled electronically.
"We know how urgent and important it is to get every dollar you deserve," said Sasan Goodarzi, general manager of Intuit's Consumer Tax Group. "That's why we're offering totally free filing to millions of Americans. We've shifted the burden of tax preparation from your shoulders to ours, so you can catch a much-needed break."
The free offering also takes into consideration more complicated matters such as the Affordable Care Act.

WATCH: More personal finance videos on MainStreet | More videos from Amelia Martyn-Hemphill
View Today's Auto Loan Refi Rates
"TurboTax users will not pay extra to comply with new health care laws or to claim their earned income tax credit," the company said in a written statement.
For those who are new to filing electronically, the free offer comes with access to TurboTax advisors via chat or phone, and people can also look for answers in an online community of fellow TurboTax users. Other features include automatically importing W-2 and 1099 information, performing error checks and conducting software checks for more than 350 possible deductions to be added to the return. To boot, there's available audit support.
Those interested in receiving their return as quickly as possible can file immediately, although Intuit will not send in the return until January 20 when the Internal Revenue Service begins processing e-files.
--Written by Doug Olenick for MainStreet