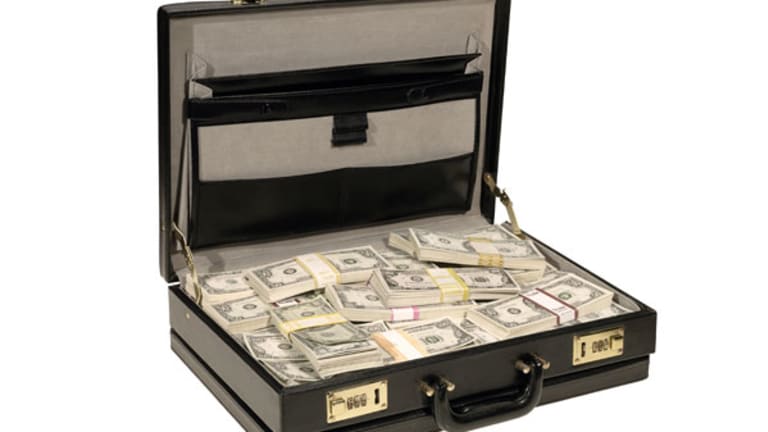 Tribal-Land Payday Loans Spark Reservations
Payday loans offered by lenders 'based' on tribal lands may face financial reform fallout.
BOSTON (
) -- The unique nature of Native American reservations, as lands that operate as "tribal enterprises" with sovereign rights, has led to a rise in so-called payday loan businesses chartered there.
Proponents and opponents alike of such loans, and similar alternative financing offerings, are watching to see whether the Dodd-Frank Act and its slate of financial reforms will rein in such enterprises that have mostly escaped the reach of state regulators and consumer lending laws.
Payday loans offered by lenders that claim to based on tribal lands may face financial reform fallout.
The argument waged by these online payday lenders is that the sovereign-nation status of tribal lands offers them immunity to state payday loan regulation such as interest rate restrictions.
Online payday loan facilitators, increasingly squeezed -- if not outright banned -- in many states, have tried to work this legal claim into a loophole. By incorporating their business on tribal land via negotiations that net the tribe or its chief a stipend, lenders look to skirt state laws and the tribe earns much-needed revenue. It's seemingly a win-win relationship -- aside from those stuck with triple-digit interest rates.
Critics say the connection to reservations is tenuous at best, describing the partnerships as "rent-a-reservation." Once little-known to many, the controversy surrounding payday lenders on tribal land was the subject of a
by the nonprofit Center for Public Integrity.
Even within the payday loan industry there is a rift over online lenders that latch onto tribal law.
"Native American partnerships are solely a practice of a group of Internet-based lenders who choose not to license themselves in the states in which they operate," according to a statement by D. Lynn DeVault, board chairwoman of the
Community Financial Services Association of America
, an organization "dedicated to advancing financial empowerment for consumers through small dollar, short-term loans."
Although the "U.S. government has granted sovereign immunity to tribes that shield them from payday lending regulations,
CFSA member companies will continue to hold themselves accountable to the states and will not be involved in this practice," DeVault says. "Our best practices require that all our member companies be licensed in the state where the customer resides and that they comply with all applicable state laws. Partnering with a Native American tribe to avoid state licensing requirements for short-term lending defies CFSA best practices and would lead to the automatic expulsion of a company in violation."
A commercial popping up on daytime television promotes one such lender, Western Sky Financial. Its website explains that it is "owned wholly by an individual tribal member of the Cheyenne River Sioux Tribe and is not owned or operated by the Cheyenne River Sioux Tribe or any of its political subdivisions. Western Sky Financial is a Native American business operating within the exterior boundaries of the Cheyenne River Sioux Reservation, a sovereign nation located within the United States of America."
The commercial doesn't entirely sugarcoat the cost.
"How would you like up to $2,500 almost instantly? Here at Western Sky Financial, we'll lend you this money almost instantly and with no collateral whatsoever," a spokesman says. "Sure, it's expensive, but you can pay it down quick to not pay as many fees."
Declaring a loan "expensive" isn't enough to satisfy Colorado Attorney General John Suthers, a longtime opponent of reservation-based payday loans. In March he filed a lawsuit against the South Dakota-based online lender for "making unlicensed, high-interest loans to Colorado consumers." It is the latest in his legal challenges to the business model.
According to the lawsuit, filed in Denver District Court, the company made more than 200 loans to Colorado consumers since at least March 2010, during which time it was not licensed with the state. The loans ranged in value from $400 to $2,600 and had terms ranging from seven months to 36 months. The loans' annual percentage rates were between 140% and 300%. Under Colorado's Uniform Consumer Credit Code, lenders making subprime loans must be licensed with the Office of the Attorney General. Because Western Sky Financial made loans with interest rates higher than 12%, it must be licensed, the pending case claims.
Similar legal fights have taken place in several other states, among them California, New Mexico and West Virginia.
An invigorated federal crackdown on payday lenders, as part of the Dodd-Frank Act of financial reforms, may succeed where state efforts have stalled. While courts have typically sided with tribal laws over state regulations, federal law is another matter. Constitutionally, the federal government can enforce its laws through treaty agreements.
According to the Treasury Department's
of the Dodd-Frank Act, which singles out issues pertaining to Native Americans, it: "establishes, for the first time, robust federal supervision and oversight over larger alternative financial service companies such as check cashers and payday lenders, including on reservations."
The Treasury Department says "alternative financial services present problems in Native American communities," with a survey of attendees at a National American Indian Housing Council meeting finding that at least half of respondents believed the following alternative financial services were a problem in their communities: loans against tax refunds (68%), payday loans (67%), pawn shops (58%) and car title loans (50%).
The act will also "empower tribal governments to enforce the laws on reservations."
"Tribal governments will be permitted to enforce the Consumer Financial Protection Bureau's rules in areas under their jurisdiction, the same way that states will be permitted to enforce those rules," the online overview reads. "In addition, tribal consumer financial protection codes will be protected, so that tribal governments can set standards that are tougher than the federal standards to afford greater protections for their citizens under those codes."
Therein may lie the challenge. As was the case with casino gambling, rampant poverty and high unemployment on many Indian lands have some willing to do what they can to ensure that funds come their way. According to the U.S. Census Bureau, roughly one-quarter of all Native Americans live in poverty.
If outsiders want to shell out for fast money, and even a small fraction of that money gets pumped back into the community -- used for education, health care and general welfare, is that such a bad thing? That viewpoint, combined with the interests of lenders, could lead to considerable debate, and likely legal challenges, over which financial regulations will apply to tribal lands.
"At this point, it is unclear what impact Dodd-Frank will have on any short-term lending model, including sovereign-nation lending," says Lisa McGreevy, president and CEO of the
.
McGreevy adds that the organization and its membership are "prepared to work with the CFPB and its director, when appointed, to develop and enforce smart regulations for our industry that meet the needs of the millions of consumers who need short term credit."
Uriah King, vice president of state policy for the
Center for Responsible Lending
, is confident the CFPB will have jurisdiction over payday lenders on tribal land. But he isn't so sure it will take the new federal regulations to weed out reservation-based payday lenders.
"At the end of the day, I don't think it is legal," he says. "I know the courts move slowly, that there are a lot of complicated issues and the other side is spending a small fortune on attorneys to essentially stall justice, one contested motion after another. But at the end of the day the fact pattern is pretty clear -- they are not legitimate. My read is they have to comply with state laws."
King compares the reservation-based lenders with the "rent-a-bank" efforts weeded out by regulators. Under those arrangements, payday lenders forged partnerships with nationally chartered banks based in states with no interest rate cap (such as Delaware). He feels the nature of these lenders won't pass muster with existing legal rulings.
"If it is really the tribe, if the tribe itself is really making the loan, if the shop is there and they take the bulk of the risk, if they underwrite the loan and collect and service the loan, then there is little states can do," he says. "If it is just a ruse, and a bogus relationship with this Internet lender or whoever the real lender is and they are not a real part of the tribe, so to speak, then state law applies. I think there is going to be serious litigation around this and there are going to be major settlements before it is over. This is going to be a losing proposition for the people invested in this."
-- Written by Joe Mont in Boston.
>To contact the writer of this article, click here:
Joe Mont
.
>To follow the writer on Twitter, go to
.
>To submit a news tip, send an email to:
.
RELATED STORIES:
>>How Financial Reform Could Affect You
>>Sixty Million Americans Shun Banks
>>We Called It: ATM Fees Soar in Chase 'Test'
Get more stock ideas and investing advice on our sister site,