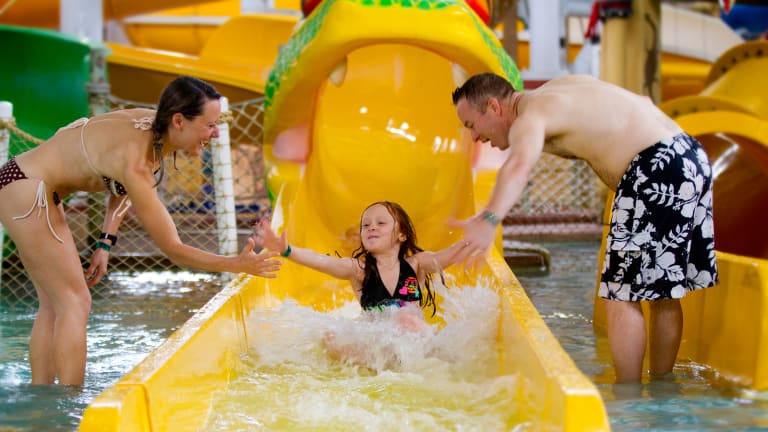 Traveling With Kids: 10 Ideas for Your Family Summer Vacation
These U.S. resorts provide numerous activities and supervised kids' clubs, allowing mom and dad to really take a break.
These U.S. resorts provide numerous activities and supervised kids' clubs, allowing mom and dad to really take a break.
NEW YORK ( MainStreet) -- Any parent knows that going on vacation with kids is a major production. Where do you go and what do you bring?  How do you keep the little ones entertained?
Many resorts in the U.S. are making travel-planning for families just a little easier by providing what children need, from play areas to kids' meals. Even better, these places provide numerous activities and supervised kids' clubs, allowing mom and dad to really take a break.
Here are 10 properties in the U.S. with kid-friendly attractions such as water parks and arcades, and lots of perks for parents such as golf and spa treatments.
Kalahari Resorts
Pocono Manor, Pennsylvania
At the African-themed Kalahari in Pocono Manor, Pa., the goal is to not only provide what kids need but give them what they really want all in one place: thrilling rides in a 100,000-square-foot indoor water park, arcade games where tickets won can be exchanged for prizes, and a kid's camp with daily activities from storytelling to cookie-decorating.
For the big kids, Kalahari's indoor water park offers stand-up surfing or body boarding on the FlowRider and wild waterslides such as the Anaconda and Swahili Swirl. Supervised toddlers and infants can splash around in play areas like Tiko's Watering Hole, while adults get drinks at the Thirsty Turtle Swim-Up bar.
Kids can spend hours in the entertainment center playing arcade games, mini-bowling or backlight mini golf, while mom and dad get spa treatments. At Camp Kalahari, the resort's activities team will keep kids busy with contests, interactive games and crafts, so mom and dad can go shopping for souvenirs.
Named after the desert in southern Africa, Kalahari was inspired by the most recent Africa trip Todd Nelson, owner of Kalahari Resorts and Conventions, took with his family. Many pieces of furniture and artwork have been sourced from six different African countries that the family has visited. Some items sold at Kalahari's retail shops like home decors and jewelry were imported from Africa; Java Manjaro in the lobby serves coffee made from handpicked Rwandan coffee beans.
"Our all-under-one-roof getaway offers something fun for kids of every age group," says Nelson. "We also offer a unique experience, not typical of other water parks or resorts. You'll find the spirit of Africa in every corner of Kalahari."
Families can spend just a day in the water park, but for those who want to stay longer, guest rooms and suites with up to three bathrooms are available. 
What about mealtimes? Unlike some family-friendly resorts where jackets are required during dinner, Kalahari's restaurants do not have a dress code. That's one less thing to worry about when packing for your getaway with the kids. Great Karoo Marketplace Buffet has more than enough food stations, and one is dedicated for kids' meals (think macaroni and cheese).

Ready for a summer getaway with the kids? Check out these other resorts in the U.S. that offer fun family activities, child care and kids' camps.

Skytop Lodge
Skytop, Pennsylvania
Skytop Lodge is in the Poconos, about 93 miles from New York City, and 117 miles from Philadelphia.
Accommodations:
The Main Lodge and the Inn both offer rooms and suites. Larger families or groups may choose to stay in the four-bedroom Cottages.  
Kid-friendly features:
Camp in the Clouds for ages 4-10; Camp Skytop (sports camp) for ages 10-17; game room and lawn games; golf and tennis clinics; stables and horseback tours

Parents will love:
Championship golf course; spa; adventure center (ropes course, outback UTV tours); multiple dining options and sports bar  
Smugglers Notch
Jeffersonsville, Vermont
Smugglers Notch is a popular East Coast ski resort that has also become a popular family destination in the summer months.
Accommodations:
The resort consists of five different lodging communities with one- to five-bedroom housing options. All condo homes come with a fully equipped kitchen and access to laundry facilities.
Kid-friendly features:
Water park with eight pools and four water slides; zip-line course; Summer Fun University kids' program; childcare center; babysitting services; teen programs; skate park
Parents will love:
Guided fitness walks; aqua aerobics; fly-fishing tours; massage center
Tyler Place Family Resort
Swanton, Vermont
An all-inclusive resort, Tyler Place is located in northern Vermont on a mile of private lake shoreline.  
Accommodations:    
Families can choose between suites and private cottages.  All suites and cottages include living rooms, screened porches and kitchenettes.  
Kid-friendly features:
Childcare services; children's camp; pre-teen and teen programs; recreation room; arts and crafts; bike rides; lake activities
Parents will love:
Six tennis courts; aqua aerobics; Quebec wine tasting tours; fitness and exercise center; proximity to hiking trails; evening cocktails; farm-to-table dining   

Kingsmill Resort
Williamsburg, Virginia
Located on the James River between Richmond and Norfolk, Kingsmill Resortis within minutes from Colonial Williamsburg and Busch Gardens.
Accommodations:   
Three-floor condos in villa-like clusters along the banks of the James River feature one- to three-bedroom suites, with kitchens and laundry facilities.
Kid-friendly features:
Year-round kids' camp; private babysitting with screened sitters; playground; free use of bottle warmers, mini refrigerators, stepstools, strollers, infant bathtubs, and childproofing items
Parents will love:
Five-diamond restaurant; two championship golf courses; spa; three fitness centers; designer boutiques
KeyLime CoveWater Resort
Gurnee, Illinois
KeyLime Cove is less than an hour from both downtown Chicago and Milwaukee. 
Accommodations:
With 414 resort-style guest rooms and suites, the resort provides water park guests with the option to make a day at the park a multiple-day retreat.  All rooms include 32" flat screen TVs, complimentary Wi-Fi and admission to the water park.  
Kid-friendly features:
Tropical-themed indoor water park; game arcade and an arts and crafts studio; resort is just across from Six Flags Great America 
Parents will love:
19 spa treatments available at Paradise Mist Spa; proximity to nearby golf courses



Floridays Resort Orlando
Orlando, Florida
 is 15 minutes from the Orlando International Airport and minutes away from the Disney Resort complex, Sea World and other Orlando attractions.
Accommodations:
An all-suite condo-style resort, Floridays offers its guests spacious accommodations and a variety of amenities.  All suites include a fully equipped kitchen and two bathrooms.  
Kid-friendly features:
Playscape area; daily shuttle to theme parks; arcade room; poolside movies and crafts 
Parents will love:
Close proximity to Orlando restaurant scene and shopping outlets; fitness center; 10 golf courses within 5 miles of the resort

Sea Island Resort
Sea Island, Georgia
Sea Island Resort is located on its own island on the coast of Georgia, 60 miles from Jacksonville and 60 miles from Savannah.
Accommodations:
At the heart of the resort is the Cloister, the main Mediterranean-style building.  Guests can choose from 200 rooms and suites, each with hardwood floors and exposed-beam ceilings.  Guests can also choose from 40 guest rooms at The Lodge, the resort's golf club.  Homes and condos are available for larger families and groups.
Kid-friendly features:      
Camp Cloister for ages 3-14; junior golf and tennis clinics; beach pool with water slide; horseback tours
Parents will love:
Three 18-hole golf courses, including one that hosts the PGA Tour's McGladrey Classic; 65,000-square-foot spa and fitness center; tennis and squash facilities

Ojai Valley Inn and Spa
Ojai, California
Ojai Valley Inn and Spa is located 60 miles north of Los Angeles and 12 miles off the ocean.
Accommodations:
Vacationers can enjoy 305 deluxe guest rooms, a spa penthouse, an hacienda penthouse, 75 other suites, and a five-bedroom gated residence. 
Kid-friendly features:
Supervised kids' program, Camp Oak; family-friendly Pixie Pool; scavenger hunts
Parents will love:
18-hole golf course; 31,000-square-foot day spa; adult-only pools; fitness classes; The Oak restaurant

Four Seasons Resort, Maui
Wailea, Hawaii
Perched on the shores of southwest Maui, the
, boasts inland views of Haleakala Volcano.  
Accommodations:
The Four Seasons has the largest guest rooms and suites on the island of Maui. Rooms are serviced twice a day by the 150-housekeeper staff and each room features a private lanai with ocean, garden or mountain views.  
Kid-friendly features:
All-seasons day camp; childcare services; weekday canoe paddling program; three saltwater pools
Parents will love:
Award-winning spa with 13 treatment rooms; three shopping boutiques; three par-72 golf courses; cardio and fitness center; three of Maui's top-rated restaurants