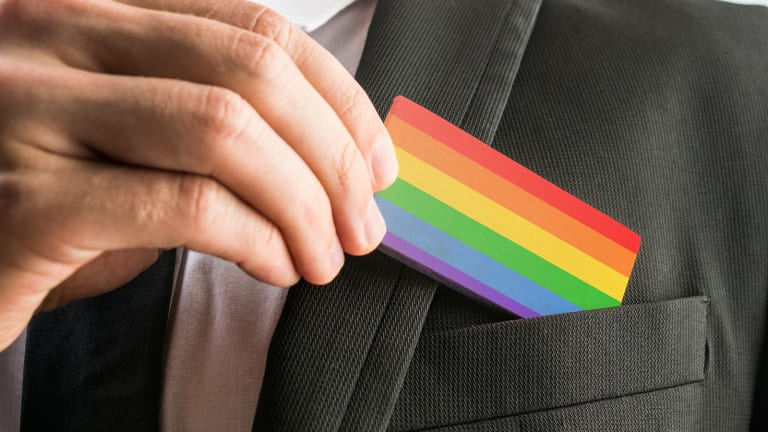 Transgender Employees Seeking Greater Workplace Protection
An increasing number of transgender employees are able to access benefits.
When Stephanie Battaglino came out as transgender nearly a decade ago and told her supervisors that she was beginning her transition, the response from the other managers was surprisingly positive.
Battaglino's disclosure about her gender identity was the first one that the buttoned up Manhattan financial services company had ever encountered in its nearly 200-year history. The acceptance of Battaglino as a transgender woman was strong sign of acceptance and support, considering that she was also an executive who dealt with clients on a regular basis.
At the time, she was 45 and had her work cut out, since the company had zero guidelines about how to address the issue. Although the company responded well and wanted to know how to make the process comfortable, the fact remained that there were no legal protections in place to keep the company from firing her. They were not required by law to work with her to make the necessary accommodations, no matter how minor they appeared, such as which pronouns to use when addressing her or what bathroom she should use.
Over the course of several years, Battaglino aided the human resource executives in how they should shape and construct their guidelines so that the next transgender employee who approached them would encounter an even smoother transition.
"We added those things as a result of my coming out," she said.
Cities and States Passed Laws
Nowadays, a rare, but increasing number of transgender employees are able to access fully inclusive benefits as a small number of U.S. companies have adopted guidelines and policies for LGBT employees and their partners and families -- including them in benefits such as health insurance that were previously only offered to heterosexual employees. Given President Trump's recent transphobic statements related to members of the military, many in are worried about having their rights protected.
While some larger multinational companies have embraced this type of diversity head-on among their employees, fewer than half of the states and a minority of cities have emerged as leaders and sought to pass laws prohibiting discrimination on the basis of sexual orientation and gender identity. What's lacking is an all-encompassing federal law which protects individuals from both employment discrimination, including hiring, advancement and retention based on sexual orientation or gender identity. Legislation on the federal level has been proposed again and again since 1974, only to meet repeated defeat. Since 1994, with the exception of one session of Congress, the Employment Non-Discrimination Act (ENDA) would have prohibited such discrimination, but has never been passed by Congress.
Twitter's Revenue Gains Won't Last Long If Its American User Base Keeps Declining
Despite Trump Tweets Transgender Military Policy Hasn't Yet Changed
Only 19 states, the District of Columbia and Puerto Rico currently have statutes that protect employees based on sexual orientation and gender identity in public and private companies, while at least 225 cities and counties prohibit discrimination based on these same grounds.
Despite some legal advances, in 31 states transgender employees lack explicit protections against discrimination in the workplace and risk losing their jobs. This figure "tells us that transgender individuals need legal protection in the workplace," said Lisa Linsky, a New York partner at McDermott Will and Emery, who started the international business law firm's LGBT program in 2005.
"Without such protections, they run the risk of losing their jobs and their livelihoods," she said. "We have a long way to go before LGBT people have full equality under the law."
How Companies Measure Up
Diversity in the workplace continues to change, and advocates said companies must address a wide range of issues from allowing transgender employees to choose which bathroom they want to use (or providing a unisex one) to permitting transgender employees to dress in a manner that is consistent with their gender identity. To boot, advocates say trans employees have a right to be addressed by names to match their identities and argue that transgender reassignment surgery  should be apart of their benefits.
McDermott Will and Emery upped the bar in 2011 and expanded its health insurance coverage to include gender reassignment surgeries, but had already started offering time off for counseling or hormone therapy in 2008 by paying them through short-term disability.
The Human Rights Campaign Foundation's Corporate Equality Index (CEI) has tracked LBGT-inclusive policies at Fortune 500 companies since 2002 and more recently the 200 largest U.S. law firms. Today there are 418 companies participating in the 2015 CEI that offer transgender workers at least one health care plan with transgender-inclusive coverage. That figure is a 22% increase since 2012, when the CEI criteria first started including trans-inclusive healthcare as a requisite for companies to receive a perfect score. 
Watch More with TheStreet:
Check Out the Tesla Model 3's Key Specs as Elon Musk Prepares to Hand Out Keys on Friday
Happy National Scotch Day! What's the Difference Between Scotch, Bourbon and Rye?
How One Employee Dealt With Discrimination
Stacee Reicherzer did not face the same open-minded and understanding bosses who accepted Battaglino during her transition. Working in a call center 25 years ago in San Antonio, a deeply conservative city in Texas, she dealt with difficulties often, ranging from outright discrimination and hostility to obvious harassment.
"My whole body told the story since it was changing," she said. "To me, there wasn't anything to hide. I was just who I was. There were people who were very supportive and others were very prejudiced and close minded."
Reicherzer said she was unabashedly open about the transition and physical process with her co-workers as she emerged from a "feminine gay boy who looked more androgynous," to a woman as the estrogen treatments changed her body rapidly.
She remained was steadfast in her decision, embraced her identity, changed her name legally, left San Antonio and continued to advance in her career.
"Once I had the surgery, it was not an issue," she said.
Nowadays Reicherzer is a licensed professional counselor in Chicago and a program manager for Walden University's School of Social Work and Human Services, an online program based in Minneapolis.
"The most important consideration is that transgender people want to be respected for their professional contributions, not the proverbial suit we wear," she said.
How Employers Can Assist in the Transition
Employers can address the topic easily by including policies to prohibit discrimination and harassment. When a company sets an inclusive tone, "it really sends a message to the entire workplace," said Stacey Sobel, a professor at Western State College of Law in Orange, Calif.
"In general, the more accepting management is of the transgender employee, the more quickly the employees will accept it," she said.
A transgender employee can work with a human resources professional on how to alert co-workers to a new name or email address.
Companies have learned that "equality strengthens their business" and when coworkers learn to be patient and have an open mind, they will realize that "working with a transgender employee is the same as working with anyone else," Sobel said. "By making them comfortable, they will be improving the workplace."
While some businesses are unsure about how to address the issue, one strategy is to let the employee take the lead and decide when they want to tell their co-workers, said Susan Schaecher, a partner and labor and employment attorney at Fisher and Phillips in Denver.
"Employers need to be careful and know the law of where they have operations and do business," she said. "The national trend is moving in the direction of more laws and ordinances prohibiting discrimination based on sexual orientation."
Within the next ten years, most states will have changed their laws to adopt one which includes workplace protection, Sobel said.
"It will happen sooner rather than later," she said. "People will realize that the person sitting next to you for the past five years is the same worker after they have transitioned."
More of What's Trending on TheStreet: