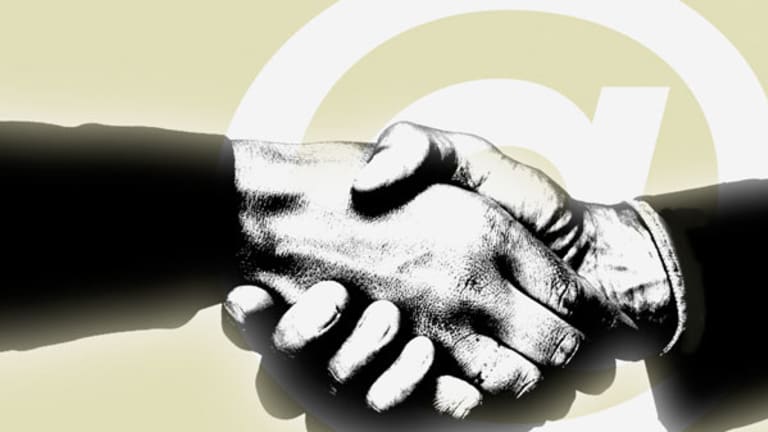 Toymaker Struggles in Movie-Obsessed World
Andrew Farrar, CEO of HandsOnToys, discusses the struggle to compete in a market driven by movie tie-ins.
BOSTON (
) -- In 1993, two business executives and an inventor teamed to form the specialty toymaker
. The company has been the darling of parents' magazines and toy fairs, with award-winning products such as Toobers and Zots (foam and wire construction toy), the Wiggly Giggly ball and the goopy modeling compound Floam.
The Lawrence, Mass.-based company has fallen on hard times in recent years as retailers stock up on products tied to movies by
Walt Disney
(DIS) - Get Walt Disney Company Report
and
Marvel Entertainment
(MVL)
instead of educational toys. The staff at HandsOnToys has dwindled to two full-timers and a part-timer from a high of 40.
"It's possible that HandsOnToys will not survive," says company Chief Executive Andrew Farrar. "We're on the knife's edge."
Farrar recently talked to
TheStreet.com
about entrepreneurship, competing for shelf space and other issues facing the struggling specialty toy market.
How did you jump into the toy industry?
Farrar:
I teamed up with two friends, and we started discussing ideas for a new business. It was artist Arthur Ganson's invention of Toobers that led us to start a toy company. If he had developed a new telephone we may have invented a telephone company.
How did Toobers come about?
Farrar:
Ganson is a kinetic sculptor by passion and was installing a piece in Austin, Texas. Late in the evening he looked off into the distance and saw what he thought was a piece of foam with wire inside and he thought, 'I wish I had invented that.' When he got closer he saw that it was a balloon sculpture and realized, 'I did invent that.' And that was the product around which we built HandsOnToys.
Many small businesses start out with an exit strategy. They want to get bought by a big company or go public. Did you have an exit strategy when you started your firm?
Farrar:
At the moment of invention, no. We were looking to build a dynamic toy company that would provide playful and organic toys -- organic in the sense of the kind of play value that they provided to children. That changed pretty quickly. It turned out we couldn't get anyone to manufacture the toy. We needed to raise capital. So we decided we'd either exit by selling the brand, Toobers and Zots, or we'd sell the company.
What did you do?
Farrar:
We got the product into the market based on a new production process that we devised ourselves. It was a commercial success at retail, but not a financial success for HandsOnToys. We got imitated almost immediately by
Wal-Mart
(WMT) - Get Walmart Inc. Report
. We had filed for a patent, but it was still pending, and "patent pending" doesn't protect you.
We ended up licensing the product to
Hasbro
(HAS) - Get Hasbro, Inc. Report
18 months after we launched it. Hasbro ran with the product for just over a year and then dumped it. They paid us a significant amount of money upfront. They felt it was a proven product. That was 1996. But in 1997, sales did not meet their expectations and they dumped it. We had done $4 million in the specialty toy market. They expected to do five times that and they did just two times that.
Tell me about how the entertainment industry has changed the toy industry.
Farrar:
Even Hasbro describes itself as an entertainment company as much as a toy company. They attributed their most recent earnings report to the success of their G.I. Joe and Transformer lines, both of which are movie-supported.
When we got into the business there was a thriving specialty toy market with chains like
Learningsmith
,
Natural Wonders
,
World of Science
,
FAO Schwarz
and
Learning Express
. You could build a business selling to those stores. However, almost all those stores went out of business in the late 1990's, and the independently owned toy market has shrunk drastically. And now you have to fight for space at Wal-Mart,
Target
(TGT) - Get Target Corporation Report
and
Kmart
.
How bad is business right now?
Farrar:
We're struggling. That's a combination of the downturn in the economy and not having another product to replace Floam. One of the consequences of the economic downturn is that companies who might have licensed toys are slower to make decisions.
Do you have any new toys in the hopper?
Farrar:
Our toy portfolio is as strong as ever. We have a new mechanism for throwing and spinning dice. We have a new craft product. We have some new games that we are attempting to place. We have a new kind of flying disc to compete with Frisbee. The problem for us is that none of these will provide revenue until 2011.
-- Reported by Carmen Nobel in Boston.