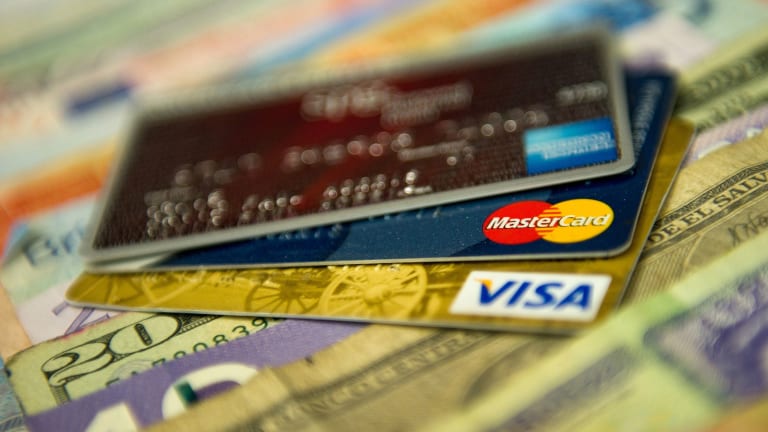 Top Travel Rewards Cards: Your Guide to Big Redemption Returns
All travel rewards cards are not created equal. Experts highlight the stinkers and the winners you need in your wallet.
NEW YORK (MainStreet) -- What credit card you carry definitely matters when it comes to scoring free travel. Some cards are literally seven times more generous with their rewards than others, and quite disappointingly, a few cards that you would think had to be lavish are in fact miserly.
That's according to detailed analysis of travel rewards cards by consumer information website NextAdvisor. "The big takeaway of our research: there are large differences among cards," said Erik Larson, president and founder of the company. "You may be able to get a lot more rewards if you use the right card."
For instance: according to NextAdvisor's analysis, one of the worst cards is the Citi (C) - Get Citigroup Inc. ReportHilton (HLT) - Get Hilton Worldwide Holdings Inc (HLT) ReportHHonors Visa Signature card, which delivers "a really low 34 cent redemption value for flights and a fairly paltry 87 cent hotel value" for each each $100 spent on the card.
Yes, you might have thought that a card associated directly with a travel provider had to be solid. That would be very wrong, because, by NextAdvisor's math, the cards that are in the winners' circle deliver upwards of $2 per $100 spent, not a lousy 34 cents.
Another loser: The Marriott (MAR) - Get Marriott International, Inc. (MAR) Report Rewards Premier Credit Card which, said NextAdvisor, brings "a value of 47 cents for free hotel stays, and a value of 50 cents for flights," again per $100 spent.
So, what are better choices? That's a hard question because the experts do not agree. Matt Schulz, senior industry analyst at CreditCards.com, cast his vote.
"The best rewards credit card that I always recommend is the Barclaycard (BCS) - Get Barclays PLC Sponsored ADR Report Arrival Plus World Elite MasterCard," he said. "It gives you double miles on all purchases. You get 40,000 bonus points for signing up, and those can be redeemed for $400 in statement credit to be put toward a travel purchase. You even get 10% miles back whenever you redeem credits. That means that when you redeem for 40,000 miles for a $400 credit, they'll give you 4,000 miles back. Plus, you don't have to worry about blackout dates and other such headaches."
That card also is Larson's top pick. He calculates its payback at $2.20 per $100 spent when rewards are redeemed for travel.
But Jason Steele, an expert with website CompareCards, said the Barclaycard is good, but "it is not my favorite. You can do better." His pick: American Express (AXP) - Get American Express Company ReportStarwood (HOT) Preferred, which he called "the best." He explained, "The card's shining factor is its unrestricted allowance of points. Users can transfer their points to airline miles to over 30 different airlines."
NextAdvisor, too, likes the Starwood card, which Larson calculates returns at $1.86 per $100 spent. NextAdvisor elaborated: "It's particularly great for those interested in staying at Starwood hotels, as it offers an amazing $2.30 hotel point value -- the highest hotel redemption value of any card in our study. Starwood hotels include Westin, W, Sheraton, St. Regis and more.
A third solid choice: Chase's (JPM) - Get JPMorgan Chase & Co. (JPM) Report Sapphire Preferred which, according to NextAdvisor, returns $1.94 per $100 spent. NextAdvisor elaborated, "Chase Sapphire Preferred provides a generous $2.06 hotel value and $1.81 flight value for every $100 spent."
Steele, too, likes the Sapphire card: "a solid 40,000 bonus sign-up points, along with stellar spending points. For every dollar spent on travel or at restaurants, Chase rewards users double points."
The card that may immediately come to mind in this category because of its heavy advertising -- Capital One (COF) - Get Capital One Financial Corporation Report Venture Rewards Credit Card -- incidentally scores solidly, according to Larson. He calculates its return at $2 per $100 spent, putting it among the leaders.
NextAdvisor added, "Miles are easy to redeem, and cardholders can book their travel however they'd like and with any airline or hotel they prefer. Plus, unlike many of the the cards offered by other issuers in this analysis, this card is available to those with good (rather than 'excellent') credit."
But then a key question arises. Are travel rewards better than cash back cards such as Discover (DFS) - Get Discover Financial Services Report, which returns 1% cash back on most purchases and 5% on rotating categories such as restaurants and gasoline? Larson said that cash back cards are a bigger category than travel rewards but, he added, travel rewards are gaining.
Why? Steele suggested that cash back just disappears into the family budget -- but when your travel rewards are translated into a trip, that's magic and it's memorable. "There really is nothing like the allure of a free trip," said Steele.
Just pick the right card to get where you want to go sooner.
This article is commentary by an independent contributor. At the time of publication, the author held no positions in the stocks mentioned.