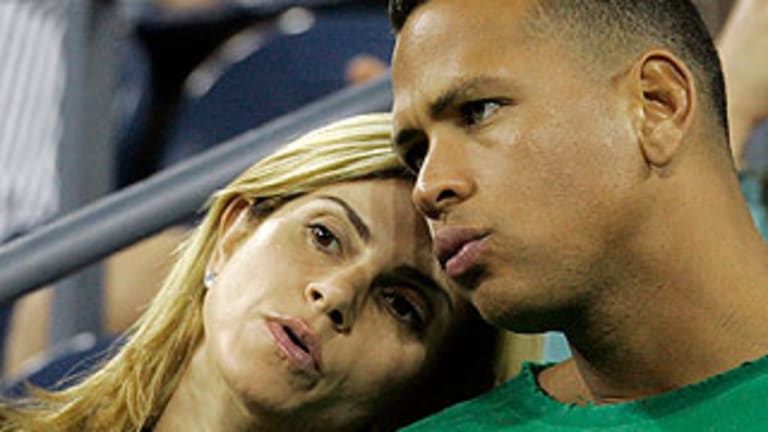 Top Ten Most Famous Sports Star Divorces
How does A-Rod's divorce match up against other athletes when there are big egos, swank pads, and ridiculous amounts of dough at stake?
Alex Rodriguez now officially lacks a World Series ring and a wedding ring.
The Yankee third baseman, who is in the first year of a 10-year, $275 million contract, reached a divorce settlement with his ex wife, Cynthia, their lawyers announced September 19.
Terms were not disclosed, but their breakup, which included A-Rod's affair of the heart" with Madonna, is tame by sports star standards. Don't believe us? We have two words for you: Mike Tyson.
So how does A-Rod's divorce match up against other athletes when there are big egos, swank pads, and ridiculous amounts of dough at stake? Here are the top 10 sports unions, which MainStreet ranked from shortest to longest, that went bust:

10. BOXER MIKE TYSON AND ROBIN GIVENS
HOW LONG IT LASTED: Eight months - and the couple's divorced finalized on Valentine's Day. Ouch!
WHAT HAPPENED: Actress Givens, who called the marriage a "living hell," claimed Tyson physically and sexually abused her.
WHO GOT WHAT: After the New York Post (NWS) quoted Tyson saying she was trying to "steal" his money, Givens accused him of libel and sued for $125 million. (But, she later dropped that lawsuit in a settlement and told the press she didn't want any money from her former flame.)
9. TENNIS PLAYER ANDRE AGASSI AND BROOKE SHIELDS
HOW LONG IT LASTED: When they split in 1999, the couple was a week away from hitting the two-year mark.
WHAT HAPPENED: The couple diplomatically told the press: "We have the utmost love and respect for each other and will remain the best of friends." Divorce filings by Agassi further explained the pair was, "incompatible in their tastes, natures, views, likes and dislikes."
WHO GOT WHAT: They reportedly followed a prenup when splitting their $130 million in collective assets, including his pad in Las Vegas and hers in L.A.
8. HOCKEY PLAYER PETR NEDVED AND VERONIKA VAREKOVA

HOW LONG IT LASTED: Two years: After a July 2004 wedding in Prague, the couple split in summer 2006.
WHAT HAPPENED: It's hard to say, since Nedved told papers, "I want my personal life personal." One possible source of tension? The former New York Rangers star made career moves to better support his ex's modeling career for Sports Illustrated (TWX) and Victoria's Secret (LTD).
WHO GOT WHAT: Their lips were zipped.
7. FIGURE SKATER TONYA HARDING AND JEFF GILLOOLY
HOW LONG IT LASTED: The couple married in 1990, when Harding was still a teenager. The marriage lasted three years.
WHAT HAPPENED: Although the couple was divorced at the time, they were still living together when both became household names following the attack on Harding's rival, Nancy Kerrigan, at the 1994 Olympic Games. Harding later told talk show host Geraldo Rivera that Gillooly abused her throughout their marriage, including threatening to break her legs so she couldn't skate anymore and putting a gun to her head when she tried to talk to police during the Kerrigan investigation.
WHO GOT WHAT: Though it wasn't part of their divorce settlement, Gillooly was sentenced six months in prison for his part in the Kerrigan attack.
6. CYCLER LANCE ARMSTRONG AND KRISTIN RICHARD
HOW LONG IT LASTED: The couple split in 2003 after four years together.
WHAT HAPPENED: After penning an article for Glamour magazine warning brides not to be starry-eyed over marriage, Kristin dished on The Oprah Winfrey Show that her nuptials made her a "yes" woman and she felt like all she did was cheer her hubby on.
WHO GOT WHAT: The couple reportedly used a mediator to split their assets which included a pad by the French Riviera.
5. BASKETBALL PLAYER SHAQUILLE O'NEAL AND WIFE SHAUNIE
HOW LONG IT LASTED: Almost five years. The couple married in 2002 and filed for divorce last year.
WHAT HAPPENED: Gossip rags were strangely silent on why the couple split, but Shaq hinted at financial woes in the divorce filing. He asked for Shaunie to provide "correct accounting of all money, funds, stocks, bonds, and other securities" that she'd obtained during their marriage.
WHO GOT WHAT: The prenup is under seal, but the couple had lots to divvy up: Shaq earned $20 million per year playing for the Miami Heat, not to mention his reported $15 million take from endorsements alone in 2007. Adding to the booty was the couple's Miami Beach home that went up for sale for $32 million at the time of their divorce.
4. BASEBALL PLAYER ALEX RODRIGUEZ AND WIFE CYNTHIA
HOW LONG IT LASTED: Almost six years. The couple married in November 2002 and Mrs. A-Rod filed for divorce on Monday, July 7.
WHAT HAPPENED: No one's sure yet what exactly happened, but the New York Post reports Madonna may have been the final strike (Cynthia's lawyer calls the A-Rod and Madge friendship an "affair of the heart"). Cynthia's divorce filings state: "Alex has emotionally abandoned his wife and children and has left her with no choice but to divorce him."
WHO GOT WHAT: Who'll get what remains to be seen, but A-Rod's balling with a $275 million ten-year Yankee contract and the couple owns a $12 million six-bedroom mansion in Miami. Cynthia's also asking for custody of their two daughters, private school tuition, child support, and a standard of living compatible with the "lavish lifestyle" to which the family is accustomed.
3. BASKETBALL PLAYER MICHAEL JORDAN AND WIFE JUANITA
HOW LONG IT LASTED: 17 years. The couple split in 2006.
WHAT HAPPENED: Trouble had been brewing: Juanita had filed for divorce in 2002 before deciding to reconcile. When the couple finally split for good, ESPN (DIS) reported that divorce proceedings stated the couple staying together was "not in the best interests of the family."
WHO GOT WHAT: Juanita got a $168 million settlement, as well as their seven-acre home in Chicago.

2. TENNIS PLAYER CHRIS EVERT AND SKIER ANDY MILL

HOW LONG IT LASTED: 18 Years.
WHAT HAPPENED: The couple blamed their divorce on irreconcilable differences.
WHO GOT WHAT: Mills received a $7 million settlement, plus a $4-million vacation home in Aspen, Colo. and a Porsche. Evert retained custody of the couple's three sons and a $2.8 million house in Palm Beach.

1. GOLFER GREG NORMAN AND LAURA ANDRASSY
HOW LONG IT LASTED: 25 Years. They split in 2007.
WHAT HAPPENED: This split was particularly messy: Andrassy dished to an Australian newspaper that tennis star and friend-of-the-family Chris Evert (see above) got between them. "I have never seen anything like it," she told Sydney's Sunday Telegraph. "I never would have thought anyone would be so aggressive in front of me like I didn't exist. . . I really don't have a lot of respect for her as a woman."
WHO GOT WHAT: Despite disagreements about whether Laura broke confidentiality agreements by talking to the press, she raked in $107 million in their divorce settlement. (And, Greg later married Evert.)