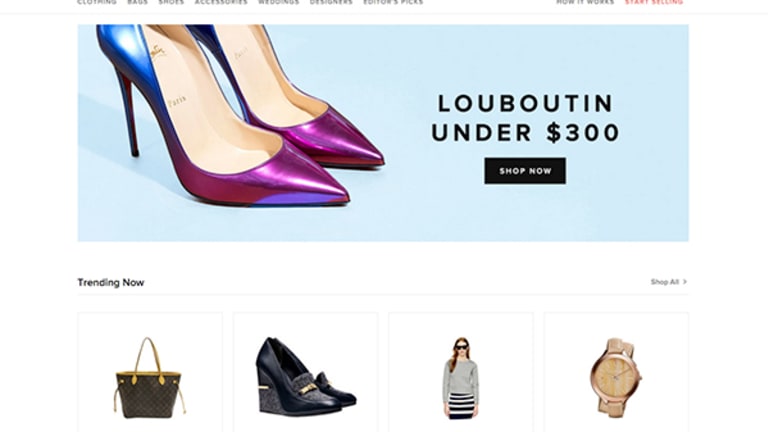 Top Sites for Selling Your Clothes and Goods That Can Beat eBay
Spring cleaning has never been so profitable. Visit these websites that are tailor-made to get rid of your goods, from high-fashion items to unique pieces of furniture.
Are you dreading the annual struggle to slim down stuffed closets or attics overflowing with the relics of redecorating projects? The ever-growing "too-nice-to-toss, too-much-to-store" pile of sartorial refuse sags in censure, and countless other miscellaneous items seem to clutter not just your house, but your mind. How could you--the careful investor, the religious financial planner--condone such waste? And is that chinoiserie-upholstered fainting couch ever going to net an eBay bid? Probably not--but forget those worries--it may just find a match in today's ever-more specialized, fragmented online resale market.
Spring cleaning can pay off for you big-time if you know how to tailor where you market your wares. No longer does "selling online" entail an ordeal of uploading hundreds of photos, populating confounding fields, then holding your breath for a decent bid, before scrambling to package and ship out the few items that received any bids. The last three years have seen an explosion of niche marketplaces that simplify and specializing the liquidation process--unlike eBay, these sites have a curated audience seeking the inventory you offer--and on your terms.
Most of the following eBay alternatives not only improve the experience of the sellers and the range of inventory accepted, but also home in on a focused niche, which attracts a loyal following far more likely to give your goods the fair amount of interest.
"I think that eBay [is] sensationally successful...but less and less specialized as a result," said Danny Rimer, a board member of 1st Dibs, a collectors' marketplace, in an interview with The Business of Fashion. "Smaller, more specific subsegments don¿t get the type of following or focus that they need."
The first wave of niche resale sites worked on a consignment model, serving the broad high-end women's luxury garments and accessories resale market. Now, a bevy of start-ups are branching out to test new models of selling as well as untapped marketplaces, matching buyers to sellers in resale dedicated to men's streetwear, Uniqlo-labeled kids' clothing, rare estate jewelry and contemporary furniture. For those seeking an immediate cash infusion, note the sites that offer an "immediate buy-out" option; for the time-strapped, other start-ups offer full-service shipping, photography, and marketing is included. So spring into those not-so-sweet partings by trying one--or several--of the internet's best new niche resale sites. Armed with the knowledge to optimize the returns and minimize the effort for online resale, you're bound to find both catharsis and cash this spring.
Top Options for Women's and Children's Items
1) Tradesy
Inventory Type: Low-medium price range, with brands ranging from J.Crew to Chanel. Accepts new or near-new items (clothing, shoes, and handbags) for women's sizes 0-16 only.
Payout Model: Sellers list items and interact with buyers through the mobile platform, agree upon a transaction price, and Tradesy takes only 9% of the sales price if you opt for store credit and 11.9% for a PayPal or check cashout.
Seller Experience:
Tradesy is a true customer-to-customer marketplace. Like eBay, your items do not pass through company headquarters for authentication of quality control. Nonetheless, Tradesy can take the the pain out of processing orders by providing sellers with packaging materials (dustbags, tissue paper, specialized boxes) and pre-paid shipping labels. In addition, its app guides users through the photographing and listing experience--a far simpler user experience than eBay's.
Caveat Vendor: Though shipping options are all listed as "free" for the seller, Tradesy does charge your buyers fees for both packaging and shipping. In addition, Tradesy restricts buyers to a narrow range of suggested list prices based on the retail price you provide.
Best For: Women whose wardrobes contain labels that are a mix between contemporary and luxury brands. Since Tradesy also offers one of the the highest pay-out percentages of all resale sites, this site is also for the girl who wants to pocket (almost) all of what she earns. Site founder Tracy DiNunzio seems to be taking the merchandise toward the high-end after acquiring fellow e-commerce resale site Shop-hers.com, which carried only high-end designer labels. But DeNunzio believes that the aspirational aspect of her platform is empowering: "As women, we get advertised to a lot, our bodies change, our tastes change," she told USA Today. "And that necessitates a pretty hefty investment if we want to update our wardrobe. That didn't seem fair to me. We should have access to the things that make us look and feel great without getting into debt."
2) thredUP
Inventory Type: Low-medium price range, with brands ranging from Uniqlo to Marc Jacobs. Accepts new or near-new items (clothing, shoes, and handbags) for women's, maternity, boys and girls (including infant and toddler sizes)
Payout Model: Mixed direct-buy and consignment model. Items with a resale value under $60 net an immediate payout between 10% and 40% of the expected sale price. For more valuable items, customers will receive a payout after the item sells (approximately 60% to 80% of the resale price).
Seller Experience: Request a free "clean out" bag via ThredUp's website or mobile app, fill it with items in good condition, then simply arrange a FedEx pickup time and leave the bag on your doorstep. Then thredUP will do the rest to sort, photograph, price, and market your items.
Caveat Vendor: James Reinhardt, thredUP founder and CEO, warned sellers that the curators were picky; about half of the items received are returned or donated to charity, an option the seller chooses.
Best For: Those with lots of excess clothes and little time to sort them. While thredUP may take a comparatively high percentage of the selling price, it is also one of the few non-luxury-focused resale sites. Plus--it's hard to beat the no-hassle pick-up service, right?
Other Innovators:
Poshmark: Social media-driven mobile app that rewards members for engagement and stocks largely high-end women's merchandise (but also hot brands such as Lululemon).
Fashionphile: Bag reseller that accepts only luxury accessories, but offers a direct-buy option for 40% to 55% off the estimated selling price.
Secondtimearound: Much-loved chain of brick and mortar consignment stores that curates a localized and diverse range of women's garments and accessories is now also offering an online consignment option.
Top Options for Men's Clothing or Miscellaneous Items
1) Linda's Stuff
Inventory Type: Giant Delaware-based, oft-favorited eBay seller since 2006 that focuses on contemporary and luxury merchandise for men and women, but has also expanded to antiques, electronics, art, perfume--everything including the kitchen sink. "We have a builder who just sent us a sink and a window," said Delaware-valley based founder Linda Lightman, who turned a home business into a leading online multi-category consigner.
Payout Model: Consignment--Linda's Stuff takes a 38% cut on items that sell for less than $1,000. Beyond that, you can earn up to 80% of the resale price once your item sells. Seller checks are mailed once a month.
Seller Experience: Contact Linda's stuff via email or phone to speak to a personal representative about your items. After the consultation, the company will mail you a complimentary pre-paid shipping label for each box you pack, and also the option of a free UPS pick-up. After that, everything from pricing to photographing to listing fees is on Linda. Pricing is out of your control, but the high-profile eBay seller maintains a high sell-through rate with frequent store promotions and price cuts.
Caveat Vendor: Linda¿'s Stuff will not list some items due to a brand's low resale value, poor condition or authenticity issues. So be sure to check the list of designers Linda's Stuff accepts, and check with representatives before sending your stash in. For all unwanted items, customers can choose return shipping at the cost of $20 per box or a tax donation slip for charity donations. Also note that the term on the consignment contract is 12 months--which means that seller's regret won't get your item back...
Best For: Sellers with a high-end, multi-category yard sale on their hands who want to avoid the headache (migraine, really) of creating and checking dozens of eBay listings. Sellers with truly valuable items (e.g. precious gemstones, rare designer pieces) should save these for a more specialized site.
2) Grailed.com
Inventory Type: Men's streetwear (found in the "Hyped" section) and luxury labels (in "Grailed"), as well as quality basics from brands such as J.Crew and Ralph Lauren.
Payout Model: Consignment--in this peer-to-peer marketplace, once your item sells, Grailed takes a 6% commission on top of PayPal's fees, which total approximately 10% of the transaction price.
Seller Experience: Interested parties submit bids, which the seller can accept or reject--the first bidder who pays wins the item. Shipping is the seller's responsibility.
Caveat Vendor: One of the most niche sites listed, Grailed has a smaller, but fiercely loyal and style-opinionated following. Complaints about counterfeit merchandise are often, and the selling process can involve many "bids" as well as bargaining exchange.
Best For: Your late-teenage to early-30s son who seems to spend an inordinate amount of time and money standing in line at 8 a.m. for the latest sneakers and dresses in sharply-tailored gray post-apocalyptic utilitarian garments or multi-hued hoodoos with indecipherable messages and extraneous zippers. Or just your average, quick-growing son's collection of barely worn "quality basics" bought by Mom.
Other Options:
INA.com: A chain of brick-and-mortar New York City stores that accepts men's goods, this company is expanding its online presence, and designer men's garments can be consigned nation-wide via its online form.
Vaunted: Profile-and-personality driven site that allows you access to the closets of the wealthy and somewhat famous (many of whom are men)
TheRealReal: Strictly luxury brands accepted, and merchandise is sold at flash sales; men's section is robust.
Top Options for Furniture and Home Goods
1) Charish
Inventory Type: Pieces that are "stylish, in good condition, and offered at a great value." Brands range from Urban Outfitters to high-end modern piece by top-notch designers.
Payout Model: Charish collects at least 20% of the sale price from the seller as commission and service fees once the buyer receives the items.
Seller Experience: Sellers list Cherish-approved items, and once they sell, Cherish takes care of all the logistical issues and acts as the middleman between buyer and seller.
Caveat Vendor: Though sellers are price setters, Cherish reserves the right after 30 days to lower the suggested price by 10% to 25% to move merchandise.
Best For: Design-oriented declutterers who wish to reach like-minded buyers sans the risks of Craigslist and the hassle of logistics.
2) Viyet
Inventory Type: "Curated" luxury Labels from Eames chairs to contemporary staples such as Restoration Hardware items as well as excellent or rare vintage pieces, furniture and home accents (e.g. throws and candleholders). Currently operating in about a dozen cities, Viyet has been rapidly expanding.
Payout Model: "At least" 50% of the first consignment with higher shares for "powersellers."
Seller Experience: After the seller fills out an online form detailing the items he or she wants to sell, Viyet sends curators who evaluate, measure, and photograph the items that meet their standards (be sure to check the list of accepted designers on their site). You can choose to keep your items they sell, or unload them to Viyet's storage facility for a fee.
Caveat Venditor: Service fees are considerable: removal and storage will cost $250 for the first piece, and $1 per additional cubic foot of storage. Even if you opt to store your own items, Viyet's home visit and marketing services are $150 for the first piece and $50 thereafter.
Best For: The interior designer, the frequent redecorator who can also be a bit of a hoarder or the misled shopper who splurged at ABC Carpet & Home sample sale on a sectional that can't contort itself into the confines of your living room. Or the estate inheritor who wants to sell those exquisite pieces that don't quite match her decor.
Other Options:
Furnishly.com: Essentially a "curated craigslist" experience, Furnishly allows users with at least approximately a dozen pre-approved to pieces create "stores," setting their own prices on items ranging from an Underwood typewriter to to CB2 stools and gilded antique wall mirrors.
FleaPop.com: Online marketplace for shoppers who love unique pieces and vintage touches, but hate the hustle and bustle of an actual flea market.
Read More Trending Articles:
Ulta Beauty Rips to an All-Time High After Strong Quarter -- Here's the Trade
Best Buy's Stock Blows Up After Massive Earnings Beat - What You Must Know Now