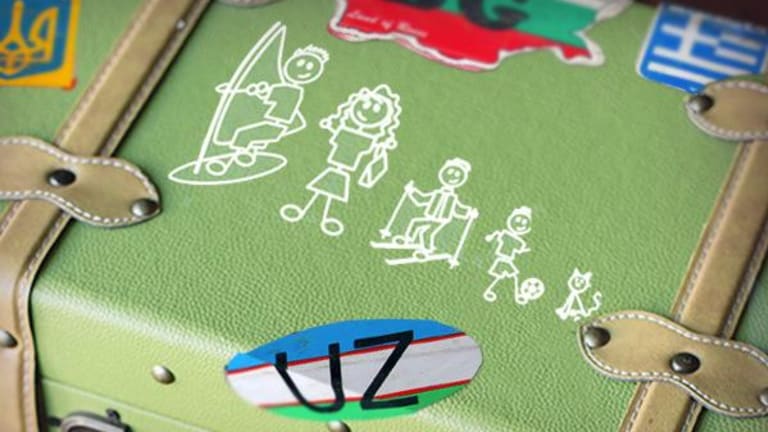 If you're a frequent flyer and powerhouse airlines mileage user, Tuesday is the cheapest day to use those miles, according to MileCards 2017 Mileage Study.
That fact is one of many useful takeaways in the report, which tracked 100,000 airline mileage award travel dates and routes throughout the U.S. Airline reward programs included in the report are: Alaska Mileage Plan, American AAdvantage, Delta SkyMiles, Southwest Rapid Rewards, and United MileagePlus, the report states.
The top takeaway is that Tuesdays are the least costly day of the week to fly, with prices 26% lower on average than Sunday, the most expensive day to fly using mileage rewards tickets. "That can save almost 11,000 miles on a roundtrip flight, MileCards states in its report.
What airlines offer the "cheapest" for award miles in the U.S.? According to the study, Southwest Rapid Rewards charges an average of 13,629 miles for a roundtrip award (note the airline doesn't travel to Hawaii, though) and Delta SkyMiles clocks in at second-lowest, with 27,871 miles across all U.S. airline routes tracked by MileCards, and offers more destinations than Southwest.
American AAdvantage is the most expensive program, MileCards states. "The lowest priced awards for roundtrip flights on dates studied on Americans cost an average of 47,017 miles for a roundtrip award within the U.S.," the study reports.
Those are good factoids to know if you're a frequent flyer who counts on airline miles programs to defray a significant cost of all that air travel. But there are other ways to save, too, air travel veterans say.
Start, for example, with the right credit card.
"Each carrier has their own unique benefits, but my advice to maximize your airline miles is first to get a business credit card that gives you the best personal benefits," notes Nathan Miller, founder of Rentec Direct, a cloud computing software company.
Miller, who has accumulated 3 million airline miles in the past three years says he uses the United Club Chase Business card for all his business expenses. "The card has an annual fee, but that is tax deductible, because the business pays the fee," he says. "I also earn accelerated miles when using the card, and the miles are treated as a "rebate" versus "income" by the IRS, so there is no tax on using the miles personally."
"The end result is my business gets a good credit card with a high limit, and I personally reap the rewards of unlimited free first-class travel, plus free access to United clubs," he adds.
Miller says there's an also an art form to getting the best discounted airline seats, if you don't mind a little calendar-based high wire act.
"Flights always have ample extra seating up to three months prior to the flight, so if you can book 90 days in advance with your miles, you're all but guaranteed your best choice of seat," he explains. "Don't expect discounted miles tickets three months early, however, as they will always be full price."
If your tolerance for risk is a little higher, book your flights using miles with less than one week prior to departure is the way to go for frequent fliers looking for a price break. "During this time the airline is running in panic mode trying to figure out how to fill up the last few seats," he says. If they can't get paying customers to fill them, they'll begin offering heavy discounts to their mileage club members at the last minute."
"For example, a flight that would normally cost 25,000 miles will be discounted to only 10,000 miles," he adds. "Likewise first-class seats can cost less than an economy seat during this period."
If you're looking at the calendar to estimate, like MileCards has done, the cheapest day of the week to use your airline miles in the U.S., try using the mobile app Hopper to do your calculating for you.
"Hopper analyzes billions of flights to help users predict the best deals and times to fly and buy," notes Chelsea Hudson, personal finance expert at TopCashBack, based in Montclair, N.J. "When you find the right flight, just call the airline and use your miles to book it."
For the best airlines in accumulating and using frequent flier miles, along with perks, Hudson recommends Alaska Airlines Mileage Plan, JetBlue TrueBlue, Southwest Rapid Rewards, Delta SkyMiles, and Virgin America Elevate - all of whom rated highly in a recent travel rewards survey by U.S. News.
"They were rated as the top five frequent flier programs in the business," Hudson notes. "They all rate highly in partnerships, accommodations, extra travel perks and more. Alaska is a great option for west coast residents while TrueBlue is the go-to program for East Coasters. Southwest is known for being the ideal for budget-minded travelers and Delta's miles don't expire."
Flying the friendly skies is a real "roll the dice" experience these days. But for frequent flyers, maximizing your odds of a great flight means not only choosing the right airline, mobile app and credit card, but the right day of the week, too.