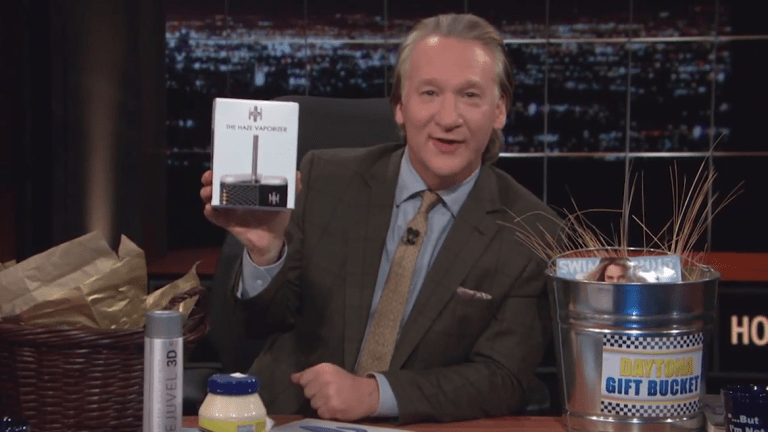 Top Oscar Nominees Get $250 Marijuana Vape In Prestigious Gift Bag
A cannabis culture phenom goes mainstream on Hollywood's glitziest night.
NEW YORK (MainStreet) - In another sign that marijuana has gone main stream, this year's top Oscar nominated actors, actresses and directors all went home with more than just greater industry recognition last night. They also brought with them, accompanied by an Oscar or not, a marijuana vaporizer currently listed at retail price of $250.
And you thought "Birdman" was trippy.
The Haze Vaporizer, as described by Jason Azurmendi, the marketing manager for Haze Technologies, "is the first portable vaporizer with dual chambers, allowing the user to vape two different materials -- dried herbs, concentrates, and oils -- interchangeably, all by the switch of a button. "
This marks a dramatic first for the "Everyone Wins At the Oscars" nominee gift bags that are an Oscar tradition.
"We feel privileged to achieve this unprecedented placement," said Azurmendi of the event. "Our presence as a counter culture industry in front of a mainstream audience such as the Oscars establishes the realization of the distance that both the vaping industry and marijuana industry have gone to making their mark as legitimate businesses and more importantly, way of life."
The total gift bag in 2015 was valued at $160,000, almost twice as much as the one distributed to Oscar nominees last year. It is given to all those nominated in Best Actor/Actress and supporting roles as well as those nominated as directors. Despite the fact that other items included in the nomination goodie bag are worth far more than an upmarket vape - including a three-night stay in Tuscany valued at $1,500, a luxury train ride through the Canadian Rockies (worth $14,500) and makeover products and beauty treatments estimated at values far more than that - it is the vaporizer of course that is making the biggest international splash. Rumours began to circulate as early as August last year that the newly introduced, highly priced Haze would be included in the Oscar giveaways.
The vaporizer market began to take off last year along with edibles as one of the up-and-coming niches to watch in the marijuana space. Vaporizers allow users to inhale cannabinoids while not exposing themselves to marijuana smoke.
As a result, vaping has become one of the ingestion methods required in states now engaged in some form of "smoke free" reform, including Minnesota and New York. One out of three reviews on the marijuana destination site Leafly is about vaping marijuana.
One of the biggest draws to the product besides health concerns is the fact that vaporizers are so discreet. The vapor that emanates from such devices does not have much of an odor, if any. Most vaporizers are also loaded with hash oil or marijuana concentrates that pack a powerful punch. Concentrates can contain a far greater percentage of THC than regularly ingested pot - as much as a 90% purity.
The potency vaporizers can deliver is also rolling out in an unregulated environment as much as they have been touted as a "healthier" ingestion device. The devices themselves are certainly easier and cleaner than other forms of cannabis intake; they generate almost no tell-tale smell - certainly in comparison to blunts or bongs.
Still, the concentrates that go in them are another matter. Hash oil, for that reason, may end up in an evolving regulatory space, much like edibles, as state markets and users figure out how to introduce them safely into the mix. So far, vaporizers (and concentrates) are legal for sale in every U.S. state market, although California is currently considering banning concentrates altogether. The fact that Dutch authorities are fighting the popularity if not extreme potency of hash oil, waxes and other concentrates is the main reason given that the Mayor of Amsterdam closed down the exhibit space of Cannabis Cup Amsterdam last November.
--Written by Marguerite Arnold for MainStreet