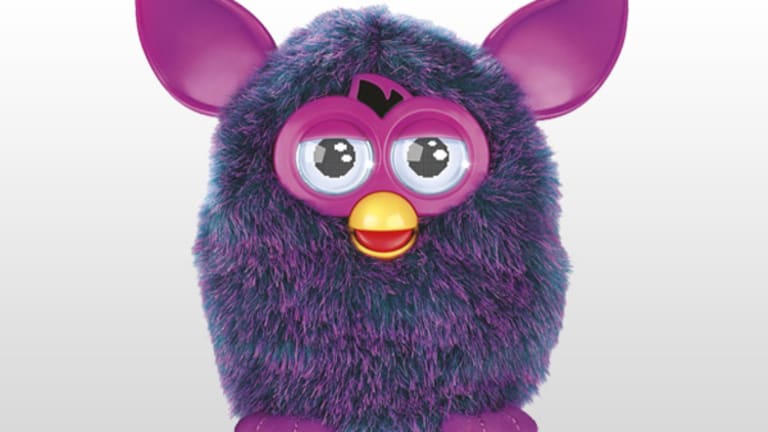 NEW YORK (TheStreet) -- It's never too early to start thinking about holiday shopping, especially when you're shopping for kids.Toys"R"Us knows this only too well.
From dolls that look like members of a famous boy band to furry interactive "pets" that speak a "foreign" language, Toys"R"Us has compiled a list of the most in-demand toys of the 2012 holiday shopping season.
Some of
are hot again this year. Christmas will just not be the same without Lalaloopsy Silly Hair dolls, LeapPad Explorer tablets and LEGO Ninjago sets.
Also see: How to Tell If You Have Too Many Credit Cards >>
If money is a concern this year, consider the 1D Collector Doll from
Hasbro
, which retails at $19.99 each -- the cheapest item on the list. The average price of the toys on the list is $76, but that excludes the Wii U from
Nintendo
, which will not be available until November 18.
Some items on the list that have yet to hit the shelves may be available for pre-order. Beginning today until October 31, shoppers may also take advantage of the new
program from Toys"R"Us.
Here is the full list of the best new toys of the 2012 holiday season (listed in alphabetical order).
1D Collector Dolls (Hasbro)
One Direction
is a British-Irish boy band consisting of Niall Horan, Zayn Malik, Liam Payne, Harry Styles and Louis Tomlinson. The members of the worldwide musical sensation have now been immortalized in these fashion dolls.
Toys "R" Us recommends these to kids ages 8 to 11, but fans of all ages have been going crazy for the entire collection.
Each doll is sold separately at $19.99, so prepare to shell out about a $100, if you want all five. As collector dolls, Zayan, Niall, Harry, Louis and Liam don't sing and dance, so no batteries are required.
Doc McStuffins 'Time For Your Check Up' doll (Just Play)
Doc McStuffins
is an animated television series on Disney Channel and Disney Junior. It's about a six-year-old girl, Dottie "Doc" McStuffins, who can "fix" toys, with a little help from her stuffed animal friends. Every time the show ends, Doc gives advice to viewers about staying healthy.
This dolled-up version of Doc comes with a "co-pay" of $39.99. Kids can sing along to the "check up" song and converse with Doc, who can can bring her stuffed friend Lambie (included in the price) to life with the touch of her stethoscope.
Gelarti Designer Studio (Moose Toys)
This is the perfect gift for a child who loves all things crafty -- and enjoys turning walls and windows into instant works of art. Using paint pens and other tools included in the kit, the little one can design and accessorize a bunch of peel-off stickers.
Have no fear if you're the parent and you're not too keen on the "wallpaper" look in your bedroom. These stickers are easy to remove and reuse. So if you see a bunch of them stuck on the dining chair or the coffee table, just remove and stick again to your child's notebook or lunch box!
For $24.99, you get more than 30 stickers, paint pens, 3D accessories, glitter paints and an activity book.
Jake and the Never Land Pirates - Musical Pirate Ship Bucky (Fisher-Price)
Sailing out of the hit Disney Jr. animated television series, this vessel based on Bucky the Boat is ready to take junior swashbucklers on a Neverland adventure.
Rocking and rolling when pushed along any surface, Bucky can bring Jake, along with his parrot Skully, to their next battle with Captain Hook. Kids can really live a pirate's life through multiple pirate-themed phrases and songs, while firing fire "water" out of the ship's cannon or staging a surprise attack from Tick Tock Crock.
For $44.99, Bucky comes with Jake and Skully figures and three water-ball projectiles.
Lalaloopsy Silly Hair Stars Harmony B. Sharp (MGA Entertainment)
The Lalaloopsy were once rag dolls that magically came to life when their very last stitch was sewn. This Lalaloopsy 12-inch Silly Hair Star doll is the first in the line to talk, sing and have "dancing" hair.
To get Harmony B. Sharp to sing a new tune, kids can simply change her hairstyle with one of five included snap-on accessories and hats. Kids will love the included tiny kitty that chimes in as Harmony B. Sharp sings songs, tells jokes and plays games.
This super-cool, interactive doll set comes with six removable hairstyles and a price tag of $69.99.
FURBY (Hasbro)
FURBY is known as the interactive toy that has a mind of its own. Who your FURBY becomes all depends on how you play with your FURBY.
You can feed it, tickle it, play music for it and even talk to it. When you first meet your FURBY, it will speak FURBISH, but the more you play with it, the more English it will start speaking.
If owning a FURBY doesn't sound fun (or strange) enough, know that you can have additional fun, by downloading the free FURBY app, which will allow you to feed your pet virtually and access the FURBISH-English dictionary and the FURBISH translator.
Are you ready to care for a FURBY? That'll be $54.99, please.
LeapPad2 Explorer (LeapFrog)
Building on the success of the original, the LeapPad2 Explorer tablet inspires kids to create and explore with higher resolution, front-and-back cameras and video recorders, as well as a faster processor and increased memory.
Filled with free content, like a music player with five LeapFrog Learning Songs, a new Cartoon Director creativity app, an Art Studio, the Pet Pad writing game and one app of their choice, kids can also play learning games accessible through LeapFrog Explorer cartridges and downloadable digital content.
Four "AA" batteries are required (not included) to power this tablet, which has a price tag of $99.99.
Micro Chargers Time Track (Moose Toys)
Equipped with four lane chargers, this Toys"R"Us exclusive track set lets kids load their miniature cars into a lane, charge them in less than eight seconds, launch them into the raceway and compete against opponents to reach the finish line.
Little speed racers will have a blast setting up their own tracks for hours of racing fun with the included curved and bridge track pieces. The set features one track race set with four built-in chargers, two trading cards and two exclusive quick charge cars, as well as a timer mechanism to help record results as competitors strive for personal bests.
This Toys"R"Us exclusive track needs 2 "AA" batteries to work (not included) and is currently priced at $29.99.
Nickelodeon Teenage Mutant Ninja Turtles Secret Sewer Lair Playset (Playmates)
Kids can bring the Turtles back to their home base with this massive, 42-inch high playset that recreates their Sewer Lair home and the streets and rooftops above.
Packed with more than 20 different ninja features, the Turtles can keep track of the city with a telescoping periscope, practice battle skills on a Shredder dummy, douse intruders with ooze (not included), attach lines to objects throughout the room to rappel into battle and more.
Additionally, an elevator can transition the Turtles between floors while Donatello can visit his computer lab to master his latest invention.
This ultimate Turtle playset stands 42" tall. It's available exclusively at Toys"R"Us for $119.99.
Hot Wheels R/C Terrain Twister (Mattel)
Moving forward, backward and sideways and equipped with pontoons sporting corkscrew-shaped treads rather than wheels, this radio-controlled vehicle is ready to take on nearly any environment.
Available in red or green, kids can conquer snow, sand, water, dirt, grass and more while this vehicle speeds along.
Two "AA" batteries and one 7.6 V NiMh battery pack are required (included). Price: $99.99.
Ninjago Epic Dragon Battle (LEGO Systems)
The holiday toy shopping season just isn't complete without a LEGO on the list. In this year's attraction, kids can defeat the snake-like Great Devourer in the ongoing struggle between good and evil after building Lord Garmadon -- the green ninja -- along with his four-headed Ultra Dragon.
Along the way, the green ninja must defeat the evil snake Generals Acidicus, Skalidor and snake soldier Chokun before breaking his Sensei Wu out of the impenetrable snake prison.
This 915-piece construction set carries a price tag of $129.99.
Skylanders Giants Starter Pack (Activision Publishing)
Portal Masters can unleash their favorite Skylanders once again with this sequel to Skylanders Spyro's Adventure that features a new storyline and "Giant" action figures.
Players can also bring characters from the previous game to life once placed on the Portal of Power, while maintaining existing upgrades.
The starter pack comes with one Giant and two Skylander action figures, as well as the Portal of Power and Skyanders Giants game software for Wii, Xbox 360, PlayStation 3 or Nintendo 3DS.
This item will become available beginning October 21, but you can pre-order it now for $79.99.
tabeo (Toys"R"Us)
This unique touchscreen tablet, created especially for kids, offers enhanced safety features desired by parents. Designed and developed by Toys"R"Us, this 7-inch tablet can be customized for multiple users, allowing parents to offer different levels of internet access for each family member.
Additionally, tabeo comes preloaded with 50 apps, including the most popular games for kids. One rechargeable Lithium Ploymer battery is required (included).
This item will become available in October 21, but you can pre-order it now for $149.99.
Wii U (Nintendo)
Introducing two-screen console gaming -- one on a TV and the second on the touch-screen GamePad controller -- Wii U offers new possibilities for gaming, allowing players to have different experiences within the same game at the same time.
This new system features motion control, high-definition graphics and compatibility with most Wii games and accessories. One rechargeable Lithium-Ion battery is required (included).
This item will become available in November 18. Check
for pre-order information.
Y Volution Fliker F1 Flow Series Scooter (Atomic Sports)
This three-wheeled scooter challenges riders to move their hips from side to side to start moving and keep riding using body power for self-propelling fun.
With reinforced steel tubing, three-wheeled design and enhanced foot grips that make it sturdy, stable and easy to balance, this lightweight scooter also combines a sleek design with performance-rated wheels to allow for smooth carving and drifting.
A quick response hand brake offers kids increased control and ensures a safe ride, while anti-vibration hand grips provide extra comfort.
As an added bonus, Y Fliker can be stored away easily, thanks to its twist and stow folding system. Price: $99.99.
2012 HOLIDAY GUIDE:How to Survive (and Enjoy) the 2012 Holiday Season
Disclosure: TheStreet's editorial policy prohibits staff editors and reporters from holding positions in any individual stocks.