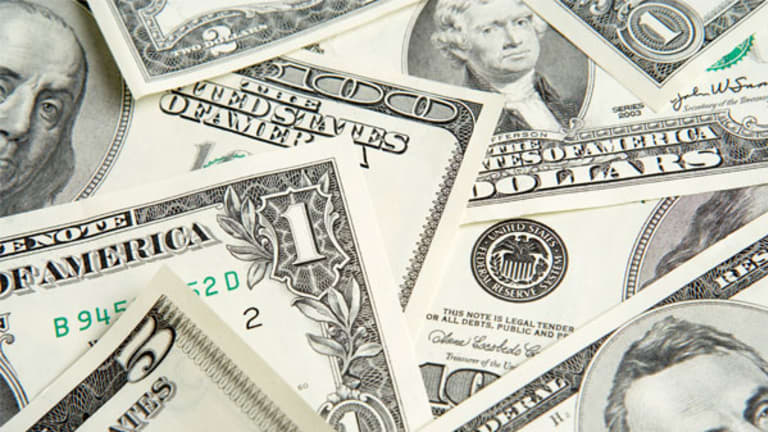 PORTLAND, Ore. (TheStreet) -- Once again, America finds itself awash in $4-per-gallon gas with no fewer miles to commute, public transportation still catching up to demand and bicycles woefully inadequate for any but the most hardy individuals in locales with miles of bike path. Care to share a ride anybody?
As the latest Department of Energy numbers indicate, fuel prices have been inching steadily upward since early January and have hit a nationwide average of almost $3.80. Take it out to the West Coast and you're already looking at more than $4 a gallon.
Meanwhile, car use is slowly inching down as the days of $2 gas seem like a pipe dream and peak oil looks more imminent. The share of new cars being bought by Americans between 18 and 34 is down 30% in the past five years, according to auto pricing site Edmunds.com. A
study notes that people under 35 bought 12% fewer cars than they did in 2010.
Think it's just an economic anomaly? A remnant of the recession? Guess again. The Department of Transportation notes that just 28% of 16-year-olds had driver's licenses in 2010, with just 45% of 17-year-olds claiming the same. That's plummeted from 50% and 66% respectively in 1978.
Overall, as
and the
Frontier Group and the U.S. Public Interest Research Group Education Fund
point out, Americans are driving roughly 6% fewer miles than they were in 2004. That's partially, as
Census Bureau data
shows, because more people are living in cities than they were a decade ago. It's also because fewer Americans want to put up with the $818 a year in lost time and gas money sucked away by the average commute, according to the
Texas A&M Transportation Institute's Urban Mobility Report
.
So what do these newly urbanized, auto averse Americans do when life requires them to move something across town, go on a big shopping run or get out of town to a place off a rail line for a few days? Increasingly, they share cars through new
Avis Budget
(CAR) - Get Avis Budget Group, Inc. Report
acquisition
Zipcar
(ZIP) - Get ZipRecruiter Report
,
Car2Go
and similar services.
The New York Times
(NYT) - Get New York Times Company Class A Report
reported in January that 800,000 Americans belonged to car sharing services last year, up 44% from 2011. In cities where it makes more sense to pay $10 an hour for a car than $10,000 every few years, picking up a
Toyota
(TM) - Get Toyota Motor Corp. Sponsored ADR Report
Prius,
Mini
Cooper,
Smart
Car,
Nissan
(NSANY)
Leaf or
Ford
(F) - Get Ford Motor Company Report
Escape for a few days is as much a part of urban life as ordering in Chinese food or staying in town during the holidays while everyone else flees.
WalkScore, a site dedicated to determining and rating the density of amenities and resulting "walkability" of various cities, recently compiled a list of the Top 10 car-sharing cities in the U.S. With the number of car-sharing pickup and drop-off points tallied and the most popular car-sharing neighborhoods mapped out, here's their take on the best cities for sharing cars without sharing any of the hassle of actually owning one:
10. Boston
Number of car-sharing locations:
249
Top neighborhoods:
Brighton, Back Bay and South Boston
It's tough to explain how tough it is to park in Boston until you've spent a winter there. That sweet spot you had two blocks down by the packy in August will be under a giant mound of graying snow or occupied by a surly neighbor's lawn furniture come the first nor'easter. We humbly suggest not moving that chaise longue, lest you know a shop that will both repair your back window and get that yellow snow stain out of your back seat. Instead, maybe look into a car-sharing service (such as Zipcar, which was born just over the Charles River in Cambridge) and its sweetest amenity: a guaranteed parking spot. In a neighborhood such as the Back Bay, where parking spots sell for the price of condos, it's a steal.
9. Miami
Number of car-sharing locations:
297
Top neighborhoods:
Brickell, Downtown, Coral Way
It's tough to look glamorous heading to Miami Beach for the weekend when you're taking the bus. Miami's not-so-secret downside is that unless you're paying through the nose for Star Island-style property, parking can be a huge hassle in its neighborhoods as well. Oh, and just about everything that your friends from out of town love about the city requires a bit of a drive.
8. Austin
Number of car-sharing locations:
392
Top neighborhoods:
Downtown, North Austin, West University
What do you mean "Keep Austin Weird?" There's just about no way Austin couldn't be considered weird in the context of its surrounding state. In pickup-truck Texas, it's a city that's just fine taking the bicycle. While fellow Texas cities pride themselves on being giant car lots of drive-up convenience, the hometown of
Whole Foods
(WFM)
likes to keep its trips to a minimum. Whether it's going to pick up all-organic ingredients for your barbecue or driving the long way around South By Southwest crowds, a car still tends to come in handy here, even if owning one doesn't.
7. San Diego
Number of car-sharing locations:
411
Top neighborhoods:
North Park, University City, Pacific Beach
Trolleys, buses, light rain, commuter rail, thriving bike culture ... why does San Diego need car sharing again? Well, occasionally you're going to have to transport something that won't fit in any of those and, in San Diego, sometimes life takes you up or down Interstate 5. Suffering but stalwart San Diego Chargers fans know this all too well, but so do folks who are just looking for a ride to the beach or a way to get out of the city for a few days. When the weather cooperates, and it often does here, it can be a lovely day for a ride even for those who are usually car free.
6. Seattle
Number of car-sharing locations:
489
Top neighborhoods:
Capitol Hill, Downtown, University District
Sure, Seattle's dense enough and really walkable, but have you seen what's around it? When you're just a few miles from Mount Rainier, the Snoqualmie Valley, the Cascades, Ross Lake, the Olympics and ferries that will take you to various islands and points along the Puget Sound, the will to get out and go gets pretty strong. Yes, you can take your shared car shopping here, too, but when there's a band you love playing at Sasquatch and you can't get a ride down to the Gorge, a car share is one of the best ways between Points A and B.
5. Washington, D.C.
Number of car-sharing locations:
521
Top neighborhoods:
Columbia Heights, Capitol Hill, Downtown
Sure, the Metro works just fine for the average commute, but this is a town with a reputation to keep. The cabs here work just fine too, but that didn't prevent D.C. residents from flipping the concept on its head by embracing
Uber
, the online car service that will send a black, luxurious bit of rolling awesome to pick you up anywhere in the city. It's a similar situation with car-sharing services, which can be more convenient than waiting for a train that doesn't go directly to your destination and less costly than a car service. Car2go, for example, offers free parking at any meter in D.C. as one of its key perks, which is no small deal in a town where parking's at a premium as it is. Granted, Car2go Smart cars are big white-and-blue Car2go ads, but that's secondary to a cheap, efficient and -- most importantly -- punctual little splurge.
4. Portland, Ore.
Number of car-sharing locations:
537
Top neighborhoods:
Downtown, Northwest, Pearl District
The streetcar costs $1, the MAX light rail will set you back $250 and bike lanes are all about. Why would you pay for a car in Portland? Because none of the above make it particularly easy to get around this sprawling city. There, we've said it. Portland's reputation as a hub of alternative transportation is true to a point, but becomes patently false as soon as you have to go somewhere that isn't on the west side of the Willamette River, isn't on a rail line or is farther east than Mount Tabor. Also, like Seattle, Portland is surrounded by sights such as the Columbia River Gorge, Willamette Valley Wineries, the Oregon Coast, Mount Hood, Mount St. Helens, Mount Adams, various falls and other more remote attractions that aren't really accessible by either train or bike, no matter what the guy with the sprocket tattoos at your local bike-up bar tells you. While free parking is kind of a wasted car-sharing perk in a city with plenty of parking, having a set of weekend wheels comes in pretty handy in a town everyone clears out of once the clouds clear and the air warms.
3. Chicago
Number of car-sharing locations:
537
Top neighborhoods:
Lakeview, The Loop, Near North
Just try making a big run to the
Dominick's
on Division, the
Jewel/Osco
just off of LaSalle or the
Trader Joe's
and/or Whole Food in Lincoln Park without a car. Oh, it's possible, but it'll be an odyssey that would make even Ulysses wonder why you didn't take a path of less resistance. Chicago is yet another city that's built a reputation for great public transportation, but doesn't necessarily live up to it once you get away from the rail lines. In Chicago's case, the farther east you go the more a car becomes a fixture in your life. While most of Chicago's top car-sharing neighborhoods are within a whiff of Lake Michigan, their young residents drawn from around the Midwest tend to enjoy roaming, shopping and heading home every so often. Once the city thaws and summer hits, nothing says "weekend with the folks in Ames" quite like that
Honda
(HMC) - Get Honda Motor Co., Ltd. Sponsored ADR Report
Civic sitting in the car-share space just down the street.
2. San Francisco
Number of car-sharing locations:
696
Top neighborhoods:
Mission, South Of Market, South Beach
This is a city that stopped an interstate highway from coming through during the car-loving 1950s. It doesn't need your carbon-belching deathmobiles ... or so it would have you believe. C'mon, now. Supposedly car-hating San Francisco is a car sharing hub thanks to local fixtures such as City CarShare, which developed the first wheelchair-accessible car-sharing vehicle back in 2008, and
BMW
's DriveNow. The folks in The Mission who love themselves a weekend in Napa and Sonoma get their weekend wheels while Silicon Valley bros can bum a Beemer to touch base with colleagues in San Jose or catch the 49ers in Santa Clara (once they finalize their move next year, anyway). Besides, do you realize where the
Times
got those car-sharing membership numbers from? The Transportation Sustainability Research Center, right across the bay in Berkeley. San Franciscans may loathe the idea of car ownership in their dense, hilly city, but they seem to like the concept of car borrowing just fine.
1. New York City
Number of car-sharing locations:
716
Top neighborhoods:
Upper West Side, Upper East Side, Williamsburg
Hey, Kramer isn't always around to drive Jerry and the gang to the mall and the Hamptons Jitney can get a little too close for comfort during the humid months. The free parking comes in awfully handy on both sides of Central Park, but even folks in Williamsburg like to cut out to places they can't reach via Grand Central or Penn Station every so often. If nothing else, a quick jaunt through the tunnels and over the bridges and the steep toll drivers have to pay on the way back should be an excellent annual reminder of why you ditched your car when you moved to the city in the first place.
-- Written by Jason Notte in Portland, Ore.
>To contact the writer of this article, click here:
Jason Notte
.
>To follow the writer on Twitter, go to
.
>To submit a news tip, send an email to:
.
RELATED STORIES:
>>5 Seemingly Small Hard Ciders and Their Big Corporate Owners
>>10 Cities Poised For Greatness In 2013
>>10 Used Cars To Consider Before Buying New
Jason Notte is a reporter for TheStreet. His writing has appeared in The New York Times, The Huffington Post, Esquire.com, Time Out New York, the Boston Herald, the Boston Phoenix, the Metro newspaper and the Colorado Springs Independent. He previously served as the political and global affairs editor for Metro U.S., layout editor for Boston Now, assistant news editor for the Herald News of West Paterson, N.J., editor of Go Out! Magazine in Hoboken, N.J., and copy editor and lifestyle editor at the Jersey Journal in Jersey City, N.J.