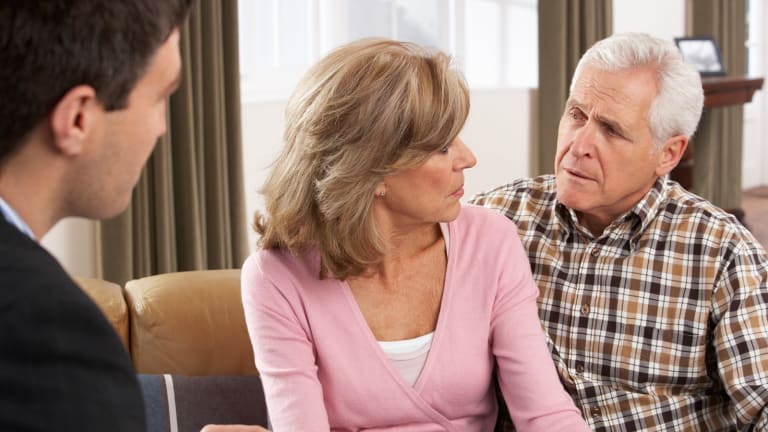 Publish date:
Too Good to Be True? Six Realities Financial Advisers Need to Know About Index Annuities
If you fear a market correction on the way, fixed index annuities may be worth a look for your clients - especially older ones. Just make sure to tread cautiously.
If you fear a market correction on the way, fixed index annuities may be worth a look for your clients - especially older ones. Just make sure to tread cautiously.
Editors' pick: Originally published March 2.
The Dow Jones Industrial Average is at record highs, stretching almost toward 22,000 on Monday, February 27, and financial advisors may be starting to mull over ways to protect clients if the stock market, sooner or later, reverses course in a major way.
"With the stock market seeming to reach new highs almost daily, investors face a quandary," says Ken Nuss, chief executive officer at Annuity Advantage, an online annuity market and services platform, based in Medford, Ore. "They want to profit if the market stays strong. But many, especially older Americans, also fear the market is due for a major correction."
Advisors looking for protection against such a downturn would do well to consider fixed index annuities, which now comprise 58% of the entire fixed annuity market right now, based on data from the Insured Retirement Institute.
Basically, a fixed indexed annuity is akin to a deferred annuity, which the annuitant buys with a premium deposit, Nuss explains. The annuity credits interest linked to the fluctuations of a market index, such as the Dow Jones Industrial Average or the S&P 500. Interest is credited when the index value climbs, but when it slides, the annuitant loses no money.
"These are complex contracts with many pros and cons," offers Nuss. "In exchange for a guarantee, you'll never lose any principal, you'll typically get only part of the market's gains as an interest credit."
Nuss, like plenty of other financial industry wealth managers, says there are plenty more reasons to like fixed index annuities, but only if you read the fine print, do your homework and recognize how fixed index annuities really work. For financial advisors - and their clients - who want some insurance against a big market drop, here are six key elements of fixed index annuities that warrant closer inspection:
Potentially higher return rates, with market protection - Fixed index annuities are geared toward investors (especially retirement savers) who want principal protection but are willing to withstand some interest-rate uncertainty, Nuss says. "You get an opportunity to earn more interest than you can get from a fixed-rate annuity or a bank certificate of deposit, allowing you to shelter some of your money from market risk without locking in a lower interest rate," he notes. "Both your principal and all previously credited interest earnings are fully guaranteed, regardless of future years' index performance."
Best suited for a long-term investment approach - Advisors looking at fixed index annuities should take the long view in deploying them for their clients. "They're not a good place to park short-term money," says Nuss. "People who can meet all but the most unusual liquidity needs from other accounts are good candidates. They have the best potential for higher interest earnings over time."
Pay attention to the participation rate - With indexed products, be careful not to overlook the participation rates, states Wayne Bland, a retirement plan consultant at North Carolina-based Metro Retirement Plan Advisors. Most equity indexed annuity products will boast a cap rate which is the maximum rate of interest the annuity will earn, he explains. "For example, if the index linked to the annuity gained 12% and the cap rate was 6%, then the maximum gain in the annuity would be 6%, and that's not bad, you might say," Bland notes. "The participation rate determines how much of the gain in the index will be credited to the annuity. However, if the participation rate on that particular annuity product was 70%, then you would only get 70% of 6%. Always remember, all EIAs are not created equal."
Pay attention to the contract guarantee - Paul Truesdell, a money manager with TrueStar Advisors, Inc., in Ocala, Fla., says that when you read the fine print with fixed annuities, note your client is locking his or her money up in exchange for a contract guarantee. "Client money that is locked up is no longer money in motion and must be removed from the table for consideration for future commission-based transactions," he says. "There's a risk that clients will not understand what they have purchased or how the product works within six months."
Pay attention to compensation rules - "Clients will continue to ask you to explain annuity statements and product features," notes Truesdell. "However, the agent must understand that unless he has an investment advisory agreement in place, they will not be compensated for services rendered. In other words, they have already been paid upfront and must manage the client's money appropriately, and in essence function as if they were annualizing their compensation."
Pay attention to surrender periods and rider fees - Most fixed income annuities that have income riders available, have surrender periods lasting from eight to 12 years, notes Joseph Roseman, managing partner of wealth management firm O'Dell, Winkfield, Roseman and Shipp, in Charlotte, N.C. "Generally, the surrender fees are higher earlier in the contract and become lower the longer the contract is held," Roseman states. "This makes it potentially expensive to leave the contracts early in the surrender period." Note rider fees linked to the annuity, too. "Typically, the income rider will have a cost attached to it. That fee typically is 1% of the contract amount annually," he adds. "This helps pay for the guarantees built into the products, but can be a drag on performance just like fees on mutual funds or other investments."
All in all, fixed index annuities stir up strong opinions among money manager, both good and bad. Get to know the pros and cons before you deploy them for your income-minded clients, and start with the points listed above.