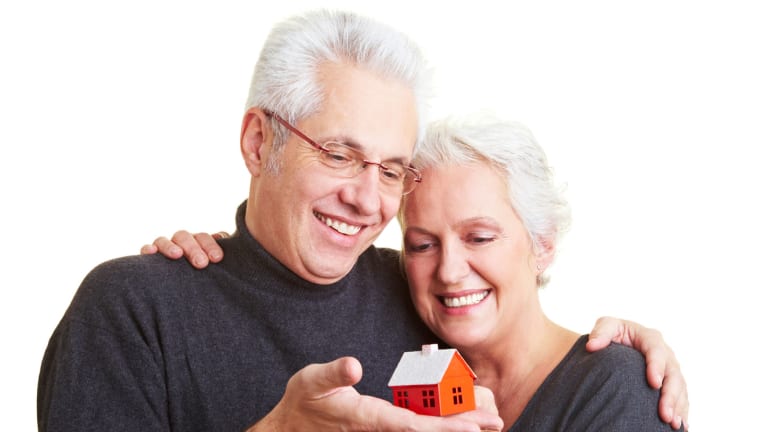 To Downsize or Not to Downsize: The Retiree's Question
Many retirees may find their house is difficult and expensive to maintain in retirement. Here's what to consider if you're thinking of downsizing during your golden years.
NEW YORK (TheStreet) — Many Boomers may decide to downsize their large multi-level houses in retirement, while others may hang onto their homes for family gatherings and passing on to children. What's the right move for you?
You might want to stay in your home if …
You have a strong emotional attachment to your home.
A lot of times the decision isn't as much financial as much as it is emotional, says Craig Brimhall, vice president of wealth strategies at Ameriprise Financial.
"People envision their grandkids in the spare bedroom, and that's a very emotional thing. Sure, it makes sense to save money on a home when you can, but if family ties override that, then you may find yourself doing just the opposite of what you said you'd always do," he says.
Leaving a home will always be somewhat bittersweet assuming you have positive memories of years gone by, Brimhall explains.
"Many people have a tough time parting with the family home. If you aren't really fired up about moving into a condo, and financially you aren't being forced to leave, then it's OK to stay put."
You want to leave your home and property to your children.
"If you don't want to let go, your kids probably don't want to let go," Brimhall says. "Even if you're ready to sell, you may find your kids say, 'Don't do it! I want the home!'"
Kids sometimes have surprising opinions about what parents should do in retirement, says Judith Chipps, senior vice president of wealth management at Merrill Lynch.
"If there is a good family situation there, talk to your kids. If you have strong family ties in an area and your kids will be involved with you, then there may not be a need for you to downsize. If your children want you to be involved with their children and they all live nearby, that would be a very strong input into the decision-making," Chipps says.
You don't want to move or don't want a major change.
If the thought of moving and meeting with a real estate agent fills you with terror, you may not need to make a change.
"Psychologically, if this is going to send you into a tailspin and you aren't going to be happy, then is it worth it? Probably not," Brimhall says.
If you're doing the math and you find you're going to save only a few thousand dollars every year and will be less satisfied, that amount just isn't worth it.
"If you think about it but you feel like, 'All my memories are here and I just can't go through with a big move,' then I think that's a sign you shouldn't uproot yourself," he says.
With that said, the move itself is a short-term inconvenience, and retirees have to look at the big picture.
"Moving is admittedly a really bad weekend, but then it's over," Chipps cautions. "The hassle of moving should not drive the downsizing question."
You might want to consider downsizing and relocating if …
You want to be closer to grandchildren.
Proximity to grandkids and family is a big consideration for many retirees, Brimhall says.
"I see it a lot of people moving cross country or around the world to be closer to grandkids. It's a hot button issue, and many people are willing to make the move, regardless of cost."
Because most retirees don't have the financial means to keep both their family home and buy something closer to the grandkids, downsizing or selling your current home is the most common solution.
You're on a fixed income and the cost/upkeep may be too much for you.
When living on a fixed income you may find it difficult to keep up with the expenses that go along with a larger home, not to mention that its maintenance may become more difficult as you get older, says Leslie Tayne, author of Life & Debt and founder of Tayne Law Group.
"Downsizing to a more affordable home or condo is usually a better option," Tayne says. "Making a decision to downsize can be very difficult because it is often very emotional; however, although your home is filled with memories and sentiment, it may be more practical to downsize so you are able to live within your means during retirement."
You want to travel frequently
If you envision a retirement in which you can shut the door behind you and not have to worry about leaky water heaters and roofs, downsizing to a smaller apartment or condo may be the best decision, Chipps says.
"A smaller place with very little upkeep makes sense for people who want to be more mobile," she says.
You may need a single-level home for medical concerns
If your larger family home would need to be completely retrofit in the event of an injury or needing a wheelchair, a smaller one-level home may make the most sense, Brimhall says.
"It's not pleasant to think about, but will your house be suitable for you when you are no longer ambulatory? People are living longer and you have to think about the reality of becoming immobile," he says.
In addition to needing a home equipped for medical care, many retirees may also want to consider the need for a home that is closer to medical facilities, good doctors and hospitals.
Follow Kathryn on Twitter @KathrynTuggle