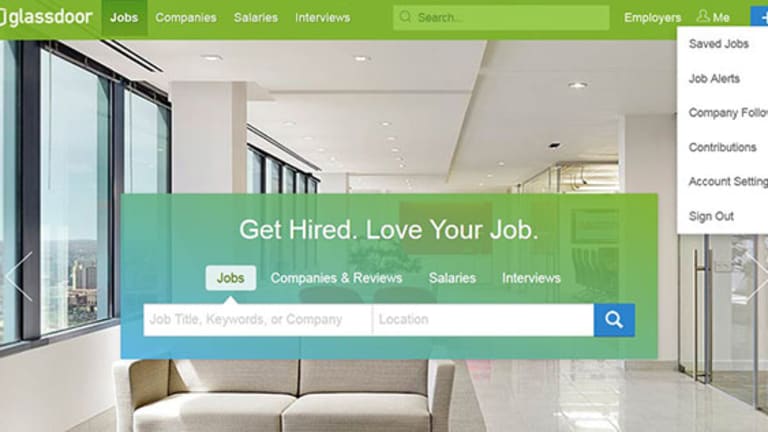 Tips from Online Job Sites to Help the Unemployed Get Back to Work
Out of work? Online job sites are great, but there is more to finding a new job than blindly sending out resumes.
NEW YORK (MainStreet) — Finding a job is never an easy or fun task, but the huge number of online tools now available to job seekers can help relieve some of the pain and make for a quick return to the ranks of the gainfully employed.
Even though the unemployment rate has been dropping of late, the Department of Labor reported on January 15 that jobless claims climbed 19,000 to 316,000 in the seven days ended January 10. The post-holiday period normally sees such an increase as workers hired in the last few months of the year are let go, so it's a good bet some of the recently unemployed will hop online to find their next position.
However, there is more to finding a job then sending out applications.
The biggest mistake job seekers make is to simply apply online for jobs with a resume and cover letter and the sit back and wait for the offers to roll in. That simply will not happen. LinkedIn and Glassdoor each strongly urge applicants to follow up their online application by directly contacting the hiring manager. This information is not simple to come by, but by using the Internet, social media and some common detective work the proper human resources person can be found.
The main benefit LinkedIn offers is putting a person's network of connections to good use, said Joe Roualdes, a company spokesman who focuses on recruiting.
"People who take advantage of their network use it to reach out directly to the recruiter by using the people that you know to find out who is doing the hiring for a specific job," are the most successful Roualdes said.
Then there are ways to make yourself more visible on LinkedIn. Because recruiters actively search LinkedIn, the company recommends using its social media and groups to tell the world your skill-set and to express your knowledge on a topic through posts and blogs. This gives a recruiter additional insight into a potential worker's capabilities, Roualdes said.
Other useful tips are to use the LinkedIn options of watching who has viewed your profile and to see how many other people have applied for a position. Profile views can indicate that a company is interested in your application and if hundreds of people have applied for a specific job it might be a good idea to pass it by unless you are a perfect fit.
Glassdoor career trends analyst Scott Dobroski also offered up a simple check list for job seekers.
"Find a company where you want to work, check that it's a good match for your needs and most importantly be politely aggressive," he said, explaining that a job seeker should use every resource available to discover who is the recruiter and then send that person an email saying he has applied for the job, but wanted to follow up directly.
"This move can impress someone with your tenacity," he said.
Glassdoor's twist on the job search is to let the applicant know what the company is like before he accepts a job or even bother sending in a resume through a huge bank of current and former employee reviews and even photos of the office. One must account for disgruntled former workers who will trash a company, but just like using Amazon product reviews, if enough people say something positive or negative, there is probably some truth to it.
"It's easy to just find a job, but if you find a job you love it benefits both the worker and company," Dobroski said, adding the worker is more productive and when that is the case it cuts down on turnover.
Monster takes a more direct approach with the job seeker creating a profile and then allowing Monster's software to do its job.
"Underlying it all is core search technology to help surface the right opportunities across our scale of millions of jobs and candidate profiles," said Matt Anchin, Monster's senior vice president of  global communications. "This search technology is not dependent on keywords, but rather on concepts, so that we connect the right person to the right job."
One of the great job searching fears is being away from a computer when an opportunity presents itself, so Monster, and most of the other sites, offer mobile apps.
"Our app is logical extension of our platform, designed to extend the Monster experience to people looking for a job wherever they are," said Anchin. "You should create a profile and relevant jobs will then be served up to you as they come onto the site - allowing you to apply right then and there through the app." 
For those tired of the private sector or who are interested in public service, the federal government hosts USAJobs. While much more bare-bones than the other offerings, USAJobs allows for storing resumes and cover letters and a person can use the online tool to drill down to find jobs specific to their field and location. Best of all, and unlike almost every other site, the government gives a salary range. There is nothing worse than going into a job interview or filling out an online application and having to tell the company hiring how much you want to make. Are you lowballing yourself or asking more than the company is willing to pay? Either way, it will not work out well for you in the end.
What you won't get are notifications when new jobs are open. Another negative is the impersonal nature of any email communication or on site notice. Statements like "not referred" are common, and the application process itself is gargantuan and easy to mess up. Making matters worse, it can look as if you applied successfully only to find out months later that the job opening has expired and your application was not processed because something was left out.
--Written by Doug Olenick for MainStreet