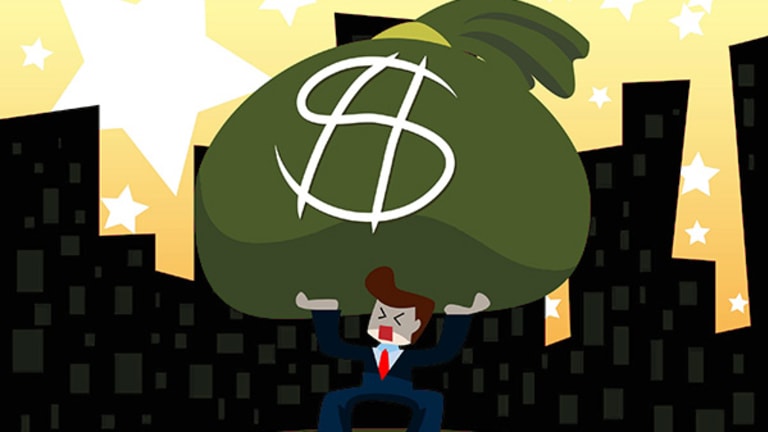 Tipping During Holiday Season Can Dampen Your Budget and Cashflow
While tipping makes others feel appreciated for their hard work, consumers who did not plan for it could be in for a surprise and are likely to feel the pinch
NEW YORK (MainStreet) — Tipping during the holidays is a customary ritual for many consumers who depend on their dog sitters, personal trainers or doormen to make their life easier.
While tipping makes others feel appreciated for their hard work, consumers who did not plan for it could be in for a surprise and are likely to feel the pinch in their budget.
If you can't afford to shell out more money this holiday season, then skip tipping altogether and stick to your budget, said Gail Cunningham, spokesperson for the National Foundation for Credit Counseling, a Washington, D.C.-based non-profit.
"Regardless of the reason, people should not spend money they don't have," she said.
Anyone you conduct business with who expects a tip or gift is not very sensitive and should understand your circumstances, Cunningham said.
"To avoid unnecessary embarrassment, consider acknowledging their service with your favorite baked good or a jar of hot chocolate mix and include a note that you hope you can do more next year," she said. "That way you've acknowledged the person while alluding to the problem without going into unnecessary detail. This should be a comfortable solution for both parties."
Read More:
Turning the Tables on the Increasing Pressures of Tipping
While tipping is appreciated, it is not mandatory, said Jacqueline Whitmore, founder of The Protocol School of Palm Beach in Florida. If you can't afford a nice tip, opt instead for a small gift and a thank you note.

WATCH: More personal finance videos on MainStreet | More videos from Scott Gamm
View Today's Auto Loan Refi Rates
Creating a game plan for which people you need to tip is important, she said. Once you know whom you would really like to thank and ensure their hard work does not go unnoticed, make a realistic budget of what you can afford to give.
The amount you tip also depends on where you live, since if you live in a major metropolitan area, the expected tipping range is slightly higher, Whitmore said.
"Increase the tip for individuals with whom you have a friendship or those who go above and beyond the call of duty," she said.
Some professionals actually rely on their holiday bonus as part of their annual salary, said Tom Breedlove, director of Care.com HomePay, an Austin-based company that helps manage payroll and tax filings for household employers. If you have employed a caregiver to take care of a parent, one week's salary tip is the rule of thumb or a thank you card or a gift certificate to his favorite store is an appropriate gratuity.
"Some families tip out of fear that their caregiver will slack off, become ripe for poaching or even quit if they don't get their holiday windfall," he said. "Others feel compelled to tip out of obligation or good old fashioned holiday cheer. Whatever your motivation, appreciating those who take care of those most precious to you, is part of the holiday protocol."
Presentation and how you deliver your tip really matters and makes a difference. Hand-delivering your tip or gift is the best route to go, Whitmore said.
"When possible, deliver your gift in person accompanied by a handwritten card," she said. "Freshly printed, crisp bills are ideal. Gifts should be delivered on or before December 25, but may be given whenever you have contact with the person during the holiday season."
Here is a guide on how much to tip the people you see each month or even more frequently, according to Whitmore:
- Manicurist: $25 to $50 or a gift
- Hair stylist: $50 to $100 or a gift
- Barber: up to the cost of one haircut or a gift
- Personal trainer: up to the cost of one session or a gift
- Housekeeper: up to the cost of one visit
- Au pair or live-in nanny: one or two week's pay and a gift from your children
- Teacher: A gift card or gift certificate for up to $25, or pitch in with some of the other parents and buy a more expensive gift certificate
- Day care provider: $20 - $70 each, plus a small gift from your child
- Babysitter: an evening's pay, plus a gift from your child
- Massage therapist: up to the cost of one session or a gift
- Superintendent: $20 to $80 or a gift, depending on how helpful your super has been to you
- Doorman: $15 to $100
- Mail carrier: small gift or gift card up to $20
- Newspaper carrier: $10 to $30
- Sanitation worker: $10 to $30 each for private service; check your local municipality for regulations, as some areas may not allow tipping
- Yard or Garden Worker: $20 to $50 or a gift card
- Handyman: $15 to $50 or a gift card
- Pool cleaners: up to the cost of one cleaning or gift card
- Dog walker: up to one week's pay or a gift
- Pet Groomer: up to the cost of one session or a gift
If you don't subscribe to traditional norms for tipping, follow your instinct instead. Some families tip their babysitter between $25 and $50, regardless of the hourly rate, said Lynn Perkins, CEO of UrbanSitter, a San-Francisco-based child care company. A recent survey also showed that three out of four nannies get one to two weeks' pay as a year-end bonus and 77% of parents also give the nanny a gift. However, only one in three nannies received a one week break from their duties.
Read More:
http://www.mainstreet.com/article/10-best-holiday-gift-cards-you-can-give-without-guilt-in-2014
--Written by Ellen Chang for MainStreet