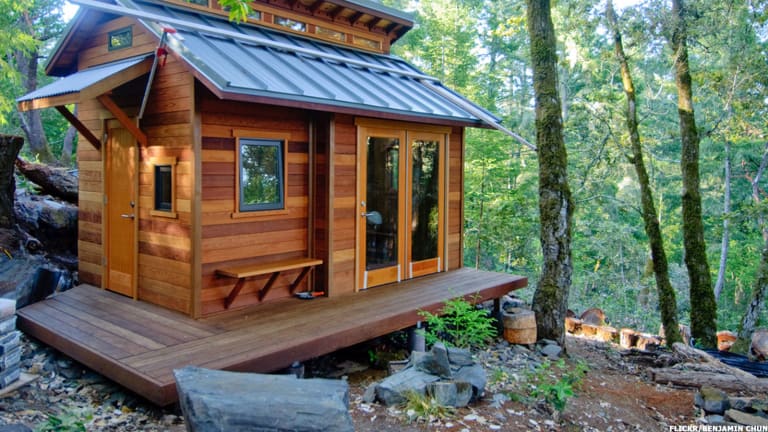 Tiny Homes Are Gaining in Popularity Due to Affordability
Tiny homes, which can vary from 100 square feet to 400 square feet, are sprouting up across the U.S. in both cities and more rural areas.
Nine months after Hannah Crabtree started designing her tiny house on wheels, she was able to move into her new two-story home comprised of a loft bedroom, fireplace and even a skylight.
The West Seattle, Wash. resident and nanny has always been an enthusiast of miniscule spaces and spent $50,000 building the tiny house, which measures 20 ft. long and 13.5 ft. high from the outside. After Crabtree designed it, she hired a carpenter, plumber and electrician.
"I was born and raised in a house my father built, and I always planned to buy land and build my own home," she said. "When I ran across the trend of tiny houses, I immediately knew that's what I was going to do, I didn't even need to contemplate. It just made sense for me."
Tiny homes, which can vary from 100 square feet to 400 square feet, are sprouting up across the U.S. in both cities and more rural areas. The appeal of living in them is not limited to just Millennials and single people; in fact, many retirees are also drawn to them the empty-nesters they downsize. Many people value homeownership but do not want to be encumbered with a mortgage for 30 years. They also like the ease and speed of building a home that they can customize and design as well as downsizing their living space and environmental footprint.
The proliferation of the construction of tiny homes has grown in part, because many people want to own a home but also keep the costs to a minimum. The construction and maintenance of a tiny home is more affordable to many potential homeowners who are saddled already with student loans and credit card debt. The Tiny Lifestyle blog estimates the average home cost to about $23,000, with 68% of owners who do not have a mortgage.
Many Americans are spending at least one-third of their income or even of their salary to pay for their home whether they are renting or buying, said the National Housing Conference. In over three-quarters of large cities, the rent there exceeds 30% of the household's income, according to the U.S. Census Bureau.
Financing a Tiny House...


Despite the fact that tiny homes are much smaller in stature, they remain a "big investment," said Todd Nelson, a business development officer at LightStream, the San Diego-based online lending division of SunTrust Bank. The lender offers loans ranging from $5,000 to $100,000 for 24 to 84 months.
Some homeowners are able to pay to build a house by utilizing cash from their savings to prevent accruing debt and paying interest. For homeowners who choose to build a tiny house on a foundation, financing is available through a mortgages or loan.
Tiny homes which are constructed on trailers can be financed through a RV loan, he said.
"Many tiny house manufacturers are building these homes as RVs to better help consumers during the financing process," Nelson said.
An option for borrowers with good credit is to obtain an unsecured personal loan. LightStream allows its borrower to finance the purchase of the tiny house and other expenses such as land, construction or furnishings. The RV loan offers fixed rates as low as 2.99% while the other loans are as low as 5.99% with fixed interest rates.
"The entire process can be done online in minutes and funds are deposited directly into the borrower's bank account, as soon as the day they apply," he said.
The industry has its own specialty lenders listed where you can obtain an unsecured personal loan via www.tinyhouselending.com.
Will Johnston, a customer engagement strategist for a TV station in Boston, plans to finance his $25,000 house through a combination of crowdfunding and his savings. The 20-foot long house features an inverted loft, where the bed is stored under the kitchen and is pulled out when needed and doubles as a couch.
"Right now, it is tough to finance these as you have to prove the value, but credit unions are the best way to go," he said. "I choose to live small to have a simplistic lifestyle since less stuff means more freedom. I sold most of my possessions and donated to charity. If you have a smaller space it does not take that much to heat or cool it."
Reselling a tiny house is akin to selling a standard home since the owners retain the title, Nelson said.
"With the average Millennial spending 7% of their annual income to repay student loans, many are facing savings challenges for down payments and mortgages," he said. "As Millennials start to build their careers, they view tiny houses as an investment offering flexibility and affordability."
Benefits of Living in a Pint-Sized Home...
One impetus for Crabtree to move into a tiny house was due to her tendency to hoard. She started purging recently and gave away her collection of Pokemon stuff to a young boy for Christmas and continued giving away other possessions, except for the book collection that fits neatly into her tiny house.
"I was raised by hoarders and grew up in a hoarder home," she said. "I myself hoarded most of my life, until I basically ended up living out of my car for awhile and that's when the purging started."
Now she rents out her house on AirBnB and lives with her mother when renters are present. Crabtree runs the Western Washington Tiny House Enthusiasts Meetup and plans to quit her job in September to focus on designing and building tiny houses full-time.
Tiny houses still give people the autonomy that comes with a standard house, because you can have a yard and fence. Her tiny home has many enviable amenities, including a laundry shoot and washer and dryer, space for her 100 books, stairs which light up and enough room for guests such as a full- size guest bed, couch space for four to six people and a kitchen with seven feet of counter space with a full size refrigerator.
The ability to minimize your living costs supersedes "being crushed by your mortgage," Crabtree said.
"You have more savings in the bank when you live small anywhere," she said. "You can have everything that you would have in a big house, except now you can afford it and living in it doesn't ruin your life."