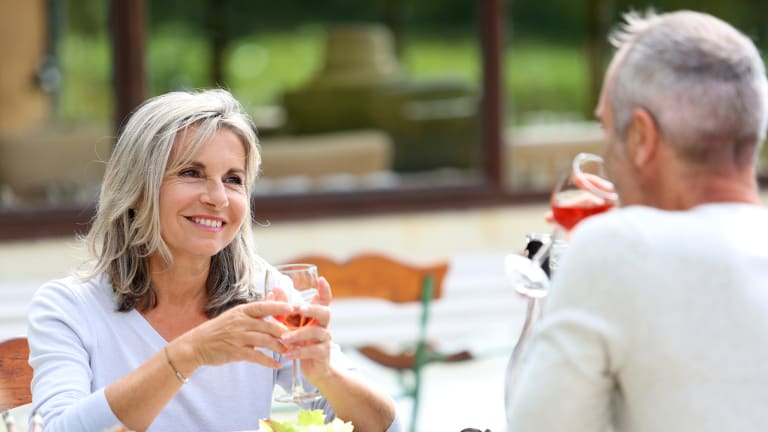 Publish date:
Tinder for Retirees: Is This How the Over-50 Set Finds Love?
Fighting loneliness, retirees are looking for travel companions, roommates and "activity" buddies.
Fighting loneliness, retirees are looking for travel companions, roommates and "activity" buddies.
NEW YORK (MainStreet) -- Last summer, the buzz was all about the Florida-based retirement community with mid-morning happy hours, a black market in Viagra and free-loving swinging seniors. The rowdy retirees of The Villages were pictured in their golf carts swilling cheap booze -- all grins and good times.
Unfortunately, the reality for many older Americans is much different. With children scattered and few friends remaining, loneliness can be a major mental -- and physical -- health concern. A new site says that it is coming to the rescue, helping those 50 and over find new friends, travel companions, roommates and "activity" buddies.
Boomerly launched just last week, claiming members from around the world, and the free service aims to connect users with people who are like them, "no matter where they live."
Margaret Manning, the founder of SixtyandMe.com, a blog community of "over 100,000 Baby Boomer women," created the new matchmaking site after conducting a web survey of 2,000 seniors. The respondents revealed their thoughts on friendship and intimacy after 50.
"Our generation is struggling with divorce, forced retirement, changing family circumstances and a perceived lack of purpose," Manning said in a press release announcing the service. "As the social ties that we relied on in the past fade, we need a new way to build meaningful friendships."
A user identified as Angela Dobson posted her enthusiastic support of the new site and explained her reasons for signing up..
"I need to get out of my comfort zone and talk to and meet people with similar interests," she said. "Instead of just thinking things will change without me putting any effort into it. I would love to make some good friends -- and here's hoping through Boomerly this is now possible."
But Boomerly is not the only website hoping to spark friendships for those over 50. A similar service entered the senior social scene just under a year ago. Stitch, based in Sydney, was launched by Australian entrepreneur Andrew Dowling and San Francisco tech startup founder Marcie Rogo. With 11,000 members, the question had to be asked: Is Stitch more Match.com -- or Tinder?
"It's probably not closer to either," Rogo tells TheStreet. "It's the same distance from both."
"The functionality of the site and how it makes efficient one-to-one connections is more like Tinder," she adds. "You can't get any unsolicited messages. You can only communicate when both of you have said, 'I'm interested.' [But] as far as our moral standards and our brand, I think we're further away from Tinder than Match."
Stitch currently offers local connections for members in the San Francisco Bay area, the New York tri-state area and Sydney, Australia, with Los Angeles and other cities coming soon, she says.
"It's clear there was a deep need for a way to connect at this stage in life -- in the post-reproduction stage, when you're done having children, or you've decided to retire, with every opportunity at your fingertips," Rogo says. "And if you find yourself flying solo and you're in your 50s, 60s, 70s, 80s -- usually you'd really like someone to share these new experiences with, whether that's travel, taking up a new hobby [or] picking up a class. And there's really nothing out there that respectfully and safely connects like-minded people around the things they love."
So, how much of the service is about companionship -- or romance?
"I think it's 100% about companionship," Rogo says, though romance can come later. Rogo adds it's about "starting as friends and perhaps something more happening -- romance is an option you can choose."
Perhaps at some point retirees looking for added ways to enhance their post-career life can look toward the yet-to-be-created Elder.ly and B00m3.r.