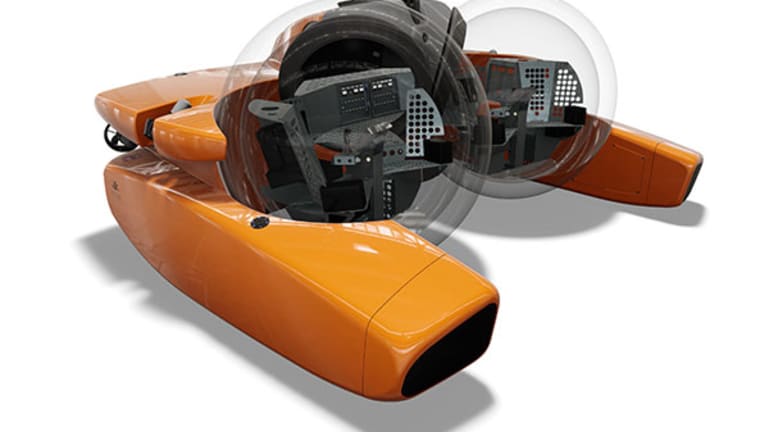 Time to Order Your Own Submarine -- If You've Got a Big Enough Yacht
You can seat up to eight -- after you pay up to $4.8 million, wait a year for it to be built and take the training.
SAN DIEGO (
) -- When pondering the lifestyle and toys of the rich and famous, certain standard images come to mind.
Private jets. Expensive sports cars. Fabulous homes. Luxurious yachts. To name a few.
Now, there's one more toy for the ultra rich that is quickly becoming a must-have: personal submarines.
It's enough of a trend that at the Monaco Yacht Show in late September there were four personal submarine makers on hand.
Triton Submarines
, based in Vero Beach, Fla., was one of the manufacturers in attendance.
The company has seen a marked increase in sales of its pricey submarines in the past year, and sales are on track to double over the next 12 months, says Marc Deppe, Triton's vice-president of sales and marketing. He attributes the sudden increase in demand to a convergence of improved technology and increasingly bigger yachts being manufactured.
"Yacht sizes have been increasing to the point where they can carry a submersible, and technology is advancing to point where it was practical and affordable to have one," Deppe says.
Also see: 'Best of the Best' Trip Will Cost $128,000 Per Person>>
Affordable is relative. Triton's submarines cost anywhere from $2.2 million to $4.75 million.
The company offers 10 different models, which have passenger configurations for two, three, four, six or eight people. The subs can dive anywhere from 1,000 to 5,500 feet.
Having a personal submarine on a yacht is about more than just having the latest toy. It is really about improving the variety of experiences as you sail, Deppe explains.
"Owners are using yachts as experiential platforms. So they are putting helicopters, jet skis, fishing boats, submarines and cars on them," Deppe says.
Adding a personal submarine to your collection of expensive toys, however, requires more then just money and an appropriately sized yacht. Training is also involved.
Submarine operators must undergo three phases of training with Triton, which begins while your submarine is being built.
Also see: 4 Trends in Luxury Goods for 2013>>
"Phases one and two are done concurrently at our manufacturing facility in Vero Beach," Deppe says. "Typically we have three or four members of a yacht crew participate in final assembly of the submarine so that they are learning about it. And during the same time period they are doing dozens of dives in a full-scale simulator, which allows someone to get comfortable with sitting in the pilot seat of a submarine in a safe, controlled environment."
Having the actual yacht owner participate in learning how to drive the submarine happens about half of the time, Deppe says.
One important note: If you're into instant gratification, a submarine may not be the toy for you. They take a year to build once ordered.
So who are the people increasingly snatching up submarines for their yachts?
Deppe says the typical buyer is: "Somebody who has a large enough vessel to launch, recover and store a submarine and who has a passion for the ocean. We have people buying them who are successful in business, to rock stars. Our clients typically have very public profile, but are inherently private. A yacht tends to be an island of solace for them."