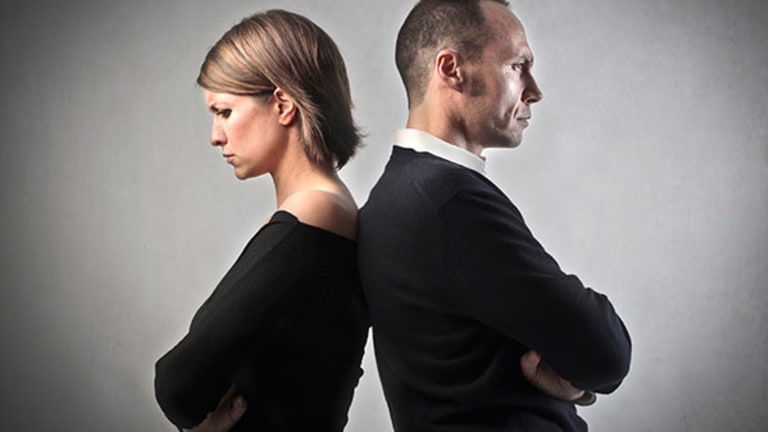 This Valentine's Day, 25% Of Spouses Won't Know Their Partner's Credit Score
Don't surprise a spouse or partner with a low credit score - make honesty the best policy.
According to conventional wisdom, honesty is the best policy in work, play and especially romance.
Tell that to the 25% of Americans who not only don't know their spouse's current credit score -- but have never known it.
That's a big mistake, says Ken Chaplin, senior vice president at credit bureau TransUnion, who wants U.S. couples to use Valentine's Day as a reminder to bring finances (especially credit scores) into their day-to-day lives, to ensure romantic compatibility.
The idea is to be a straight shooter, Chaplin says, and be direct and even blunt about financial credit and debt with your spouse. He points out that surprises are "not always good" when it comes to debt, especially credit card debt.
"Sure, flowers are nice," Chaplin notes. "But credit card debt? Not so much. Talking with your significant other about current debts and expenses you both have can eliminate any surprises when it comes time to finance a larger purchase like a house or car."
Then there's the dreaded "surprise" factor. Elizabeth Jenkins, who helps provide hard money loans with SourceCapital Funding, in San Diego, says she sees spouses who have no idea their partner's credit is toxic until they're actually applying for a loan.
"In the real estate world, we work with clients that have poor credit scores," Jenkins says. "Often, the realization of having a less than ideal credit score comes as a surprise to one or both people in a relationship. Traditional financing institutions tend to reject couples with low credit ratings and we have seen couples find the perfect home only to have their loan rejected at the last moment. Talk about a heartbreak on Valentine's Day."
One effective way to stay on the same page, credit-wise, is to partner up, and check your finances and your credit on a regular basis.
"Make it a point to review your credit reports together, twice a year," advises Jeanne Kelly, a credit coach and founder of the Ready For Good Credit Club. "This way if your spouse knows you are both going to have these financial meetings  and everything is outlined on paper, then you can start to be more aware and on top of their payments."
Even happily married couples have had their struggles with credit score honesty.

Ninh Tran, co-founder at HireTeamMate.com, a San Jose, Calif.-based automated employment recruiting firm, describes himself as "the luckiest guy under the sun", after marrying Hannah, his college sweetheart, in January, 2015. But it always wasn't a rosy experience, as Tran found it difficult to get the couple into better living quarters after an unpaid bill showed up on his credit report.
Turns out, his wife didn't know about it. "Many of the apartment applications didn't get back to us, because I had a collection at that time from T-Mobile that I paid and was able to remove successfully from my records," he says.
With help from a credit repair firm, Tran fixed the problem and committed to a candid and honest financial future with his wife, a promise he has kept.
"We both know each other's score now and share our finances and keep them transparent as possible, because we know what we can afford and for what we can utilize our credit scores," he explains. "If we didn't talk about our credit transparently at some point as a couple, we wouldn't even have looked up our scored and my credit would have been horrible due to a wrong record."
This Valentine's Day, make honesty the best policy and open up about your credit score, if you haven't done so already. Your spouse or partner will appreciate it, and it will leave more time for long walks on the beach -- you know, the beach you're visiting while on vacation, thanks to an open dialogue, teamwork and stronger credit.