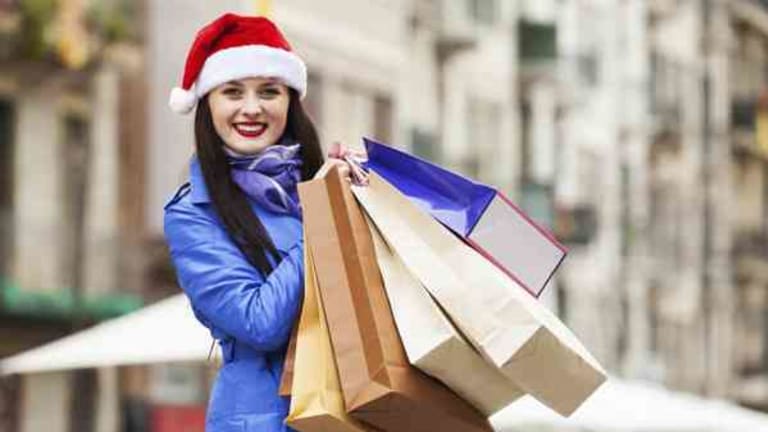 This Post-Holiday Coping Mechanism Among Women Puts Retirement Savings in Jeopardy
Retail therapy is how some women find comfort and positive feelings but they're better off visiting with a counselor.
NEW YORK (MainStreet) — When Carolyn Chris was 30 years younger, she rewarded her successes as a real estate broker with shopping sprees. Now that she is 75 years old, she comforts herself with an occasional piece of gold-plated costume jewelry during and after the holidays.
"I buy gold plated, because I can't afford silver or 14k gold anymore," Chris told Mainstreet. Just recently, the widow spent $120 on three necklaces from TJ Maxx and World Market. "It was worth it in the moment to recapture my youth when I had energy and vitality," said Chris who is retired and residing in Texas. "Shopping makes me feel pretty and empowered."
Retail therapy during the aftermath of the holiday frenzy is all too tempting for women of all ages seeking a distraction. "We seem to thrive on this retail therapy as a sport," said Erica McCain, author of Ladies With Loot (McCain & Associates, 2014). "Shop to get out of the house, shop to hang out with girlfriend, shop as a way to spend time with kids, shop because they have coupons, shop because they don't feel good in the clothes they own, shop because they're bored and shop, shop and shop."
While it seems harmless in the moment, retail therapy typically leads to unnecessary purchases.
"It's similar to eating ice cream," McCain told MainStreet. "For some reason we can't stop at a couple scoops. We eat until the pint is entirely gone."
Although women will soon control two-thirds of consumer wealth in the United States and will be the beneficiaries of the largest transference of wealth in our country's history, according to Fleishman-Hillard, the downside is that women spend more than men and may not save as much as a result.
"Women like to be able to manage their emotional needs immediately and retail therapy is an effective panacea," said Dr. Jeannette Raymond, a licensed psycholgist in Los Angeles. "Instead of feeling upset at your child's teacher for saying something negative or your partner for being out yet another night on business, retail therapy covers up lurking fear and shame of being a bad mother or an inadequate partner."
Women can review credit card statements to determine whether shopping is being used to therapize or is a necessity.
"If a woman has to purchase everyday items such as gas and groceries on a credit card, she's over spending somewhere," said McCain. "If she has to forego the electric bill but has a new brand name purse with shoes to match, she obviously needs counseling not retail therapy."
Rather than self medicating with a shopping spree, Raymond advises women to sit with sad or bad feelings rather than getting lost in a department store on pay day.
"Budgeting isn't the answer," Raymond told Mainstreet. "You can allow yourself to get small things on impulse like a dessert or hair styling in order to ease the worst of the envy, hurt and sense of being alone, but ultimately it's about exploring why you keep feeling this way in the same situations over and over again. It's about making those secure connections that help you regulate emotions without resorting to impulsive indulgence."
What's at stake is retirement.
"Any time you're spending a mass amount on miscellaneous items that prevents you from contributing to savings and retirement plans or if you're having to dip into long term savings and retirement, it's too much," McCain said.
—Written for MainStreet by Juliette Fairley