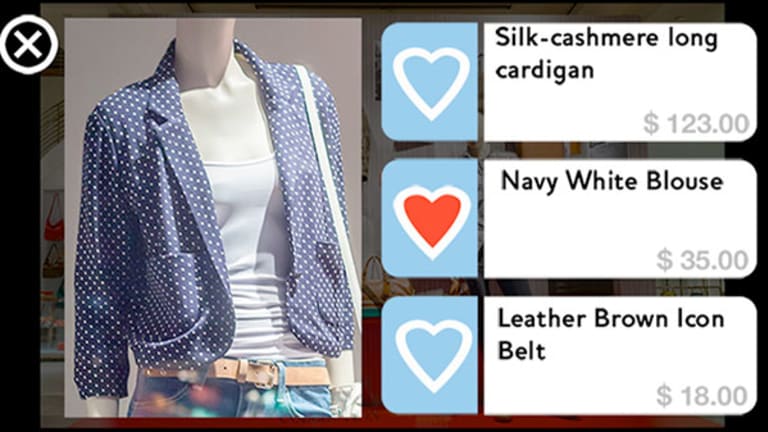 This Luxury App Takes You Window Shopping Around the World
The artistic storefronts of Gucci, Louis Vuitton, Prada, Michael Kors and more are now literally at your fingertips.
NEW YORK (
) -- It's not exactly an idea you'd expect from two 20-somethings, dreamed up one night while cramming for final exams.
But that's how brothers Stijn and Jeroen Verrezen came up with their iPhone and iPad app, which allows users to window-shop the flagship storefronts of the world's most expensive and exclusive luxury brands.
Officially launched at the recent conclusion of fashion week in New York City, the
Turnhills Window Shopping
app literally puts worldwide window-shopping at your fingertips. And this is luxury window-shopping. Think
Gucci
,
Louis Vuitton
,
Prada
,
Michael Kors
and more.
"The most expensive brands -- it's really unbelievable what they do with their windows -- you will see Louis Vuitton has skeletons of dinosaurs on display. It's amazing. Each time they do their window, they try to come up with something totally original. It's almost a form of art," Stijn Verrezen says during a phone interview from Belgium, where the two brothers grew up and still live.
The app is actually the latest incarnation of the brother's computer-based window shopping idea; they launched a
last year.
The idea is to feature regularly updated images of flagship storefronts because flagship stores typically display items available at all the other stores around the country or world for a particular brand, Stijn Verrezen says.
Also see: How Lexus Is Selling Lexus Without Having to Sell Cars>>
Once window-shoppers identify a must-have item in a storefront via the app, they can head to the designer's local store to try it on and buy it. Or buy the item online.
"The collections are pretty much the same at your local store, but the window of the local shopping mall store is much smaller," Stijn Verrezen says. "So to get ideas about the latest trends, you can peek through brands on our app. This is like window-shopping in the real world."
"Window shopping is an important aspect of real-life shopping," he adds. "And it's also of great value to the virtual shopping experience. It gives someone a first impression of a particular brand without going to the brand website."
Rigorously updated, the app provides real-time content from around the world. Users can swipe through shopping districts on their iPhone or iPad to view the latest arrivals and fashion trends of 23 luxury brands.
The app also allows users to get daily updated storefronts of the most renowned brands' flagship stores, create personal wish lists of favorite items, prepare for shopping in the real world by comparing prices of items on the app and by items through linked Web-based stores.
The app's pictures of flagship storefronts are taken by professional photographers. Turnhills works with three -- two focused on New York City stores and one in London.
Also see: Sears Clear on Why It's Selling Rolex: It's Taking on Amazon, eBay>>
But no fashion app would be truly complete without including a renowned fashion capital such as Paris, and that fact is not lost on the Verrezen brothers.
"The most beautiful stores of Paris will be added in two weeks," says 26-year-old Stijn Verrezen, who remains at home in Belgium at his "day job" -- at the family's business, a factory that develops sun awnings. Jeroen, 24, is in New York City promoting the app.
The pair started their business on a shoestring, using personal savings, with no investors or PR reps.
They are promoting their app primarily via
Facebook
(FB) - Get Meta Platforms Inc. Class A Report
and other forms of social media, including
Pinterest
.
And so far, the Verrezen brothers aren't doing all that bad for themselves. Stijn estimates the app has been picking up about 150 users each day. The app can be downloaded for free from iTunes.
In terms of their long-range plans, that's harder to pinpoint. For now, they brothers focused on increasing the number of luxury brands available on the app, with hopes of having 35 luxury brands featured by month's end.
"We really just started out brainstorming and thought this would be a great idea to put our effort into. We're just two guys. We weren't particularly interested in fashion. It was more of a business concept," Stijn Verrezen says. "But we really like the idea of how brands create their reputation and create value."