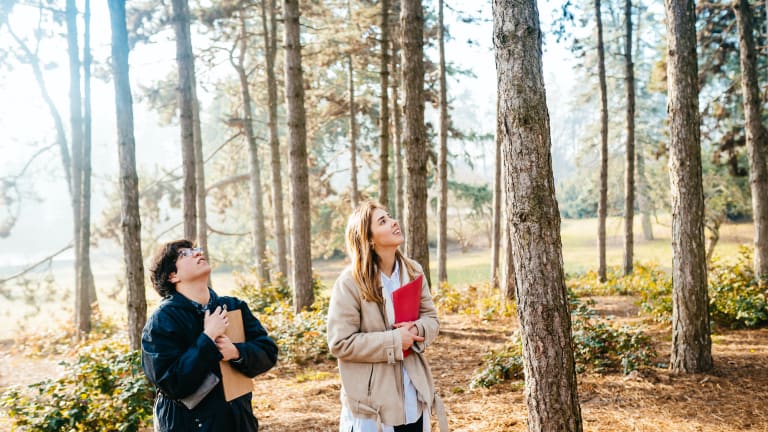 These Are the Greenest Colleges in the U.S.
When it comes to sustainability, a university needs to walk the walk, and the majority of prospective college students say that a college's environmental commitment would affect their choice of school.
Some 64% percent of people believe climate change is a global emergency, but 89% of young people around the world say they believe they can make a difference, according to surveys by the United Nations.
The higher education sector has a tremendous impact on the habits of students and their contribution to a prosperous society. But when it comes to sustainability, universities need to walk the walk.
That means to attract students who are interested in environmental topics, reducing their footprint, and improving the environment, colleges need to incorporate sustainability practices into every aspect of life.
And 75% of prospective college students say that a college's environmental commitment would affect their choice of school, according to a survey by Princeton Review. 
The criteria for this list of greenest colleges from Princeton Review is "superb" sustainability practices, a strong foundation in sustainability education, and a healthy quality of life for students on campus. Princeton Review uses school-reported data and student opinion, collected in 2020–2021 from institutional and student surveys.
They delve into how much of the campus food is local and organic, the availability of mass transit programs such as bike sharing and carpooling, the school's waste-diversion rate, LEED building certification, whether the school has an environmental studies major or minor and the college's plans to mitigate greenhouse gas emissions.
Some of the student opinion survey questions ask how sustainability issues influenced students' education and life on campus; is there administration and student support for environmental awareness and conservation efforts; and the visibility and impact of student environmental groups.
Based on the Princeton Review's ranking, these are the greenest colleges in the U.S. in 2022:
1. College of the Atlantic
Bar Harbor, Maine
Enrolled: 332
This small, private liberal arts college awards undergraduate and graduate degrees exclusively in the field of human ecology. The campus is on Mt. Desert Island, surrounded by Acadia National Park. It became the first carbon-neutral college in 2007. Facilities include farms, an arboretum, herbarium, greenhouse, hatchery and a fleet of boats for traveling around the islands.
Photo: College of the Atlantic
2. Dickinson College
Carlisle, Pa.
Enrolled: 2,399
According to Sierra magazine, which ranks Dickinson among its top "cool schools," students attend sessions on sustainable cooking and shopping, water and energy conservation, and transportation.
Photo: Tomwsulcer/Wikipedia
3. University of California Santa Cruz
Santa Cruz, Calif.
Enrolled: 17,792
The U.C. Santa Cruz mascot is the banana slug, and the school has been named one of the most vegetarian-friendly in the country by CollegeXpress. Above, a complete blue whale skeleton on display at the university's Seymour Marine Discovery Center.
Photo: Matthew Corley / Shutterstock
4. Chatham University
Pittsburgh
Enrolled: 1,460
Rachel Carson graduated from Chatham in 1929. Chatham purchases 90% of their electricity from a Green-E Certified mix of renewable energy that is primarily wind power and is eliminating the sale of plastic water bottles. The college has a Green Fund that provides financial support to students interested in implementing a sustainability-focused project on campus. 
5. Bates College
Lewiston, Maine
Enrolled: 1,821
A small private liberal arts college, Bates is one of only a handful of schools in the nation to hit the goal of becoming carbon neutral. The college has an organic, student-run garden that provides produce for the dining halls, and serves as an educational space for students, faculty, and community members.
6. Emory University
Atlanta
Enrolled: 7,130
 Emory's campus includes some of the most biodiverse forest inside Atlanta's I-285 perimeter and has long been considered "a campus in a forest." Their organic farm has been ranked as one of the top sustainable college-run farms in the nation and cultivates produce for dining halls, the farmers market and a community-supported agriculture program.
7. Cornell University
Ithaca, N.Y.
Enrolled: 15,182
Bill Nye the Science Guy is a graduate of Cornell University, and often teaches there.
Photo: Shutterstock
8. Colorado State University
Fort Collins, Colo.
Enrolled: 25,362
The campus sits at the foot of the Rocky Mountains. Pictured is the Powerhouse Energy Campus, a green building and headquarters for the Energy Institute.
Photo: marekuliasz / Shutterstock
9. State University of New York College of Environmental Science and Forestry
Syracuse, N.Y.
Enrolled: 2,220
The Newcomb campus encompasses over 15,000 acres of Adirondacks wildlands. The college's curricula focus on the understanding, management, and sustainability of the environment and natural resources.
Photo: DASonnenfeld/Wikipedia
10. University of California Santa Barbara
Santa Barbara, Calif.
Enrolled: 25,895
Popular majors here include psychology, sociology, and economics.
Photo: UCSB Library/Wikipedia
11. Stanford University
Stanford, Calif.
Enrolled: 7,087
Stanford, near Silicon Valley, has a program in which students work to fund the purchase of offsets for all varsity sports team air travel. The university has 36 varsity teams, with over 900 student-athletes.
Photo: Dmitrii Sakharov / Shutterstock
12. University of California, Berkeley
Berkeley, Calif
Enrolled: 32,143
UC Berkeley offers almost 800 sustainability-focused courses and about 1,150 sustainability-related courses. Students can study the global history of ecologically conscious art, architecture, cinema, sustainable design, and urban planning, or learn how environmental concerns have shaped the history of American landscape architecture since 1850. There's also a wide range of related undergraduate and graduate degree programs.
13. University of San Diego
San Diego, Calif.
Enrolled: 5,919
The University of San Diego is a private Roman Catholic research university. USD adopted Pope Francis' Care for Our Common Home philosophy as one of the six pathways to achieve its mission. The university offers nearly 400 courses containing sustainability concepts. 
14. Loyola Marymount University
Los Angeles
Enrolled: 6,700
This is a private, Jesuit university with a scenic campus in Los Angeles. It currently has over 90,000 square feet of solar panels on campus and recycles over 75% of its waste.
15. University of California - Merced
Merced, Calif.
Enrolled: 8,321
UC Merced operates the Sierra Nevada Research Institute, which has a location in Yosemite National Park. Faculty, researchers and students at the Institute conduct basic and applied research on issues such as rapid population growth, competition for natural resources, air, water and soil pollution, climate change and competing land uses.
16. Agnes Scott College
Decatur, Ga.
Enrolled: 1,063
This is a private women's liberal arts college in Decatur, Georgia. The Environmental and Sustainability Studies multidisciplinary major focuses on the challenges and solutions to global environmental problems. 
17. American University
Washington, D.C.
Enrolled: 8,463
American's 84-acre, carbon-neutral designated campus is located in northwest Washington, D.C.
Photo: American University
18. North Carolina State University
Raleigh, NC
Enrolled: 26,505
Part of the University of North Carolina system, this research university in Raleigh was founded in 1887 and is the largest university in the Carolinas.
19. Pomona College
Claremont, Calif.
Enrolled: 1,679
This extremely selective and private liberal arts college is about 35 miles from Los Angeles.
Photo: Pomona College
20. Middlebury College
Middlebury, Vt.
Enrolled: 2,858
The Middlebury College undergraduate environmental studies program is the oldest of its kind in the U.S.
Photo: Wikipedia
21. Michigan State University
East Lansing, Mich.
Enrolled: 38,574
Michigan State was established in 1855 as the nation's pioneer land-grant university and Michigan's first agricultural college. There is a range of degree programs for students to explore sustainability and the U.N. Sustainable Development Goals.
22. Iowa State University
Ames, Iowa
Enrolled: 26,846
Iowa State offers an undergraduate degree in environmental engineering, as well as graduate programs in urban design and wind energy, among others. Most major buildings have water bottle-filling stations to reduce plastic, and there are 52,000 square feet of green roofs.
23. Loyola University of Chicago
Chicago
Enrolled: 11,612
Loyola's School of Environmental Sustainability offers bachelor's degrees in environmental studies, environmental policy, environmental science, conservation & restoration ecology, and food systems & sustainable agriculture. Loyola boasts more green roofs than any other university in the Midwest.
24. University of Maryland, College Park
College Park, Md.
Enrolled: 30,922
The University of Maryland at College Park has dozens of student organizations that  relate to sustainability, including a beekeeping club, which manages hives located on campus. The school's target is to achieve net-zero emissions by 2025.
25. University of Connecticut
Storrs, Conn.
Enrolled: 27,412
Every year the college hosts a Mud Volleyball Tournament, where players play volleyball in eight inches of mud.
Photo: Raymond Deleon / Shutterstock
26. Emerson College
Boston
Enrolled: 3,878
A small private college in Boston, Emerson (which owns the Paramount, pictured) has reduced its net carbon emissions by 27%, despite increasing its square footage by 60%, and four out of five residential halls are LEED-certified. 
27. James Madison University
Harrisonburg, Va.
Enrolled: 20,124
This public research university in Harrisonburg was originally established in 1908 as a women's college.
28. Arizona State University
Tempe, Ariz.
Enrolled: 63,124
ASU's School of Sustainability was the first school in the U.S.dedicated to exploring the principles of sustainability, and was established in 2006.
29. New York University
New York
Enrolled: 27,444
NYU has more than 600 courses and a variety of academic programs focused on sustainability topics.
30. Penn State University Park