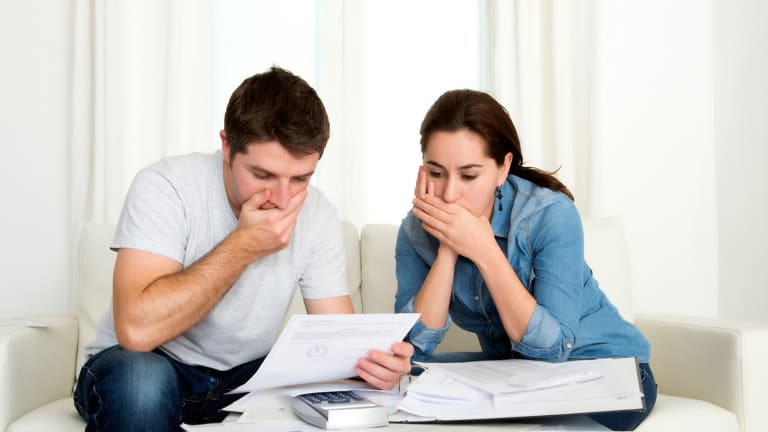 These Are the Consumer Fees That Make Even Finance Experts Angry
Overdraft fees penalize consumers exactly when banks know they don't have money, then make the situation worse. But overdrafts aren't alone in their awfulness.
NEW YORK (MainStreet) — You can't avoid all the consumer fees imposed by banks, credit card companies, airlines and other industries, but there are things you can do to avoid the ones costing the most cash and causing the most anxiety
What are the "worst fees"? GoBankingRates.com has issued a list of the 31 most frightening fees this year, and at the top of the list are bank fees, especially overdraft charges.
"Overdrafts are hard on consumers because they're being penalized with a fee their bank knows they can't pay — and they'll keep getting charged more fees until they get their account out of the negative," says GoBankingRates' Paul Sisolak. "The best thing people can do is always be aware of how much money they have in their checking account and never overspend."
The website also cites bank teller fees, travel ticket change fees and hospital facility fees as being at the top of the list of worst consumer charges.
Other financial experts have their own nominees for most shameless and onerous consumer charges. "I vote for the upgrade fee from mobile carriers," says Kendel Perez, a savings expert at CouponSherpa.com in Fort Collins, Colo. "The $40 'upgrade fee' from Verizon Wireless and other mobile carriers is such a sham. They push upgrades on you and when you finally bite, they tack on $40 to cover 'fees associated with activating devices' without actually detailing what those activities are."
Convenience fees of any kind also irk Perez. "Convenience fees make my blood boil, especially when they're related to credit card payments. You're getting my money faster — and for that I'm charged an extra $3?"
Hotel fees don't escape the wrath of consumer financial experts, especially fees for pet-loving travelers. "The Residence Inn Capitol in Washington, D.C., issues a 'standard' $200 pet fee on top of $500-plus a night for a room," says Bob Soltis, a business consultant, author and speaker who travels frequently. "Then they charge $10 a day for pet cleaning."
Don't stand for it, he says. "Other establishments, like the Kimpton Hotels, charge no pet fee, and they have bellman and restaurants."
Other onerous fees are so large they really can take a big bite out of your household income. "Look at real estate commissions," says Sissy Lappin, co-founder of ListingDoor.com, a Houston real estate service. "It's not 6% of your home, but actually 40% to 60% of your equity. And most American don't have 6% equity until they have owned the home for eight years."
Mortgage application fees also ruffle feathers. "When you apply for a mortgage, you are routinely charged fees for the 'pleasure' of doing business with that bank," says Dale Degagne, a Canada-based money coach and financial advisor. "While the costs involved are minimal compared to other closing fees, it's like paying them to make money from you."
— Written by Brian O'Connell for MainStreet